Zero Suit Samus
Inspired By Metroid Zero Mission

Super Smash Bros. Amiibo Wave 3 Amiibo
Item No.: No. NVL C AABF USZ
Manufacturer: Nintendo
Includes: n/a
Action Feature: Works with Super Smash Bros. Wii U/3DS, Super Mario Maker, more
Retail: $13.99
Availability: September 2015
Other: Pretty neat

PREVIOUS
RSS
NEXT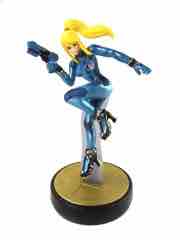 A more-or-less mainstay of Super Smash Bros. , Zero Suit Samus made her debut over a decade ago in a remake of the original NES Metroid game. Known has the "Zero Suit," the skin-tight blue outfit is what Samus looks like when she's not wearing her big bulky armor. For a character who draws on Ellen Ripley and Boba Fett, it's a decidedly different take - arguably one of the baddest brawlers in Nintendo's early history now looks like pretty much any anime girl, for better or for worse. The figure is quite nice and it's one of several produced since the introduction of the unarmored look, and the high heels and tight posterior seem to be a step away from where social media tells us where gaming is going. On the other hand, it seems pretty consistent with where the core video game audience has been for a while now - generally college kids and younger. Having gotten that out of the way, Nintendo did do a fine job making a fairly cheap figure out of the Nintendo universe's most famous and inarguably best bounty hunter.
The figure is quite tall, similar to Mario Maker's retro Mario and the original Samus Aram Amiibo. What I love about this figure above all else is the paint and attention to detail. The metallic suit is shiny and evenly applied, and smaller details like yellow trim on her shoes and gloves has been handled well - but not perfectly. Painting bright colors on dark plastic, especially in small doses, is tough to do perfectly. Little pink details on her chest and wrist are done very well, as are small silver details on her shoes. Her weak stun blaster is also included, and they did a pretty good job replicating her stern expression complete with so-tiny-it-may-be-dirt mole. Even the figure's back has an impressive tampo on it, capturing the pattern of the suit from the game quite nicely. Nintendo thinks very highly of its IP, which is good because that means most of their merchandise tends to be a little more expensive (and often better) than it might be from another manufacturer doing similar products. Granted, I don't think anybody else is doing Zero Suit Samus for a wide US release.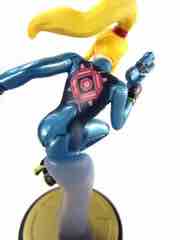 The pose is consistent with the game art, but it's a little silly - a ballet pose on her right leg and a suggestive combat-ready left leg shows off her curves nicely, and the skinny heroine certainly wears metallic blue well. The figure's pose and form aren't necessarily conducive to toys, though, as standing unassisted would be impossible. Even though she has a display base, her toes are the only thing touching the ground - a clear plastic support had to be molded to the back of her right leg, and boy howdy is it ugly. It looks like someone cut up and affixed a glue stick to the figure, and while I understand the need to incorporate something so the figure doesn't break, perhaps a better solution would be selecting a pose more befitting a collectible figure in the first place. In all sincerity, it's the only part of the figure's execution that falls short of my (admittedly modest) expectations.
I snagged her off Amazon due to fears of Amiibo being in short supply, and my need to buy pretty much any Metroid toy I can find. There aren't many. I've since seen her in multiple stores in at least two states, so she's out there and not too expensive yet - of course, these things can change. I wouldn't suggest dropping more than $20 to get yours, but who knows what the future holds? I certainly hope we see more Metroid figures in this line, and of course a Metroid Maker game would be quite nice. Unlikely, but certainly nice. Get her if you care to, as she's a fun little desk toy and adds some functionality to games you may have purchased anyway.
--Adam Pawlus
Additional Images


See more Amiibo figures in Figure of the Day:
Day 1,083: Nintendo Super Smash Bros. Amiibo Samus Aran
Day 1,107: Nintendo Super Smash Bros. Amiibo Link
Day 1,280: Nintendo Super Mario Maker Classic Color Mario
Day 1,296: Nintendo Super Smash Bros. Amiibo Mega Man
Day 1,299: Nintendo Super Smash Bros. Zero Suit Samus
Day 1,345: Nintendo Super Smash Bros. R.O.B., Mr. Game & Watch, and Duck Hunt
Day 1,433: Nintendo Shovel Knight Amiibo
Day 1,599: Nintendo Toad Amiibo
Day 1,605: Nintendo The Legend of Zelda Link Amiibo
Day 1,649: Nintendo Super Smash Bros. Little Mac Amiibo
Day 1,691: Nintendo Super Smash Bros. Zelda Amiibo
Day 1,733: Nintendo Super Smash Bros. Wii Fitness Trainer Amiibo
Day 1,795: Nintendo Super Mario Boo Amiibo
Day 1,812: Nintendo Metroid Samus Aran and Metroid Amiibo
Day 2,068: Nintendo Super Smash Bros. Ridley Amiibo
Day 2,159: The Legend of Zelda: Link's Awakening Amiibo Link
Day 2,170: Nintendo Super Smash Bros. Simon Amiibo
Day 2,361: Nintendo Metroid Dread Samus Aran and E.M.M.I. Amiibo

See more Nintendo figures in Figure of the Day:
Day 134: Applause Super Mario Bros. Super Mario with Koopa Troopa Action Figure
Day 369: Applause Zelda II: The Adventure of Link Link PVC Figure
Day 833: K'Nex Super Mario Blind-Bagged Series #2 Boo Action Figure
Day 926: Hasbro Pokemon Ash & Pikachu
Day 1,032: Jakks Pacific World of Nintendo Skyward Sword Link Action Figure
Day 1,083: Nintendo Super Smash Bros. Amiibo Samus Aran
Day 1,107: Nintendo Super Smash Bros. Amiibo Link
Day 1,125: Jakks Pacific World of Nintendo Metroid Action Figure
Day 1,162: Jakks Pacific World of Nintendo Metroid Samus Action Figure
Day 1,182: Jakks Pacific World of Nintendo Mario Action Figure
Day 1,186: Jakks Pacific World of Nintendo Luigi Action Figure
Day 1,280: Nintendo Super Mario Maker Classic Color Mario
Day 1,296: Nintendo Super Smash Bros. Amiibo Mega Man
Day 1,299: Nintendo Super Smash Bros. Zero Suit Samus
Day 1,320: Jakks Pacific World of Nintendo 8-Bit Link Action Figure
Day 1,335: Mattel Hot Wheels Nintendo Cool-One (Super Mario)
Day 1,336: Jakks Pacific World of Nintendo 8-Bit Luigi Action Figure
Day 1,341: Jakks Pacific World of Nintendo 8-Bit Donkey Kong Action Figure
Day 1,345: Nintendo Super Smash Bros. R.O.B., Mr. Game & Watch, and Duck Hunt
Day 1,347: Jakks Pacific World of Nintendo ComicConBox.com Metallic Metroid Samus Action Figure
Day 1,349: Jakks Pacific World of Nintendo 8-Bit Mario Action Figure
Day 1,363: Jakks Pacific World of Nintendo Shy Guy Action Figure
Day 1,367: Jakks Pacific World of Nintendo Convention Exclusive Jakks Giants Link Action Figure
Day 1,369: Jakks Pacific World of Nintendo Jakks Giants Mario Action Figure
Day 1,380: Jakks Pacific World of Nintendo Tanooki Mario Action Figure
Day 1,392: Toy Biz Video Game Super Stars Mario Kart 64 Mario Action Figure
Day 1,398: Jakks Pacific World of Nintendo Boo Action Figure
Day 1,404: Medicom Nintendo Series Legend of Zelda Link Ultra Detail Figure
Day 1,430: Sonic Drive-In Mario & Luigi Paper Jam Mario Figure
Day 1,433: Nintendo Shovel Knight Amiibo
Day 1,438: Jakks Pacific World of Nintendo Metroid Gravity Suit Samus Action Figure
Day 1,444: Jakks Pacific World of Nintendo 8-Bit Red Link Action Figure
Day 1,447: Jakks Pacific World of Nintendo 8-Bit Star Power Mario Action Figure
Day 1,454: Jakks Pacific World of Nintendo 8-Bit White Link Action Figure
Day 1,475: Jakks Pacific World of Nintendo Samus Mini Action Figure
Day 1,490: Jakks Pacific World of Nintendo 8-Bit Classic Mario Action Figure
Day 1,537: Jakks Pacific World of Nintendo Metroid Action Figure
Day 1,568: Good Smile Company The Legend of Zelda: A Link Between Worlds Link Deluxe Action Figure
Day 1,599: Nintendo Toad Amiibo
Day 1,601: The Octavirate Forge Shapeways NES Inspired Zapper Gun 5mm Grip
Day 1,605: Nintendo The Legend of Zelda Link Amiibo
Day 1,624: Jakks Pacific World of Nintendo Blooper Action Figure
Day 1,647: Jakks Pacific World of Nintendo Metroid Phazon Suit Samus Action Figure
Day 1,649: Nintendo Super Smash Bros. Little Mac Amiibo
Day 1,652: Jakks Pacific World of Nintendo Goomba Action Figure
Day 1,668: Jakks Pacific World of Nintendo 8-Bit Toad Action Figure
Day 1,672: Jakks Pacific World of Nintendo Boo Glow Action Figure
Day 1,677: Jakks Pacific World of Nintendo 8-Bit Star Luigi Action Figure
Day 1,691: Nintendo Super Smash Bros. Zelda Amiibo
Day 1,733: Nintendo Super Smash Bros. Wii Fitness Trainer Amiibo
Day 1,751: Jakks Pacific World of Nintendo 8-Bit Toad Variant Action Figure
Day 1,795: Nintendo Super Mario Boo Amiibo
Day 1,811: Hasbro Nintendo Diddy Kong Monopoly Gamer Power Pack
Day 1,812: Nintendo Metroid Samus Aran and Metroid Amiibo
Day 1,823: Hasbro Nintendo Boo Monopoly Gamer Power Pack
Day 1,843: Hasbro Nintendo Luigi Monopoly Gamer Power Pack
Day 1,858: Hasbro Nintendo Wario Monopoly Gamer Power Pack
Day 1,896: Good Smile Company Metroid Prime 3: Corruption Samus Aran Action Figure
Day 1,897: Hasbro Nintendo Fire Mario Monopoly Gamer Power Pack
Day 1,991: Jakks Pacific World of Nintendo 8-Bit Princess Peach Action Figure
Day 2,068: Nintendo Super Smash Bros. Ridley Amiibo
Day 2,159: The Legend of Zelda: Link's Awakening Amiibo Link
Day 2,170: Nintendo Super Smash Bros. Simon Amiibo
Day 2,340: Mattel Hot Wheels HW Screen Time Standard Kart
Day 2,361: Nintendo Metroid Dread Samus Aran and E.M.M.I. Amiibo
Day 2,614: Jakks Pacific Metroid Samus

Want to buy this figure? Check Star Trek availability at our sponsors:
Entertainment Earth