R.O.B., Mr. Game & Watch, and Duck Hunt
Inspired By Your Parents' Video Games

Super Smash Bros. Amiibo GameStop Exclusive Amiibo
Item No.: No. NVL E NAA3D USZ
Manufacturer: Nintendo
Includes: n/a
Action Feature: Works with Super Smash Bros., Super Mario Maker, more
Retail: $34.99
Availability: September 25, 2015
Other: USA Triple Threat

PREVIOUS
RSS
NEXT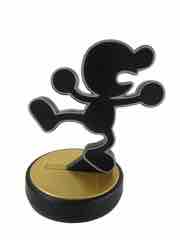 While not an instant sell-out, GameStop's exclusive R.O.B., Mr. Game & Watch, and Duck Hunt set got me to give them money for the first time in years - I'm still bitter over the debacle that was their Hasbro exclusive The Force Unleashed Stormtrooper Commander and how that was handled. I was fortunate this time, though, because a store checker let me know every GameStop near me had these on launch day and as of lunch I had my pick of stores to visit. $35 for 3 ain't bad, especially when you consider the Mr. Game & Watch Amiibo actually has four stick figures you can swap on the base.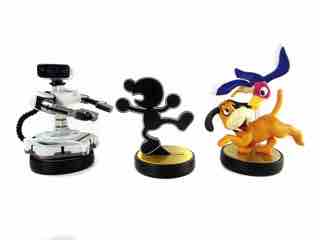 So let's get started with Mr. Game & Watch. Based on a series of LCD games that predated the original GameBoy by a few years, the little plastic stick man is what it is - basically a cookie cutter on a base. Thankfully Nintendo realized how boring a figure that was and gave us four options, but there's so little work being done here that pretty much anybody with minimal skill and a 3D printer could probably hash these out. The figures are molded in black with a light grey outline, and by default you have a frenzied figurine. You can swap that out for a parachute figure from Parachute, judge (from Judge), and bell (which I think is the Bell Bug but I don't have a complete set of these things). They're about 3-inches high, and with little paint or articulation are amusing mostly as a piece of Nintendo memorabilia for old-timers. I'd say "they'll never make another one like this!" but then someone will prove me wrong when the Smash Bros. choco toy sets come out in 2018.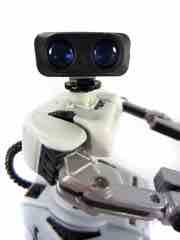 If you ask me the robotic operating buddy R.O.B. is the set's gem and key selling point - you can see where the money went. The stick figures aren't much to look at, but boy howdy is R.O.B. a piece of work. Painted arms! A printed label on his base! Labeled switches! A fake wire! They did an amazing job here, and it makes me wish they had an NES-shaped carry case for my Amiibo stash. Granted, it'd be pretty small, but you get the idea. Paint is clean, sculpting is good, and it looks a lot like a scaled-down version of the robot so few of us had as a kid thanks to compatibility with only two games. Tributes to obscure (or at least, underutilized) Nintendo hardware make for a fun set, and this robot is just plain awesome. For those of you old enough to remember the 1980s, companies like Tomy put out a ton of toy robots like the Hootbot, Omnibot 2000, Spotbot, and so many others. This looks very similar, and for all I know the engineers were buddies. For a tiny replica robot of old Nintendo hardware, this alone is worth the price of admission. After all, the real deal is going to set you back $100-$200 nowadays.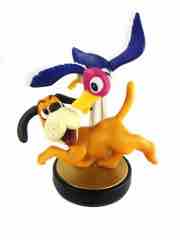 Rounding out the trio is a twofer with Duck Hunt, featuring (as far as I know) the only available versions of these characters as a collectible in North America. The duck looks similar to the original NES game, with the white collar and a pink and purple set of feathers. I would have preferred the green-headed version as it's more recognizable, but it does look like a classic Nintendo duck.
As for the dog - legendary mostly for laughing at you and people wanting to shoot it - it really doesn't have the feel of the classic NES game. Sure, it matches the in-game Smash Bros. art (as it should) but the sleepy-eyed, turned-around dog isn't the spot-on hunter we saw in the game. He is, though, well-designed. His paws have painted pads on the bottoms, while his eyes are outlined and feature multiple colors of paint. His collar has painted rivets, with his face sporting painted whisker dots. They didn't cheap out here, which is great to see. A clear base does what gravity don't, keeping both figures connected on a small display base. This isn't the only multi-figure Amiibo, but it does a good job capturing two of gaming's icons. I'd love to see (and would probably buy) a redeco with the duck in green and black, because that's the kind of person I am. I'm a huge fan of old Nintendo stuff and while I won't buy everything, you can bet your bottom dollar I'll pick up any fairly-priced piece of NEStolgia Nintendo puts on the market. Assuming I can find it at retail, that is.
At first I was a little miffed I had to buy all three figures, but I get it. Preventing the cherry-picking and shelf-warming we so often see in this line is a smart thing to do, and a $35 price point makes it harder for people to buy out a store and flip them on Amazon or eBay - but not impossible. It also opens up the avenue of splitting a set with friends, or keeping one of the three while flipping the other two on eBay. I got my money's worth, and I appreciate the slightly discounted price - $35 rather than $39 for 3 figures. I imagine there's really no other way to succeed in selling Mr. Game & Watch in North America, but what do I know? I think fans of Nintendo who were alive in 1985 and 1986 will be delighted by this set. For everybody else, it's a cute piece of Nintendo history. Here's hoping we see some more things like it, and also my kingdom for Zelda Maker or Metroid Maker.
--Adam Pawlus
Additional Images


See more Amiibo figures in Figure of the Day:
Day 1,083: Nintendo Super Smash Bros. Amiibo Samus Aran
Day 1,107: Nintendo Super Smash Bros. Amiibo Link
Day 1,280: Nintendo Super Mario Maker Classic Color Mario
Day 1,296: Nintendo Super Smash Bros. Amiibo Mega Man
Day 1,299: Nintendo Super Smash Bros. Zero Suit Samus
Day 1,345: Nintendo Super Smash Bros. R.O.B., Mr. Game & Watch, and Duck Hunt
Day 1,433: Nintendo Shovel Knight Amiibo
Day 1,599: Nintendo Toad Amiibo
Day 1,605: Nintendo The Legend of Zelda Link Amiibo
Day 1,649: Nintendo Super Smash Bros. Little Mac Amiibo
Day 1,691: Nintendo Super Smash Bros. Zelda Amiibo
Day 1,733: Nintendo Super Smash Bros. Wii Fitness Trainer Amiibo
Day 1,795: Nintendo Super Mario Boo Amiibo
Day 1,812: Nintendo Metroid Samus Aran and Metroid Amiibo
Day 2,068: Nintendo Super Smash Bros. Ridley Amiibo
Day 2,159: The Legend of Zelda: Link's Awakening Amiibo Link
Day 2,170: Nintendo Super Smash Bros. Simon Amiibo
Day 2,361: Nintendo Metroid Dread Samus Aran and E.M.M.I. Amiibo

See more Nintendo figures in Figure of the Day:
Day 134: Applause Super Mario Bros. Super Mario with Koopa Troopa Action Figure
Day 369: Applause Zelda II: The Adventure of Link Link PVC Figure
Day 833: K'Nex Super Mario Blind-Bagged Series #2 Boo Action Figure
Day 926: Hasbro Pokemon Ash & Pikachu
Day 1,032: Jakks Pacific World of Nintendo Skyward Sword Link Action Figure
Day 1,083: Nintendo Super Smash Bros. Amiibo Samus Aran
Day 1,107: Nintendo Super Smash Bros. Amiibo Link
Day 1,125: Jakks Pacific World of Nintendo Metroid Action Figure
Day 1,162: Jakks Pacific World of Nintendo Metroid Samus Action Figure
Day 1,182: Jakks Pacific World of Nintendo Mario Action Figure
Day 1,186: Jakks Pacific World of Nintendo Luigi Action Figure
Day 1,280: Nintendo Super Mario Maker Classic Color Mario
Day 1,296: Nintendo Super Smash Bros. Amiibo Mega Man
Day 1,299: Nintendo Super Smash Bros. Zero Suit Samus
Day 1,320: Jakks Pacific World of Nintendo 8-Bit Link Action Figure
Day 1,335: Mattel Hot Wheels Nintendo Cool-One (Super Mario)
Day 1,336: Jakks Pacific World of Nintendo 8-Bit Luigi Action Figure
Day 1,341: Jakks Pacific World of Nintendo 8-Bit Donkey Kong Action Figure
Day 1,345: Nintendo Super Smash Bros. R.O.B., Mr. Game & Watch, and Duck Hunt
Day 1,347: Jakks Pacific World of Nintendo ComicConBox.com Metallic Metroid Samus Action Figure
Day 1,349: Jakks Pacific World of Nintendo 8-Bit Mario Action Figure
Day 1,363: Jakks Pacific World of Nintendo Shy Guy Action Figure
Day 1,367: Jakks Pacific World of Nintendo Convention Exclusive Jakks Giants Link Action Figure
Day 1,369: Jakks Pacific World of Nintendo Jakks Giants Mario Action Figure
Day 1,380: Jakks Pacific World of Nintendo Tanooki Mario Action Figure
Day 1,392: Toy Biz Video Game Super Stars Mario Kart 64 Mario Action Figure
Day 1,398: Jakks Pacific World of Nintendo Boo Action Figure
Day 1,404: Medicom Nintendo Series Legend of Zelda Link Ultra Detail Figure
Day 1,430: Sonic Drive-In Mario & Luigi Paper Jam Mario Figure
Day 1,433: Nintendo Shovel Knight Amiibo
Day 1,438: Jakks Pacific World of Nintendo Metroid Gravity Suit Samus Action Figure
Day 1,444: Jakks Pacific World of Nintendo 8-Bit Red Link Action Figure
Day 1,447: Jakks Pacific World of Nintendo 8-Bit Star Power Mario Action Figure
Day 1,454: Jakks Pacific World of Nintendo 8-Bit White Link Action Figure
Day 1,475: Jakks Pacific World of Nintendo Samus Mini Action Figure
Day 1,490: Jakks Pacific World of Nintendo 8-Bit Classic Mario Action Figure
Day 1,537: Jakks Pacific World of Nintendo Metroid Action Figure
Day 1,568: Good Smile Company The Legend of Zelda: A Link Between Worlds Link Deluxe Action Figure
Day 1,599: Nintendo Toad Amiibo
Day 1,601: The Octavirate Forge Shapeways NES Inspired Zapper Gun 5mm Grip
Day 1,605: Nintendo The Legend of Zelda Link Amiibo
Day 1,624: Jakks Pacific World of Nintendo Blooper Action Figure
Day 1,647: Jakks Pacific World of Nintendo Metroid Phazon Suit Samus Action Figure
Day 1,649: Nintendo Super Smash Bros. Little Mac Amiibo
Day 1,652: Jakks Pacific World of Nintendo Goomba Action Figure
Day 1,668: Jakks Pacific World of Nintendo 8-Bit Toad Action Figure
Day 1,672: Jakks Pacific World of Nintendo Boo Glow Action Figure
Day 1,677: Jakks Pacific World of Nintendo 8-Bit Star Luigi Action Figure
Day 1,691: Nintendo Super Smash Bros. Zelda Amiibo
Day 1,733: Nintendo Super Smash Bros. Wii Fitness Trainer Amiibo
Day 1,751: Jakks Pacific World of Nintendo 8-Bit Toad Variant Action Figure
Day 1,795: Nintendo Super Mario Boo Amiibo
Day 1,811: Hasbro Nintendo Diddy Kong Monopoly Gamer Power Pack
Day 1,812: Nintendo Metroid Samus Aran and Metroid Amiibo
Day 1,823: Hasbro Nintendo Boo Monopoly Gamer Power Pack
Day 1,843: Hasbro Nintendo Luigi Monopoly Gamer Power Pack
Day 1,858: Hasbro Nintendo Wario Monopoly Gamer Power Pack
Day 1,896: Good Smile Company Metroid Prime 3: Corruption Samus Aran Action Figure
Day 1,897: Hasbro Nintendo Fire Mario Monopoly Gamer Power Pack
Day 1,991: Jakks Pacific World of Nintendo 8-Bit Princess Peach Action Figure
Day 2,068: Nintendo Super Smash Bros. Ridley Amiibo
Day 2,159: The Legend of Zelda: Link's Awakening Amiibo Link
Day 2,170: Nintendo Super Smash Bros. Simon Amiibo
Day 2,340: Mattel Hot Wheels HW Screen Time Standard Kart
Day 2,361: Nintendo Metroid Dread Samus Aran and E.M.M.I. Amiibo
Day 2,614: Jakks Pacific Metroid Samus