NES Inspired Zapper Gun 5mm Grip
A Zapper for Transformers

The Octavirate Forge 3-D Printed Accessory
Item No.: No. n/a
Manufacturer: The Octavirate Forge
Includes: Sword, color made to order
Action Feature: n/a
Retail: $5.50 ($5.50-$12)
Availability: August 2016
Other: Polished Metallic Plastic

PREVIOUS
RSS
NEXT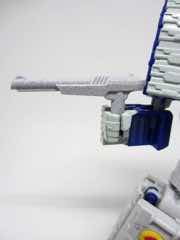 Guns are a big part of the American experience. Even if you live in a no-gun home, your toys had guns, and your video games probably did as well. Nearly every home with a Nintendo Entertainment System in the 1980s had a light gun to play Duck Hunt, and Trent Troop designed his NES Inspired Zapper Gun 5mm Grip for that reason. Even if you'll never touch a gun, you've probably used a Zapper in Hogan's Alley or Duck Hunt. But not Gumshoe or Barker Bill's Trick Shooting.
This small blaster comes extruded in whichever plastic color you so choose. I got this metallic polished plastic, and it's pretty good. I wish it had some decoration build in because I can't paint things, but as it is, it works.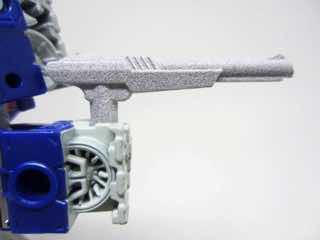 You take it out of the bag, you put it in a figure's hand, and there you go. Now they can pretend to play Duck Hunt.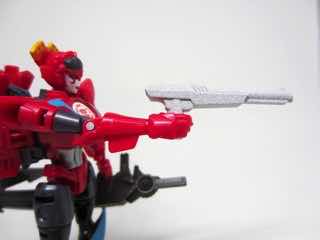 The sculpting was good, and the form fit is pretty much perfect in the fists I've tried - by design, these work in your Transformers toys without much of a fight. So many toys have 5mm-compatible fists that you may also enjoy using them with He-Man or Battle Beasts stations or certain Zoids. The detail is good, and it looks better in person than it does in the photos. It's still a little fragile, though, so don't give it to a kid and don't play with it - just put it in the hand and leave it be. Or paint it, if that's your bag.
The weapons I got from this shipment are all pretty good - top-notch designs and a decent overall in-person look. I wish they were made of a more durable material, but such is life. If you got six bucks to blow, this is a worthwhile gag weapon for the kind of fan who has figures on their desk and wants to outfit them with cool accessories. It's not going to change the world, but it's the kind of thing your toy buddies will enjoy seeing.
--Adam Pawlus
Additional Images

See more BMOG Toys and The Octavirate Forge figures in Figure of the Day:
Day 1,010: BMOG Toys Orange Action Hunter Solarbear vs. Sea-Labrys Figural Weapon Kit
Day 1,077: BMOG Toys Toxic Spill Bearium vs. Gamma-Ray
Day 1,597: The Octavirate Forge Shapeways Botcon Laser Rod Electrons/Electro 4.5mm Sword
Day 1,601: The Octavirate Forge Shapeways NES Inspired Zapper Gun 5mm Grip

See more Nintendo figures in Figure of the Day:
Day 134: Applause Super Mario Bros. Super Mario with Koopa Troopa Action Figure
Day 369: Applause Zelda II: The Adventure of Link Link PVC Figure
Day 833: K'Nex Super Mario Blind-Bagged Series #2 Boo Action Figure
Day 926: Hasbro Pokemon Ash & Pikachu
Day 1,032: Jakks Pacific World of Nintendo Skyward Sword Link Action Figure
Day 1,083: Nintendo Super Smash Bros. Amiibo Samus Aran
Day 1,107: Nintendo Super Smash Bros. Amiibo Link
Day 1,125: Jakks Pacific World of Nintendo Metroid Action Figure
Day 1,162: Jakks Pacific World of Nintendo Metroid Samus Action Figure
Day 1,182: Jakks Pacific World of Nintendo Mario Action Figure
Day 1,186: Jakks Pacific World of Nintendo Luigi Action Figure
Day 1,280: Nintendo Super Mario Maker Classic Color Mario
Day 1,296: Nintendo Super Smash Bros. Amiibo Mega Man
Day 1,299: Nintendo Super Smash Bros. Zero Suit Samus
Day 1,320: Jakks Pacific World of Nintendo 8-Bit Link Action Figure
Day 1,335: Mattel Hot Wheels Nintendo Cool-One (Super Mario)
Day 1,336: Jakks Pacific World of Nintendo 8-Bit Luigi Action Figure
Day 1,341: Jakks Pacific World of Nintendo 8-Bit Donkey Kong Action Figure
Day 1,345: Nintendo Super Smash Bros. R.O.B., Mr. Game & Watch, and Duck Hunt
Day 1,347: Jakks Pacific World of Nintendo ComicConBox.com Metallic Metroid Samus Action Figure
Day 1,349: Jakks Pacific World of Nintendo 8-Bit Mario Action Figure
Day 1,363: Jakks Pacific World of Nintendo Shy Guy Action Figure
Day 1,367: Jakks Pacific World of Nintendo Convention Exclusive Jakks Giants Link Action Figure
Day 1,369: Jakks Pacific World of Nintendo Jakks Giants Mario Action Figure
Day 1,380: Jakks Pacific World of Nintendo Tanooki Mario Action Figure
Day 1,392: Toy Biz Video Game Super Stars Mario Kart 64 Mario Action Figure
Day 1,398: Jakks Pacific World of Nintendo Boo Action Figure
Day 1,404: Medicom Nintendo Series Legend of Zelda Link Ultra Detail Figure
Day 1,430: Sonic Drive-In Mario & Luigi Paper Jam Mario Figure
Day 1,433: Nintendo Shovel Knight Amiibo
Day 1,438: Jakks Pacific World of Nintendo Metroid Gravity Suit Samus Action Figure
Day 1,444: Jakks Pacific World of Nintendo 8-Bit Red Link Action Figure
Day 1,447: Jakks Pacific World of Nintendo 8-Bit Star Power Mario Action Figure
Day 1,454: Jakks Pacific World of Nintendo 8-Bit White Link Action Figure
Day 1,475: Jakks Pacific World of Nintendo Samus Mini Action Figure
Day 1,490: Jakks Pacific World of Nintendo 8-Bit Classic Mario Action Figure
Day 1,537: Jakks Pacific World of Nintendo Metroid Action Figure
Day 1,568: Good Smile Company The Legend of Zelda: A Link Between Worlds Link Deluxe Action Figure
Day 1,599: Nintendo Toad Amiibo
Day 1,601: The Octavirate Forge Shapeways NES Inspired Zapper Gun 5mm Grip
Day 1,605: Nintendo The Legend of Zelda Link Amiibo
Day 1,624: Jakks Pacific World of Nintendo Blooper Action Figure
Day 1,647: Jakks Pacific World of Nintendo Metroid Phazon Suit Samus Action Figure
Day 1,649: Nintendo Super Smash Bros. Little Mac Amiibo
Day 1,652: Jakks Pacific World of Nintendo Goomba Action Figure
Day 1,668: Jakks Pacific World of Nintendo 8-Bit Toad Action Figure
Day 1,672: Jakks Pacific World of Nintendo Boo Glow Action Figure
Day 1,677: Jakks Pacific World of Nintendo 8-Bit Star Luigi Action Figure
Day 1,691: Nintendo Super Smash Bros. Zelda Amiibo
Day 1,733: Nintendo Super Smash Bros. Wii Fitness Trainer Amiibo
Day 1,751: Jakks Pacific World of Nintendo 8-Bit Toad Variant Action Figure
Day 1,795: Nintendo Super Mario Boo Amiibo
Day 1,811: Hasbro Nintendo Diddy Kong Monopoly Gamer Power Pack
Day 1,812: Nintendo Metroid Samus Aran and Metroid Amiibo
Day 1,823: Hasbro Nintendo Boo Monopoly Gamer Power Pack
Day 1,843: Hasbro Nintendo Luigi Monopoly Gamer Power Pack
Day 1,858: Hasbro Nintendo Wario Monopoly Gamer Power Pack
Day 1,896: Good Smile Company Metroid Prime 3: Corruption Samus Aran Action Figure
Day 1,897: Hasbro Nintendo Fire Mario Monopoly Gamer Power Pack
Day 1,991: Jakks Pacific World of Nintendo 8-Bit Princess Peach Action Figure
Day 2,068: Nintendo Super Smash Bros. Ridley Amiibo
Day 2,159: The Legend of Zelda: Link's Awakening Amiibo Link
Day 2,170: Nintendo Super Smash Bros. Simon Amiibo
Day 2,340: Mattel Hot Wheels HW Screen Time Standard Kart
Day 2,361: Nintendo Metroid Dread Samus Aran and E.M.M.I. Amiibo
Day 2,614: Jakks Pacific Metroid Samus

See more homebrew and hand-molded toys and figures in Figure of the Day:
Day 68: Sucklord Glyos-Compatible Sucklord Grey Helmet Head
Day 255: 1SHOT Toys Glyos-Compatible He-Man Thermal Color Change Head
Day 512: The GodBeast Customs Glyos Dark Purple Crab Head Glyos Accessory
Day 532: The GodBeast Customs Glyos Green CyberGator Head Glyos Accessory
Day 555: The GodBeast Customs Glyos Green Glyos-Compatible Skull Head Glyos Accessory
Day 600: Seth Longmire Custom Glyos Glyan Squad Verihex Action Figure
Day 657: The GodBeast Customs Glyos Grey CyberRhino Head Glyos Accessory
Day 700: Elly Font Art Elephant Magnets Overview
Day 889: TheGodBeast Customs Glyos Red Sharkorvor Head Glyos Accessory
Day 1,597: The Octavirate Forge Shapeways Botcon Laser Rod Electrons/Electro 4.5mm Sword
Day 1,601: The Octavirate Forge Shapeways NES Inspired Zapper Gun 5mm Grip