The Legend of Zelda Link
8-Bit Classic Flavor

Super Mario Maker Amiibo Wave 3 Amiibo
Item No.: No. NVL C AKAF USZ
Manufacturer: Nintendo
Includes: n/a
Action Feature: Works with The Legend of Zelda: Breath of the Wild, Hyrule Warriors, Twilight Princess HD, Super Smash Bros. Wii U
Retail: $13.99
Availability: December 2, 2016
Other: Are the red and pink recolors as exclusives far behind?

PREVIOUS
RSS
NEXT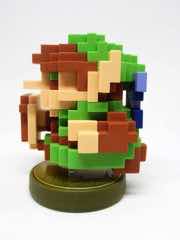 It's rare - very rare - that Nintendo releases a wave of Amiibo that aren't tied in to a specific game. But here we are! This 8-Bit The Legend of Zelda Link can be used with a number of games, but was not created for any one specific game that we know of. The various Link Amiibo figures seem to serve a similar purpose across numerous games, yet for Zelda's 30th Anniversary we were gifted 3 packages - one with 2 figures - and for all we know they'll have specific powers in upcoming software. But for now, we don't know, so we'll wait and see what all happens there. I can say it's a neat figure and a distinctive take on the design, a departure from Jakks Pacific's take on 8-Bit Link [FOTD #1,320] about a year ago. They're both clearly cut from the same cloth, but Nintendo took a little more care to bringing Link to the third dimension - taking a few liberties in the conversion process.
Complete with his golden base, Link stands about 3-inches tall and has no articulation. And, for some reason, has clear plastic under his body that causes him to basically float above the stand.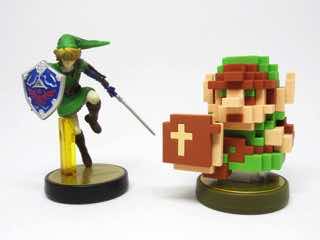 What I find really striking is how Nintendo managed to design this three-dimensional figure to take two two-dimensional sprites and merge them into a plausible rendering of the character. The distinctive long nose sticks out a bit between the eyes, but oddly it actually works. The arms are similar to how they are in the game, but the one holding the shield - and the shield itself. Most of the pixels are where they should be, with few liberties taken to really flesh out this voxel-ish figure. It's worth noting the color doesn't quite match the bulk of the game or the aforementioned Jakks Pacific figure, giving us a slightly less tan Link with a darker green outfit. It's a different take on the character than you usually see in-game, either that or it's something we're going to see in a game that we don't know about just yet.
Nintendo took some liberties with the back of the figure, adding a new take on the White Sword - if you've played the game, you remember that the White Sword icon goes straight up and down, while the Magical Sword appears at an angle. Here, it's the Magical Sword-style angle with the White Sword colors. The design is a bit closer to the Minecraft Swords the kids have these days, but you get the idea - it's a new take on the old design. It's a nice update, and adds something that would have looked good on the original game sprite 30 years ago.
If you want a cheap flat Link in this style for your desk or to make into a magnet, Jakks' design is perfect - $4 and gorgeous. If you want something to interact with your 3DS or Wii U software, this is the way to go - sure, it costs more. Yes, it takes a few liberties with the design. But I greatly appreciate Nintendo doing something for those who have been here since the beginning, and I'm eager to buy the Metroid Amiibo in this style we'll never see.
I assume this piece will serve more as a statue than as a toy or as a thing you even use with your games, unless Nintendo comes up with some new interactive functionality or a new 8-bit style game in the series. I can dream! Until then, I'm going to dig this one, and put it near my 8-bit Mario Amiibo. I wish it were a smidgen cheaper, because it really isn't all that fancy - mostly or entirely molded in color with minimal painted decoration - but there it is. It's neat enough that I ran out and bought it the first day of release, and I assume anyone who also wanted and can't seem to get a Classic NES right now would also put one of these on their wish list. The same day this toy was released, we were also gifted an Ocarina of Time adult Link and The Wind Walker 2-pack of Link and Zelda. Good hunting!
--Adam Pawlus
Additional Images


See more Amiibo figures in Figure of the Day:
Day 1,083: Nintendo Super Smash Bros. Amiibo Samus Aran
Day 1,107: Nintendo Super Smash Bros. Amiibo Link
Day 1,280: Nintendo Super Mario Maker Classic Color Mario
Day 1,296: Nintendo Super Smash Bros. Amiibo Mega Man
Day 1,299: Nintendo Super Smash Bros. Zero Suit Samus
Day 1,345: Nintendo Super Smash Bros. R.O.B., Mr. Game & Watch, and Duck Hunt
Day 1,433: Nintendo Shovel Knight Amiibo
Day 1,599: Nintendo Toad Amiibo
Day 1,605: Nintendo The Legend of Zelda Link Amiibo
Day 1,649: Nintendo Super Smash Bros. Little Mac Amiibo
Day 1,691: Nintendo Super Smash Bros. Zelda Amiibo
Day 1,733: Nintendo Super Smash Bros. Wii Fitness Trainer Amiibo
Day 1,795: Nintendo Super Mario Boo Amiibo
Day 1,812: Nintendo Metroid Samus Aran and Metroid Amiibo
Day 2,068: Nintendo Super Smash Bros. Ridley Amiibo
Day 2,159: The Legend of Zelda: Link's Awakening Amiibo Link
Day 2,170: Nintendo Super Smash Bros. Simon Amiibo
Day 2,361: Nintendo Metroid Dread Samus Aran and E.M.M.I. Amiibo

See more Nintendo figures in Figure of the Day:
Day 134: Applause Super Mario Bros. Super Mario with Koopa Troopa Action Figure
Day 369: Applause Zelda II: The Adventure of Link Link PVC Figure
Day 833: K'Nex Super Mario Blind-Bagged Series #2 Boo Action Figure
Day 926: Hasbro Pokemon Ash & Pikachu
Day 1,032: Jakks Pacific World of Nintendo Skyward Sword Link Action Figure
Day 1,083: Nintendo Super Smash Bros. Amiibo Samus Aran
Day 1,107: Nintendo Super Smash Bros. Amiibo Link
Day 1,125: Jakks Pacific World of Nintendo Metroid Action Figure
Day 1,162: Jakks Pacific World of Nintendo Metroid Samus Action Figure
Day 1,182: Jakks Pacific World of Nintendo Mario Action Figure
Day 1,186: Jakks Pacific World of Nintendo Luigi Action Figure
Day 1,280: Nintendo Super Mario Maker Classic Color Mario
Day 1,296: Nintendo Super Smash Bros. Amiibo Mega Man
Day 1,299: Nintendo Super Smash Bros. Zero Suit Samus
Day 1,320: Jakks Pacific World of Nintendo 8-Bit Link Action Figure
Day 1,335: Mattel Hot Wheels Nintendo Cool-One (Super Mario)
Day 1,336: Jakks Pacific World of Nintendo 8-Bit Luigi Action Figure
Day 1,341: Jakks Pacific World of Nintendo 8-Bit Donkey Kong Action Figure
Day 1,345: Nintendo Super Smash Bros. R.O.B., Mr. Game & Watch, and Duck Hunt
Day 1,347: Jakks Pacific World of Nintendo ComicConBox.com Metallic Metroid Samus Action Figure
Day 1,349: Jakks Pacific World of Nintendo 8-Bit Mario Action Figure
Day 1,363: Jakks Pacific World of Nintendo Shy Guy Action Figure
Day 1,367: Jakks Pacific World of Nintendo Convention Exclusive Jakks Giants Link Action Figure
Day 1,369: Jakks Pacific World of Nintendo Jakks Giants Mario Action Figure
Day 1,380: Jakks Pacific World of Nintendo Tanooki Mario Action Figure
Day 1,392: Toy Biz Video Game Super Stars Mario Kart 64 Mario Action Figure
Day 1,398: Jakks Pacific World of Nintendo Boo Action Figure
Day 1,404: Medicom Nintendo Series Legend of Zelda Link Ultra Detail Figure
Day 1,430: Sonic Drive-In Mario & Luigi Paper Jam Mario Figure
Day 1,433: Nintendo Shovel Knight Amiibo
Day 1,438: Jakks Pacific World of Nintendo Metroid Gravity Suit Samus Action Figure
Day 1,444: Jakks Pacific World of Nintendo 8-Bit Red Link Action Figure
Day 1,447: Jakks Pacific World of Nintendo 8-Bit Star Power Mario Action Figure
Day 1,454: Jakks Pacific World of Nintendo 8-Bit White Link Action Figure
Day 1,475: Jakks Pacific World of Nintendo Samus Mini Action Figure
Day 1,490: Jakks Pacific World of Nintendo 8-Bit Classic Mario Action Figure
Day 1,537: Jakks Pacific World of Nintendo Metroid Action Figure
Day 1,568: Good Smile Company The Legend of Zelda: A Link Between Worlds Link Deluxe Action Figure
Day 1,599: Nintendo Toad Amiibo
Day 1,601: The Octavirate Forge Shapeways NES Inspired Zapper Gun 5mm Grip
Day 1,605: Nintendo The Legend of Zelda Link Amiibo
Day 1,624: Jakks Pacific World of Nintendo Blooper Action Figure
Day 1,647: Jakks Pacific World of Nintendo Metroid Phazon Suit Samus Action Figure
Day 1,649: Nintendo Super Smash Bros. Little Mac Amiibo
Day 1,652: Jakks Pacific World of Nintendo Goomba Action Figure
Day 1,668: Jakks Pacific World of Nintendo 8-Bit Toad Action Figure
Day 1,672: Jakks Pacific World of Nintendo Boo Glow Action Figure
Day 1,677: Jakks Pacific World of Nintendo 8-Bit Star Luigi Action Figure
Day 1,691: Nintendo Super Smash Bros. Zelda Amiibo
Day 1,733: Nintendo Super Smash Bros. Wii Fitness Trainer Amiibo
Day 1,751: Jakks Pacific World of Nintendo 8-Bit Toad Variant Action Figure
Day 1,795: Nintendo Super Mario Boo Amiibo
Day 1,811: Hasbro Nintendo Diddy Kong Monopoly Gamer Power Pack
Day 1,812: Nintendo Metroid Samus Aran and Metroid Amiibo
Day 1,823: Hasbro Nintendo Boo Monopoly Gamer Power Pack
Day 1,843: Hasbro Nintendo Luigi Monopoly Gamer Power Pack
Day 1,858: Hasbro Nintendo Wario Monopoly Gamer Power Pack
Day 1,896: Good Smile Company Metroid Prime 3: Corruption Samus Aran Action Figure
Day 1,897: Hasbro Nintendo Fire Mario Monopoly Gamer Power Pack
Day 1,991: Jakks Pacific World of Nintendo 8-Bit Princess Peach Action Figure
Day 2,068: Nintendo Super Smash Bros. Ridley Amiibo
Day 2,159: The Legend of Zelda: Link's Awakening Amiibo Link
Day 2,170: Nintendo Super Smash Bros. Simon Amiibo
Day 2,340: Mattel Hot Wheels HW Screen Time Standard Kart
Day 2,361: Nintendo Metroid Dread Samus Aran and E.M.M.I. Amiibo
Day 2,614: Jakks Pacific Metroid Samus