Luigi
Board Game DLC Is Real

Monopoly Gamer Power Pack
Item No.: No. C1444
Manufacturer: Hasbro
Includes: Sticker, figure, game card
Action Feature: De-power others, coin dopping
Retail: $3.99
Availability: August 2017
Other: All 8 packs share item number, UPC

PREVIOUS
RSS
NEXT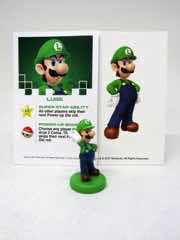 While once the subject of derision as player two Luigi has come into his own thanks to getting some real personality at the dawn of Nintendo's disc generation. We saw him gain even more personality than Mario in Luigi's Mansion, and he had a pretty solid year of games just a few years ago with the likes of Dr. Luigi, Super Luigi Bros. Wii U, and Luigi's Mansion Dark Moon. Still, he's not included with this year's board games - he's a separate piece, and a pretty neat one at that.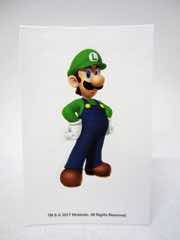 The tiny figure comes on a display base molded in geren with painted gloves, coveralls, and facial details. There are a few smudges, but on the whole it's the right color and paint is even and clean. I'm more than a little surprised to see three colors of paint on his eyes in addition to tiny eyebrows and sideburns. Back in the 1990s, you would be lucky if the figure had anything beyond being molded in gren plastic - this one not only has painted stitching on his pants, but painted yellow buttons too. It may not be the Luigi toy of your dreams, but at the size (and price) it's pretty impressive.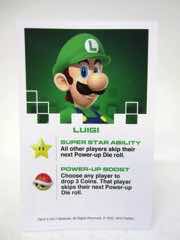 His powers include forcing other characters to skip power-up die rolls and also causing another player to drop coins and skip their power-up die roll. I've never played the game, so I assume this is some sort of sick burn.
Given how long a person can be in a hobby, things like this - tiny figures, in the guise of game pieces - can scratch the collecting itch without taking up a lot of room. I've always been a little envious of those who started their toy hobbies with mini-figures, because it might take a long time to fill up more than a closet.
--Adam Pawlus
Additional Images

Click here to see more Hasbro figures in Figure of the Day.
See more Nintendo figures in Figure of the Day:
Day 134: Applause Super Mario Bros. Super Mario with Koopa Troopa Action Figure
Day 369: Applause Zelda II: The Adventure of Link Link PVC Figure
Day 833: K'Nex Super Mario Blind-Bagged Series #2 Boo Action Figure
Day 926: Hasbro Pokemon Ash & Pikachu
Day 1,032: Jakks Pacific World of Nintendo Skyward Sword Link Action Figure
Day 1,083: Nintendo Super Smash Bros. Amiibo Samus Aran
Day 1,107: Nintendo Super Smash Bros. Amiibo Link
Day 1,125: Jakks Pacific World of Nintendo Metroid Action Figure
Day 1,162: Jakks Pacific World of Nintendo Metroid Samus Action Figure
Day 1,182: Jakks Pacific World of Nintendo Mario Action Figure
Day 1,186: Jakks Pacific World of Nintendo Luigi Action Figure
Day 1,280: Nintendo Super Mario Maker Classic Color Mario
Day 1,296: Nintendo Super Smash Bros. Amiibo Mega Man
Day 1,299: Nintendo Super Smash Bros. Zero Suit Samus
Day 1,320: Jakks Pacific World of Nintendo 8-Bit Link Action Figure
Day 1,335: Mattel Hot Wheels Nintendo Cool-One (Super Mario)
Day 1,336: Jakks Pacific World of Nintendo 8-Bit Luigi Action Figure
Day 1,341: Jakks Pacific World of Nintendo 8-Bit Donkey Kong Action Figure
Day 1,345: Nintendo Super Smash Bros. R.O.B., Mr. Game & Watch, and Duck Hunt
Day 1,347: Jakks Pacific World of Nintendo ComicConBox.com Metallic Metroid Samus Action Figure
Day 1,349: Jakks Pacific World of Nintendo 8-Bit Mario Action Figure
Day 1,363: Jakks Pacific World of Nintendo Shy Guy Action Figure
Day 1,367: Jakks Pacific World of Nintendo Convention Exclusive Jakks Giants Link Action Figure
Day 1,369: Jakks Pacific World of Nintendo Jakks Giants Mario Action Figure
Day 1,380: Jakks Pacific World of Nintendo Tanooki Mario Action Figure
Day 1,392: Toy Biz Video Game Super Stars Mario Kart 64 Mario Action Figure
Day 1,398: Jakks Pacific World of Nintendo Boo Action Figure
Day 1,404: Medicom Nintendo Series Legend of Zelda Link Ultra Detail Figure
Day 1,430: Sonic Drive-In Mario & Luigi Paper Jam Mario Figure
Day 1,433: Nintendo Shovel Knight Amiibo
Day 1,438: Jakks Pacific World of Nintendo Metroid Gravity Suit Samus Action Figure
Day 1,444: Jakks Pacific World of Nintendo 8-Bit Red Link Action Figure
Day 1,447: Jakks Pacific World of Nintendo 8-Bit Star Power Mario Action Figure
Day 1,454: Jakks Pacific World of Nintendo 8-Bit White Link Action Figure
Day 1,475: Jakks Pacific World of Nintendo Samus Mini Action Figure
Day 1,490: Jakks Pacific World of Nintendo 8-Bit Classic Mario Action Figure
Day 1,537: Jakks Pacific World of Nintendo Metroid Action Figure
Day 1,568: Good Smile Company The Legend of Zelda: A Link Between Worlds Link Deluxe Action Figure
Day 1,599: Nintendo Toad Amiibo
Day 1,601: The Octavirate Forge Shapeways NES Inspired Zapper Gun 5mm Grip
Day 1,605: Nintendo The Legend of Zelda Link Amiibo
Day 1,624: Jakks Pacific World of Nintendo Blooper Action Figure
Day 1,647: Jakks Pacific World of Nintendo Metroid Phazon Suit Samus Action Figure
Day 1,649: Nintendo Super Smash Bros. Little Mac Amiibo
Day 1,652: Jakks Pacific World of Nintendo Goomba Action Figure
Day 1,668: Jakks Pacific World of Nintendo 8-Bit Toad Action Figure
Day 1,672: Jakks Pacific World of Nintendo Boo Glow Action Figure
Day 1,677: Jakks Pacific World of Nintendo 8-Bit Star Luigi Action Figure
Day 1,691: Nintendo Super Smash Bros. Zelda Amiibo
Day 1,733: Nintendo Super Smash Bros. Wii Fitness Trainer Amiibo
Day 1,751: Jakks Pacific World of Nintendo 8-Bit Toad Variant Action Figure
Day 1,795: Nintendo Super Mario Boo Amiibo
Day 1,811: Hasbro Nintendo Diddy Kong Monopoly Gamer Power Pack
Day 1,812: Nintendo Metroid Samus Aran and Metroid Amiibo
Day 1,823: Hasbro Nintendo Boo Monopoly Gamer Power Pack
Day 1,843: Hasbro Nintendo Luigi Monopoly Gamer Power Pack
Day 1,858: Hasbro Nintendo Wario Monopoly Gamer Power Pack
Day 1,896: Good Smile Company Metroid Prime 3: Corruption Samus Aran Action Figure
Day 1,897: Hasbro Nintendo Fire Mario Monopoly Gamer Power Pack
Day 1,991: Jakks Pacific World of Nintendo 8-Bit Princess Peach Action Figure
Day 2,068: Nintendo Super Smash Bros. Ridley Amiibo
Day 2,159: The Legend of Zelda: Link's Awakening Amiibo Link
Day 2,170: Nintendo Super Smash Bros. Simon Amiibo
Day 2,340: Mattel Hot Wheels HW Screen Time Standard Kart
Day 2,361: Nintendo Metroid Dread Samus Aran and E.M.M.I. Amiibo
Day 2,614: Jakks Pacific Metroid Samus