Shovel Knight
Inspired By Your Childhood

Super Mario Maker Amiibo Wave 3 Amiibo
Item No.: No. NVL C AHAA USZ
Manufacturer: Nintendo
Includes: n/a
Action Feature: Works with Shovel Knight, Word Puzzles by POWGI, Mini Mario & Friends Amiibo Challenge
Retail: $13.99
Availability: January 2016
Other: Also

PREVIOUS
RSS
NEXT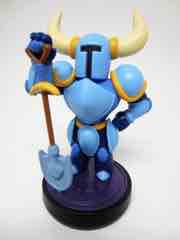 It would be a waste of time to talk about the Amiibo for Shovel Knight without touching on the game - which is pretty fantastic. The Kickstarter-based game was ported to a few consoles (including Wii U and 3DS) and surprisingly got an Amiibo made. The game itself is a surprisingly good - if easy - experience, loads of fun with lots of stuff to encourage replays. It looks and sounds a lot like a classic NES game, with play control not unlike Zelda II: The Adventure of Link meets DuckTales meets Mega Man games. If you're in your mid-30s or early 40s, this is a game to try - and based on reputation I snagged the game and this Amiibo with some store credit earlier this year. The game did not disappoint - it feels a lot like something you should have rented for a weekend on a boring spring weekend in or around 1990. While I didn't back the first game due to the reputation of game deliverables on Kickstarter, I'd plonk down money for whatever they do next. It's that good. This figure is also pretty much as good as you might hope.
Back in the late 1980s, you would occasionally see Applause or Mattel put out some non-articulated collectible figures based on Zelda, Mario, Punch-Out!!, or any of a few other games. Few. Game licenses were big during Pac-Man Fever and Q*Bert Qraziness, but not too many others got the toy treatment - and they were usually stiff, unarticulated figures. Shovel Knight fits in perfectly. The paint looks slightly better than what Applause might have given you in 1989, with clean horns even yellow trim, a nice black visor, and a subtle purple base.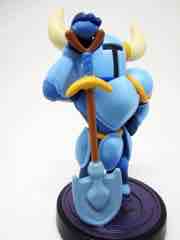 There is no articulation and the figure looks like it came from a sticker book or clip art packet used to advertise the game - Shovel Knight could just as well be a cousin of Kuros or Ryu or Mega Man. With shovel in hand, he can dig up some adventure or hit someone in the face. Assuming, of course, the shovel wasn't connected to the base - this is fundamentally just a nifty collectible PVC figure/statue, and for $14 or so it's a decent specimen for the price. How often do we get figures based on video games that aren't a major multi-million copy launch? Shovel Knight did well - I believe I read it sold close to a million copies, which is great - but it's a game for older gamers, first and foremost.
If you have the game, the figure unlocks a customizable mode and a multiplayer mode, among other things. In the normal game you can buy upgrades - in the Amiibo version, it doles them out as you "level up" by killing things and collecting gems. The game itself is fantastic without the figure - you'd never notice it was missing - but Yacht Club Games seems intent on supporting the title with free (and paid via Amiibo) content to keep it in your collection and out of GameStop's used bins. There's an entire campaign for Plague Knight as a playable character which has some of the cruelest jumps this side of the NES.
I don't know for sure if Toys-To-Life as a trend in gaming is over or just warming up. So far it seems Nintendo's offerings are some of the best - the software is good without the games, and the figures are decent without the software - but even the Amiibo figures seem to be hitting markdown now that Nintendo has mercifully given up the whole "let's make these collectible".shtmlect. I wouldn't have bought this figure if it weren't for the game because there's zero nostalgia or built-in audience for it, but it is a bizarre new artifact from the past. If you're dying for a figure that looks like it fell out of an old video game instruction booklet, this is it. I'd strongly encourage you to try the game out and then buy this figure - if you like old NES games, you're going to want both. If I still did game reviews here, I'd probably give it a disgustingly glowing ovation.
--Adam Pawlus
Additional Images


See more Amiibo figures in Figure of the Day:
Day 1,083: Nintendo Super Smash Bros. Amiibo Samus Aran
Day 1,107: Nintendo Super Smash Bros. Amiibo Link
Day 1,280: Nintendo Super Mario Maker Classic Color Mario
Day 1,296: Nintendo Super Smash Bros. Amiibo Mega Man
Day 1,299: Nintendo Super Smash Bros. Zero Suit Samus
Day 1,345: Nintendo Super Smash Bros. R.O.B., Mr. Game & Watch, and Duck Hunt
Day 1,433: Nintendo Shovel Knight Amiibo
Day 1,599: Nintendo Toad Amiibo
Day 1,605: Nintendo The Legend of Zelda Link Amiibo
Day 1,649: Nintendo Super Smash Bros. Little Mac Amiibo
Day 1,691: Nintendo Super Smash Bros. Zelda Amiibo
Day 1,733: Nintendo Super Smash Bros. Wii Fitness Trainer Amiibo
Day 1,795: Nintendo Super Mario Boo Amiibo
Day 1,812: Nintendo Metroid Samus Aran and Metroid Amiibo
Day 2,068: Nintendo Super Smash Bros. Ridley Amiibo
Day 2,159: The Legend of Zelda: Link's Awakening Amiibo Link
Day 2,170: Nintendo Super Smash Bros. Simon Amiibo
Day 2,361: Nintendo Metroid Dread Samus Aran and E.M.M.I. Amiibo

See more Nintendo figures in Figure of the Day:
Day 134: Applause Super Mario Bros. Super Mario with Koopa Troopa Action Figure
Day 369: Applause Zelda II: The Adventure of Link Link PVC Figure
Day 833: K'Nex Super Mario Blind-Bagged Series #2 Boo Action Figure
Day 926: Hasbro Pokemon Ash & Pikachu
Day 1,032: Jakks Pacific World of Nintendo Skyward Sword Link Action Figure
Day 1,083: Nintendo Super Smash Bros. Amiibo Samus Aran
Day 1,107: Nintendo Super Smash Bros. Amiibo Link
Day 1,125: Jakks Pacific World of Nintendo Metroid Action Figure
Day 1,162: Jakks Pacific World of Nintendo Metroid Samus Action Figure
Day 1,182: Jakks Pacific World of Nintendo Mario Action Figure
Day 1,186: Jakks Pacific World of Nintendo Luigi Action Figure
Day 1,280: Nintendo Super Mario Maker Classic Color Mario
Day 1,296: Nintendo Super Smash Bros. Amiibo Mega Man
Day 1,299: Nintendo Super Smash Bros. Zero Suit Samus
Day 1,320: Jakks Pacific World of Nintendo 8-Bit Link Action Figure
Day 1,335: Mattel Hot Wheels Nintendo Cool-One (Super Mario)
Day 1,336: Jakks Pacific World of Nintendo 8-Bit Luigi Action Figure
Day 1,341: Jakks Pacific World of Nintendo 8-Bit Donkey Kong Action Figure
Day 1,345: Nintendo Super Smash Bros. R.O.B., Mr. Game & Watch, and Duck Hunt
Day 1,347: Jakks Pacific World of Nintendo ComicConBox.com Metallic Metroid Samus Action Figure
Day 1,349: Jakks Pacific World of Nintendo 8-Bit Mario Action Figure
Day 1,363: Jakks Pacific World of Nintendo Shy Guy Action Figure
Day 1,367: Jakks Pacific World of Nintendo Convention Exclusive Jakks Giants Link Action Figure
Day 1,369: Jakks Pacific World of Nintendo Jakks Giants Mario Action Figure
Day 1,380: Jakks Pacific World of Nintendo Tanooki Mario Action Figure
Day 1,392: Toy Biz Video Game Super Stars Mario Kart 64 Mario Action Figure
Day 1,398: Jakks Pacific World of Nintendo Boo Action Figure
Day 1,404: Medicom Nintendo Series Legend of Zelda Link Ultra Detail Figure
Day 1,430: Sonic Drive-In Mario & Luigi Paper Jam Mario Figure
Day 1,433: Nintendo Shovel Knight Amiibo
Day 1,438: Jakks Pacific World of Nintendo Metroid Gravity Suit Samus Action Figure
Day 1,444: Jakks Pacific World of Nintendo 8-Bit Red Link Action Figure
Day 1,447: Jakks Pacific World of Nintendo 8-Bit Star Power Mario Action Figure
Day 1,454: Jakks Pacific World of Nintendo 8-Bit White Link Action Figure
Day 1,475: Jakks Pacific World of Nintendo Samus Mini Action Figure
Day 1,490: Jakks Pacific World of Nintendo 8-Bit Classic Mario Action Figure
Day 1,537: Jakks Pacific World of Nintendo Metroid Action Figure
Day 1,568: Good Smile Company The Legend of Zelda: A Link Between Worlds Link Deluxe Action Figure
Day 1,599: Nintendo Toad Amiibo
Day 1,601: The Octavirate Forge Shapeways NES Inspired Zapper Gun 5mm Grip
Day 1,605: Nintendo The Legend of Zelda Link Amiibo
Day 1,624: Jakks Pacific World of Nintendo Blooper Action Figure
Day 1,647: Jakks Pacific World of Nintendo Metroid Phazon Suit Samus Action Figure
Day 1,649: Nintendo Super Smash Bros. Little Mac Amiibo
Day 1,652: Jakks Pacific World of Nintendo Goomba Action Figure
Day 1,668: Jakks Pacific World of Nintendo 8-Bit Toad Action Figure
Day 1,672: Jakks Pacific World of Nintendo Boo Glow Action Figure
Day 1,677: Jakks Pacific World of Nintendo 8-Bit Star Luigi Action Figure
Day 1,691: Nintendo Super Smash Bros. Zelda Amiibo
Day 1,733: Nintendo Super Smash Bros. Wii Fitness Trainer Amiibo
Day 1,751: Jakks Pacific World of Nintendo 8-Bit Toad Variant Action Figure
Day 1,795: Nintendo Super Mario Boo Amiibo
Day 1,811: Hasbro Nintendo Diddy Kong Monopoly Gamer Power Pack
Day 1,812: Nintendo Metroid Samus Aran and Metroid Amiibo
Day 1,823: Hasbro Nintendo Boo Monopoly Gamer Power Pack
Day 1,843: Hasbro Nintendo Luigi Monopoly Gamer Power Pack
Day 1,858: Hasbro Nintendo Wario Monopoly Gamer Power Pack
Day 1,896: Good Smile Company Metroid Prime 3: Corruption Samus Aran Action Figure
Day 1,897: Hasbro Nintendo Fire Mario Monopoly Gamer Power Pack
Day 1,991: Jakks Pacific World of Nintendo 8-Bit Princess Peach Action Figure
Day 2,068: Nintendo Super Smash Bros. Ridley Amiibo
Day 2,159: The Legend of Zelda: Link's Awakening Amiibo Link
Day 2,170: Nintendo Super Smash Bros. Simon Amiibo
Day 2,340: Mattel Hot Wheels HW Screen Time Standard Kart
Day 2,361: Nintendo Metroid Dread Samus Aran and E.M.M.I. Amiibo
Day 2,614: Jakks Pacific Metroid Samus