Super Smash Bros. Simon
Not Richter

Super Smash Bros. Amiibo
Item No.: No. PUAA-NVL-C-AADJ-USZ-CO
Manufacturer: Nintendo
Includes: n/a
Action Feature: Works with a lot of stuff
Retail: $15.99
Availability: November 2019
Other: See also Richter

PREVIOUS
RSS
NEXT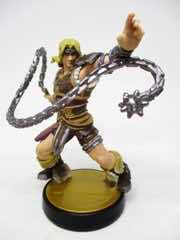 I saw the Super Smash Bros. Simon figure in stores a few days early, and they wouldn't sell it to me - accursed gating of sales! The figure's no slouch, and probably the widest-distribution Simon Belmont figure yet. There are more Castlevania toys available now thanks to Mondo and First4Figures than there have been in the franchises's heyday. If you wanted a Simon Belmont toy during the NES, Super NES, or N64 days you were completely out of luck - NECA eventually licensed the line and made a few figures in the 2000s, but this is probably your best bet right now.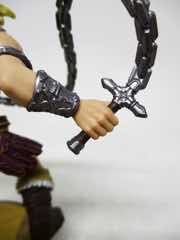 If you're a stickler for packaging, this one is kind of interesting. The packaging only calls the figure "Simon," with no trademarks or mention of Konami or Castlevania anywhere on the packaging. I don't know if this is a loophole to avoid some sort of royalties or just an attempt to get people to buy a Smash Bros. toy rather than one based on a 33-year-old game series, but it is kind of surprising. The packaging has Japanese and English, clearly aiming to go for a one-size-fits-all model.
His whip appears to be fully powered-up, molded in a twisting pattern and fused to the bottom of his arm. The little statue is made of multiple pieces of plastic molded in different colors with light paintwork on them, but what amazed me the most about the figure was the strange pose. His feet are hanging off the base, and to fudge it they're connected to clear blocks. This allows the figure to maintain a certain sense of scale with the rest of the line while keeping the base a consistent size. It's weird. It's clearly an intentional decision to showcase the figure a this particular size with his arms extended, his hair flowing, and his thighs positively huge.
He draws inspiration from the many eras of box art, taking the most cues from the original NES game to come up with the Super Smash Bros. incarnation. Simon feels like he could have come in from Eternia, but picked up a few upgrades along the way. For example, the grip on his whip is now a cross shape, and the bandana of old is now more of a tiara. It still looks cool. I'm not crazy about the face, which looks a little sunken-in, but it's not like there has ever been a definitive take on the Simon Belmont head. This is a decent figure, if expensive, and it certainly makes me pine for a Super7 or Mattel take on the figure based on the Masters of the Universe bucks. Until then, this is probably your best bet to celebrate your fandom unless you want to spend hundreds of dollars.
--Adam Pawlus
Additional Images


See more Amiibo figures in Figure of the Day:
Day 1,083: Nintendo Super Smash Bros. Amiibo Samus Aran
Day 1,107: Nintendo Super Smash Bros. Amiibo Link
Day 1,280: Nintendo Super Mario Maker Classic Color Mario
Day 1,296: Nintendo Super Smash Bros. Amiibo Mega Man
Day 1,299: Nintendo Super Smash Bros. Zero Suit Samus
Day 1,345: Nintendo Super Smash Bros. R.O.B., Mr. Game & Watch, and Duck Hunt
Day 1,433: Nintendo Shovel Knight Amiibo
Day 1,599: Nintendo Toad Amiibo
Day 1,605: Nintendo The Legend of Zelda Link Amiibo
Day 1,649: Nintendo Super Smash Bros. Little Mac Amiibo
Day 1,691: Nintendo Super Smash Bros. Zelda Amiibo
Day 1,733: Nintendo Super Smash Bros. Wii Fitness Trainer Amiibo
Day 1,795: Nintendo Super Mario Boo Amiibo
Day 1,812: Nintendo Metroid Samus Aran and Metroid Amiibo
Day 2,068: Nintendo Super Smash Bros. Ridley Amiibo
Day 2,159: The Legend of Zelda: Link's Awakening Amiibo Link
Day 2,170: Nintendo Super Smash Bros. Simon Amiibo
Day 2,361: Nintendo Metroid Dread Samus Aran and E.M.M.I. Amiibo

See more Nintendo figures in Figure of the Day:
Day 134: Applause Super Mario Bros. Super Mario with Koopa Troopa Action Figure
Day 369: Applause Zelda II: The Adventure of Link Link PVC Figure
Day 833: K'Nex Super Mario Blind-Bagged Series #2 Boo Action Figure
Day 926: Hasbro Pokemon Ash & Pikachu
Day 1,032: Jakks Pacific World of Nintendo Skyward Sword Link Action Figure
Day 1,083: Nintendo Super Smash Bros. Amiibo Samus Aran
Day 1,107: Nintendo Super Smash Bros. Amiibo Link
Day 1,125: Jakks Pacific World of Nintendo Metroid Action Figure
Day 1,162: Jakks Pacific World of Nintendo Metroid Samus Action Figure
Day 1,182: Jakks Pacific World of Nintendo Mario Action Figure
Day 1,186: Jakks Pacific World of Nintendo Luigi Action Figure
Day 1,280: Nintendo Super Mario Maker Classic Color Mario
Day 1,296: Nintendo Super Smash Bros. Amiibo Mega Man
Day 1,299: Nintendo Super Smash Bros. Zero Suit Samus
Day 1,320: Jakks Pacific World of Nintendo 8-Bit Link Action Figure
Day 1,335: Mattel Hot Wheels Nintendo Cool-One (Super Mario)
Day 1,336: Jakks Pacific World of Nintendo 8-Bit Luigi Action Figure
Day 1,341: Jakks Pacific World of Nintendo 8-Bit Donkey Kong Action Figure
Day 1,345: Nintendo Super Smash Bros. R.O.B., Mr. Game & Watch, and Duck Hunt
Day 1,347: Jakks Pacific World of Nintendo ComicConBox.com Metallic Metroid Samus Action Figure
Day 1,349: Jakks Pacific World of Nintendo 8-Bit Mario Action Figure
Day 1,363: Jakks Pacific World of Nintendo Shy Guy Action Figure
Day 1,367: Jakks Pacific World of Nintendo Convention Exclusive Jakks Giants Link Action Figure
Day 1,369: Jakks Pacific World of Nintendo Jakks Giants Mario Action Figure
Day 1,380: Jakks Pacific World of Nintendo Tanooki Mario Action Figure
Day 1,392: Toy Biz Video Game Super Stars Mario Kart 64 Mario Action Figure
Day 1,398: Jakks Pacific World of Nintendo Boo Action Figure
Day 1,404: Medicom Nintendo Series Legend of Zelda Link Ultra Detail Figure
Day 1,430: Sonic Drive-In Mario & Luigi Paper Jam Mario Figure
Day 1,433: Nintendo Shovel Knight Amiibo
Day 1,438: Jakks Pacific World of Nintendo Metroid Gravity Suit Samus Action Figure
Day 1,444: Jakks Pacific World of Nintendo 8-Bit Red Link Action Figure
Day 1,447: Jakks Pacific World of Nintendo 8-Bit Star Power Mario Action Figure
Day 1,454: Jakks Pacific World of Nintendo 8-Bit White Link Action Figure
Day 1,475: Jakks Pacific World of Nintendo Samus Mini Action Figure
Day 1,490: Jakks Pacific World of Nintendo 8-Bit Classic Mario Action Figure
Day 1,537: Jakks Pacific World of Nintendo Metroid Action Figure
Day 1,568: Good Smile Company The Legend of Zelda: A Link Between Worlds Link Deluxe Action Figure
Day 1,599: Nintendo Toad Amiibo
Day 1,601: The Octavirate Forge Shapeways NES Inspired Zapper Gun 5mm Grip
Day 1,605: Nintendo The Legend of Zelda Link Amiibo
Day 1,624: Jakks Pacific World of Nintendo Blooper Action Figure
Day 1,647: Jakks Pacific World of Nintendo Metroid Phazon Suit Samus Action Figure
Day 1,649: Nintendo Super Smash Bros. Little Mac Amiibo
Day 1,652: Jakks Pacific World of Nintendo Goomba Action Figure
Day 1,668: Jakks Pacific World of Nintendo 8-Bit Toad Action Figure
Day 1,672: Jakks Pacific World of Nintendo Boo Glow Action Figure
Day 1,677: Jakks Pacific World of Nintendo 8-Bit Star Luigi Action Figure
Day 1,691: Nintendo Super Smash Bros. Zelda Amiibo
Day 1,733: Nintendo Super Smash Bros. Wii Fitness Trainer Amiibo
Day 1,751: Jakks Pacific World of Nintendo 8-Bit Toad Variant Action Figure
Day 1,795: Nintendo Super Mario Boo Amiibo
Day 1,811: Hasbro Nintendo Diddy Kong Monopoly Gamer Power Pack
Day 1,812: Nintendo Metroid Samus Aran and Metroid Amiibo
Day 1,823: Hasbro Nintendo Boo Monopoly Gamer Power Pack
Day 1,843: Hasbro Nintendo Luigi Monopoly Gamer Power Pack
Day 1,858: Hasbro Nintendo Wario Monopoly Gamer Power Pack
Day 1,896: Good Smile Company Metroid Prime 3: Corruption Samus Aran Action Figure
Day 1,897: Hasbro Nintendo Fire Mario Monopoly Gamer Power Pack
Day 1,991: Jakks Pacific World of Nintendo 8-Bit Princess Peach Action Figure
Day 2,068: Nintendo Super Smash Bros. Ridley Amiibo
Day 2,159: The Legend of Zelda: Link's Awakening Amiibo Link
Day 2,170: Nintendo Super Smash Bros. Simon Amiibo
Day 2,340: Mattel Hot Wheels HW Screen Time Standard Kart
Day 2,361: Nintendo Metroid Dread Samus Aran and E.M.M.I. Amiibo
Day 2,614: Jakks Pacific Metroid Samus