Metroid Prime 3: Corruption Samus Aran Action Figure
Max Factory x Masaki Apsy

Metroid Prime 3: Corruption Figma Action Figures
Item No.: Products Number 349
Manufacturer: Good Smile Company
Includes: Stand, plastic bag, 4 hands, 2 cannon tips, Morph Ball Samus
Action Feature: n/a
Retail: $79.99
Availability: January 2018
Other: From Metroid Prime 3: Corruption

PREVIOUS
RSS
NEXT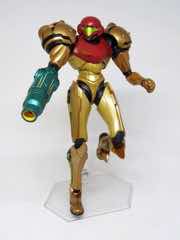 I generally don't like buying high-end figures, but since it seemed it would be a while until we got a Figma based on a decent 2D Samus Aran I went ahead and ordered the Metroid Prime 3: Corruption version a long time ago. Like... a year ago or more. The figure is basically a fancy-pants version of the Comic Con Box Samus [FOTD #1,347] which is less impressive, but has a higher contrast paint job at a fraction of the price. Jakks' armor colors are much more interesting, but the Figma is an engineering delight. The Figma is truer to the game colors, sure, but sometimes getting it wrong makes for a more exciting product.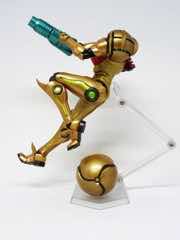 At about the same 6-inch scale as Marvel Legends and Star Wars: The Black Series figures, Samus is fairly sizable and a roughly 1:12 replica of what the real thing might be. She has an exception range of motion with articulated toes, wrists, elbows, hips, thighs, and I could go on. Multiple joints in the neck allow this armored warrior to express considerable personality in how she can be posed, with special cut joints in her torso and thighs to allow for an even greater range of motion than most figures. I can't get every pose I'd want to get easily, but I was able to find a number of really good poses for the figure without trying very hard. The figure looks good regardless of what you do to pose her, and you can add to the changes in mood with four different hands. Wide fingers, a fist, a thumbs-up, and a general "grip" hand are all included to be one of few ways you can emote through this armor.
The cannon tip can also be swapped out, with an open tip incorporating the rockets as your other option. The open tip feels like it could break under pressure, and the painted piece is a very tight fit in the arm socket - so take care when using it. Similarly, the hole in her back is a very tight fit for the clear peg on the Figma Display Stand, so don't snap it off in there. The parts all work fairly well, and they clearly put a lot of thought in to how she will live on your desk. Even the morph ball Samus figure has a hole for the display stand. She clearly doesn't need it, but it's here, because someone cared enough to incorporate it.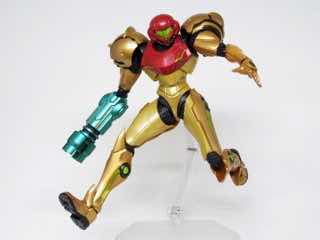 The figure has exceptional detail, from the multiple pieces of plastic in red, orange, and yellow fitting together to the clear green elements to give her an even more fleshed-out appearance. The metallic green visor is opaque, but if you look at it you can almost imagine the face of the hunter behind it. It's shiny, it's metallic, and it's perfect. There are clear green elments on her arms and legs, appearing with small round gems that would probably light up if this figure cost another $50. Maybe we'll see that in the next decade. The armor bits are painted nicely, with lots of panel lines - many of which aren't painted. The elements that are painted versus those that aren't are strikingly similar to the Jakks figure, just with differing levels of precision and refinement. Good Smile Company ensured crisper lines, little green bits in the shoulders, and hints of life and energy inside areas that were simply black lines or blobs on the mass-release figure for the US market. Given the difference in prices, you should not be surprised.
Swapping fists is an easy task, and the figure is able to express a lot if you pose her just right. The colors are a little flatter than I would like as a long-time fan of the series, but I can't say it isn't authentic. Nintendo's legendary approval process no doubt resulted in delays and refinements to this definitive action figure take on one of their most beloved and largely ignored protagonists. I think this is a really marvelous figure, but I'd also drop it in a hot minute for a Varia Suit version based on Metroid II: Return of Samus. We all have our preferences. I expect new versions of Samus are in the works for the future, and given her current price I don't expect you'll see them on the market in the bargain bins. If you can swing it, this is a really wonderful figure.
--Adam Pawlus
Additional Images

See more Good Smile Company figures in Figure of the Day:
Day 1,568: Good Smile Company The Legend of Zelda: A Link Between Worlds Link Deluxe Action Figure
Day 1,896: Good Smile Company Metroid Prime 3: Corruption Samus Aran Action Figure

See more Nintendo figures in Figure of the Day:
Day 134: Applause Super Mario Bros. Super Mario with Koopa Troopa Action Figure
Day 369: Applause Zelda II: The Adventure of Link Link PVC Figure
Day 833: K'Nex Super Mario Blind-Bagged Series #2 Boo Action Figure
Day 926: Hasbro Pokemon Ash & Pikachu
Day 1,032: Jakks Pacific World of Nintendo Skyward Sword Link Action Figure
Day 1,083: Nintendo Super Smash Bros. Amiibo Samus Aran
Day 1,107: Nintendo Super Smash Bros. Amiibo Link
Day 1,125: Jakks Pacific World of Nintendo Metroid Action Figure
Day 1,162: Jakks Pacific World of Nintendo Metroid Samus Action Figure
Day 1,182: Jakks Pacific World of Nintendo Mario Action Figure
Day 1,186: Jakks Pacific World of Nintendo Luigi Action Figure
Day 1,280: Nintendo Super Mario Maker Classic Color Mario
Day 1,296: Nintendo Super Smash Bros. Amiibo Mega Man
Day 1,299: Nintendo Super Smash Bros. Zero Suit Samus
Day 1,320: Jakks Pacific World of Nintendo 8-Bit Link Action Figure
Day 1,335: Mattel Hot Wheels Nintendo Cool-One (Super Mario)
Day 1,336: Jakks Pacific World of Nintendo 8-Bit Luigi Action Figure
Day 1,341: Jakks Pacific World of Nintendo 8-Bit Donkey Kong Action Figure
Day 1,345: Nintendo Super Smash Bros. R.O.B., Mr. Game & Watch, and Duck Hunt
Day 1,347: Jakks Pacific World of Nintendo ComicConBox.com Metallic Metroid Samus Action Figure
Day 1,349: Jakks Pacific World of Nintendo 8-Bit Mario Action Figure
Day 1,363: Jakks Pacific World of Nintendo Shy Guy Action Figure
Day 1,367: Jakks Pacific World of Nintendo Convention Exclusive Jakks Giants Link Action Figure
Day 1,369: Jakks Pacific World of Nintendo Jakks Giants Mario Action Figure
Day 1,380: Jakks Pacific World of Nintendo Tanooki Mario Action Figure
Day 1,392: Toy Biz Video Game Super Stars Mario Kart 64 Mario Action Figure
Day 1,398: Jakks Pacific World of Nintendo Boo Action Figure
Day 1,404: Medicom Nintendo Series Legend of Zelda Link Ultra Detail Figure
Day 1,430: Sonic Drive-In Mario & Luigi Paper Jam Mario Figure
Day 1,433: Nintendo Shovel Knight Amiibo
Day 1,438: Jakks Pacific World of Nintendo Metroid Gravity Suit Samus Action Figure
Day 1,444: Jakks Pacific World of Nintendo 8-Bit Red Link Action Figure
Day 1,447: Jakks Pacific World of Nintendo 8-Bit Star Power Mario Action Figure
Day 1,454: Jakks Pacific World of Nintendo 8-Bit White Link Action Figure
Day 1,475: Jakks Pacific World of Nintendo Samus Mini Action Figure
Day 1,490: Jakks Pacific World of Nintendo 8-Bit Classic Mario Action Figure
Day 1,537: Jakks Pacific World of Nintendo Metroid Action Figure
Day 1,568: Good Smile Company The Legend of Zelda: A Link Between Worlds Link Deluxe Action Figure
Day 1,599: Nintendo Toad Amiibo
Day 1,601: The Octavirate Forge Shapeways NES Inspired Zapper Gun 5mm Grip
Day 1,605: Nintendo The Legend of Zelda Link Amiibo
Day 1,624: Jakks Pacific World of Nintendo Blooper Action Figure
Day 1,647: Jakks Pacific World of Nintendo Metroid Phazon Suit Samus Action Figure
Day 1,649: Nintendo Super Smash Bros. Little Mac Amiibo
Day 1,652: Jakks Pacific World of Nintendo Goomba Action Figure
Day 1,668: Jakks Pacific World of Nintendo 8-Bit Toad Action Figure
Day 1,672: Jakks Pacific World of Nintendo Boo Glow Action Figure
Day 1,677: Jakks Pacific World of Nintendo 8-Bit Star Luigi Action Figure
Day 1,691: Nintendo Super Smash Bros. Zelda Amiibo
Day 1,733: Nintendo Super Smash Bros. Wii Fitness Trainer Amiibo
Day 1,751: Jakks Pacific World of Nintendo 8-Bit Toad Variant Action Figure
Day 1,795: Nintendo Super Mario Boo Amiibo
Day 1,811: Hasbro Nintendo Diddy Kong Monopoly Gamer Power Pack
Day 1,812: Nintendo Metroid Samus Aran and Metroid Amiibo
Day 1,823: Hasbro Nintendo Boo Monopoly Gamer Power Pack
Day 1,843: Hasbro Nintendo Luigi Monopoly Gamer Power Pack
Day 1,858: Hasbro Nintendo Wario Monopoly Gamer Power Pack
Day 1,896: Good Smile Company Metroid Prime 3: Corruption Samus Aran Action Figure
Day 1,897: Hasbro Nintendo Fire Mario Monopoly Gamer Power Pack
Day 1,991: Jakks Pacific World of Nintendo 8-Bit Princess Peach Action Figure
Day 2,068: Nintendo Super Smash Bros. Ridley Amiibo
Day 2,159: The Legend of Zelda: Link's Awakening Amiibo Link
Day 2,170: Nintendo Super Smash Bros. Simon Amiibo
Day 2,340: Mattel Hot Wheels HW Screen Time Standard Kart
Day 2,361: Nintendo Metroid Dread Samus Aran and E.M.M.I. Amiibo