Metal Gear: Buy 'Em
August 1 2001
Harry Potter Lego Images Online
A German catalog from the construction block mega-company was released in Deutschland. Of interest, amongst other things, are some of the first images many have seen of another licensed Lego line, Harry Potter. The images were scanned by Christian Gemunden, and his site has the whole scoop, which includes a Hogwart's Express train and a bunch of new hair pieces for figures. Groovy stuff. We at 16bit.com have never read any of the Harry Potter stuff, and well, we think this stuff is great. REALLY great. A large looking castle-like school and all sorts of goodies await fantasy fans and anglophiles this Fall. Like owls and frogs and three-headed hellhounds.
He-Man: New Images and Names
He-Man.org has posted scores of new shots of the new Mattel figures, as well as some names for the additional versions of He-Man. There's also more shots of the Mattel booth from San Diego and shots of the prototype packaging-- including He-Man, with the words "Exclusive Sticker and Video Included!" Well worth checking out.
Knight Rider To Return?
Fans of retro-kitsch should be interested to know that in a report on The Mr. Showbiz Website, David Hasselhoff makes mention of a return of KITT, everybody's second favorite talking car. Check out the full story!
Lego Pirates Return
Looks like Danish toy company LEGO is reintroducing their popular pirate sets in the near future. Look for the Armada Flagship (6291, approx. $50) as well as the Enchanted Island (6292, $70) and the Red Beard Runner (6290, $100.) According to information on the fantastic Lego info site Lugnet, you can look forward to seeing these around the end of September.
Metal Gear Solid Toys on Clearance
E-tailler Express.com is blowing out several Japanese and video game related toys, including some from Metal Gear Solid. They're selling Sniper Wolf for $2.50, Psycho Mantis for $3.00, and Revolver Ocelot for $8.99. If you've been wanting them, then now's a good time to pick some up. Selected Beast Wars and MicroMan toys have also been marked down. As of the time we write this (after 7 PM our time on the 31st) they had several items remaining in stock.
Mr. Show DVD
A few days after (or during, I ferget) San Diego Comic Con International, an aspiring fan set out to get Mr. Show on DVD. He sent news of his petition to many of the major DVD sites, and, surprisingly, most of the bigger Star Wars collecting sites. And it appears he may have an answer, although not a great one, courtesy of this page at DVD File. Apparently, there's still no word, but you can read the scoop that one of the webmasters got courtesy of Mr. Show's very own David Cross.
TransFormers News
First up, some Target stores have moved their Beast Machines to "final markdown." You can tell if these are the final clearance prices by the final digit in the price being a "4." We found some Deployers for $1.44 (alas, no Rav) and the Mega size Megatron Dragon for $3.74 at one store while the other did not price them at "steal me" prices. We're hoping for some other cheap-o finds in the week, and if you find any Battle Unicorns, don't hesitate to share.

And second, and more important, this site posted a list of Robots in Disguise info and images. Shots of new toys have been posted along with a list showing the Japanese Car Robots name as well as the RID names.

Lastly, the Act 2 PVC section-- for both of you who are interested and don't have them-- is actually almost done. (Amazing, eh?) Expect it to be done and online by Friday morning.

-- AP

TransFormers PVC Act 2: Online
August 3 2001
Final Fantasy Tidbits
Word on the street has it that the rerelease of what we believe to be a highly overrated game, Final Fantasy Tactics, has had some bad discs pressed. So when you go out to find the strategy-based title, be warned that you might have to wait a little longer before taking control of the Zodiac Knights.

Also, a domestic release of the soundtracks to Super NES classics Final Fantasy IV (aka FF 2) and Chrono Trigger are on the way-- full art and track listings are up at The Gaming Intelligence Agency. Each is set to retail for just under $15 and will be released near the end of the month.
Planet of the Apes 2001
Darryl and I caught this just the other day. Good times. Ape-o-licious. Check it out if you're one of the six who haven't. (Sure, the toys suck, but we want a sequel anyway.)
Spider-Man Classics Price Drop
Target stores have dropped the price of the figure achievement of the year to $3.99 each. Each figure includes a comic, a stand, and sculpting & articulation that you may never see again on a domestic figure this cheap. Take a look at our unfinished feature.

Site Updates
After several months of delays, this section is finally complete. All six regular and clear figures, the case in which the boxes were shipped, and the boxes themselves are represented.

Also, we found us a phat Captain McCallister from The Simpsons, and he'll be up on Monday. (At Target, for curious parties.)

-- AP

War. Waaaaar.
August 6 2001
Beast Machines Evaporate at Target
The maligned line of Maximals and Vehicons has hit final clearance at Targets everywhere and has, more or less, dried up. "Basic" toys and "Deployers" were reduced to $1.64 or less, "Deluxe" toys (regularly $10) were $2.64 or so, "Mega" toys ($15) were down to $3.64, and the Supreme Cheetor-- originally $40-- was down to under ten bucks. We spotted no "Ultra" sized toys on local clearances but expected them to have been around $6.

Most local stores are out of everything except a few Deployers, an odd Supreme Cheetor, and a fairly healthy stash of $3.64 Megatrons. Fair warning: Megatron is a very small toy, in robot mode he's about the same size as most "basic" level toys.

And one of the final releases for the line, Blast Punch Optimus Primal, continues to show up in random K-Mart stores. So if you still need this one, definitely keep your eyes open.
PlayStation 2 Rumor
Because this is the Internet, we're legally obligated to report on Internet rumors. Buzz has it Sony is considering dumping DVD playback on its PS2 game console to reduce costs. Since a DVD drive can still play games without having movie playback, this seems like a shrewd move-- after all, roughly $30 per player goes to the DVD group for each player sold, just to say it can play DVDs. More as it develops, but as with most Internet rumors it will probably fizzle out by next week.
Robots In Disguise TV Show Promos
This weekend, Fox Kids started the rollout of promos for its localization of the Japanese "Car Robots" series. BigBot linked to a page with all three promos, which you can find right here. They're all 30 seconds or less and in RealMedia format, so odds are most of you can use them.

The actual show begins airing in the USA on September 8.
Site Updates
Added Captain McCallister to our Simpsons Archive.

-- DS2

"If you fool me three times..."
August 8 2001
Simpsons: Boxing Homer Sells Out
The Simpsons Collector Sector is reporting that ToyFare has once again sold out of their exclusive action figures. The person who wrote in said they had sent in for the figure on July 25-- you might want to check out their message boards, under the subject "Boxing Homer Coupons Returned"-- for the latest dirt.

(We sent for ours on July 23, the day after we first finally saw the mag at a newsstand. It sold out online before we got online to order. We're gonna be mighty miffed if we get our check back again.)

-- AP

Repaint Bo-Nanza
August 9 2001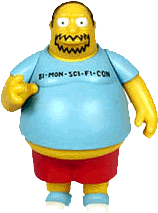 Simpsons: New Comic Book Guy Available, Sells Out Online
WizardWorld is offering the Comic Book Guy (Bi-Mon-Sci-Fi-Con edition) online for $17 shipped, limit three. According to the Simpsons Collector Sector, 3,000 units have been allocated to the website. The figure is still available via a coupon in the newly released issue #50 of ToyFare, which features a cover and a brief feature on the upcoming Treehouse of Horror II set.

The item went up yesterday morning and sold out early in the evening. Pin Pal Moe, the next exclusive, will be offered in the next few months. Currently it is unknown which, if any, figures will be offered after Moe.

...and in fun trivia news, the Sector is also reporting that an eBay auction had a dealer preselling the now-cancelled Aztech Theater playset. The fun trivia? It was to have come with Rainer Wolfcastle.
Target Resets Toy Aisles
If you frequent the halls of the red and white, you've probably noticed a lot of clearances and some new product in your local Targets. This is the beginning of the new set-up for the holidays, and there's new stuff all around-- so get out and look, already.

-- AP

Boxolicious
August 10 2001
Nintendo GameCube Box Art
The GIA posted an image of the GameCube console's box right here. The biggest surprise? It, too, sports a handle.
Simpsons READ Posters Still Available
The ALA, American Library Association, is offering a variety of posters to libraries and, also, to interested consumers. This Simpsons poster (#5020-2700) measures 31" by 22" and costs $10. There's also a pack of 100 bookmarks (#5020-2601) for $7.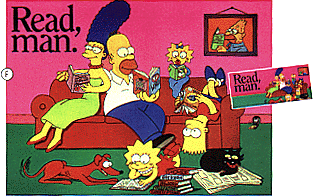 Other items include posters based on the upcoming Lord of the Rings film, five different Star Wars posters, a few Trek posters, and more. Be sure to call them up and ask for a catalog.
(To order, visit www.alastore.ala.org or call 1-800-545-2433, press 7.)
Simpsons Off Target?
In a local surprise move, the neighborhood Target store reset its toy section has reset with no Simpsons product and no shelf or peg space dedicated to America's favorite post-modern stoneage family. When asking employees who were resetting the store, they said that because Playmates was unable to supply them a steady stream of product, that they would dedicate the space to something else. Quite interesting, seeing as how we've only seen Wave 5 at this particular store so far. (So much for finding our Bumblebee Man there.)

Of course, this is only the world from a few employees at one store, and as you all know by now that this usually isn't the best place to go for news. But, if nothing else, it's a notable development.
Star Wars Exclusives for Disneyland?
Even though we aren't a Star Wars site, this seemed worth of mention. Rumor has it toymaker Hasbro has inked a deal to sell some new and repainted figures at Disneyland to tie in with their now-ancient Star Tours ride. Apparently these will also be offered online. Is it true? Time will tell, keep checking your favorite Star Wars websites for the full scoop.
Zoids-- New Releases in USA, Japan
Hobby Link Japan has a number of new Zoids in stock, complete with images. Those unfamilliar with the kit-based robo-animal toys would be advised to pick one or two up-- as far as toys go, these are pretty great. They've been released in the USA in the past, more on that below. New creatures in the latest round of Japanese releases include a bat, a whale, A US re-re-release is due later this year, including recolored Japanese kits and some prebuilt PVC figures that look to be similar to the little Pokemon guys. Hasbro will be handling this reissue. Previous incarnations of Zoids in the US include Zoids (Early '80s, Tomy), Robostrux (Mid '80s, Tomy) and TechnoZoids (Mid '90s, Kenner.)

The Japanese toys are known for colorful and in many times amusing names, such as Wardick-- a robotic fish of death-- and a lizard/dragon type called the Berserk Fuher. Also, the current range includes both new kits and reissues of sets dating back to the very first series of Zoids.

-- DS2

Now With Iodine
August 13 2001
GI Joe: More American Heroes
YoJoe.com posted shots of the upcoming Desert Striker with Flint packaging.
The Simpsons
Are You Phat Enough?: The Simpsons Collector Sector has some news on their message board on a contest at Wizard World-- apparently, they're looking for 25 fans to participate in a Comic Book Guy lookalike contest. The CBG, for the uninitiated, is a rotund sarcastic parody of a significant percentage of every man who has ever bought a comic, criticized a TV show on the Internet, or bought a toy after turning 16. And he's really big. Here's hoping they post shots of the contestants.

Pin Pal Price Plummet: Looks like the dealers who ordered dozens of Pin Pal Burns are in for a surprise-- recent eBay auctions have been gradually ending at lower prices than before the figure's release. Once reaching prices above $100, recent auctions are going for a more modest $60-$80.

Target Today: The latest news seems to be that each Target store is, not surprisingly, going to handle this differently. Some stores have product, but no pegs allocated for said product. Some stores have no shelf space or intention to carry more. So it looks like the hugely popular line will still show up all over the place at totally random times, so keep checking back.
Sideshow Toys Interview
Relative newcomer and highly talented Sideshow Toys are interviewed at JoeWorld-OnLine. Sideshow, best known for their recent Universal Monsters product, have recently obtained the licenses for many other classic film characters and even some cult favorite TV series... find out who in this new interview!
Site Updates
The main computer at 16bit Labs is still going through some fun kinks, but we've got the box of the Toyfare Exclusive Glow-In-The-Dark Homer to show you today. We'd have the Bumblebee Man to show you, but we still can't find it.

Some other new features are on their way to being done in the next week or two, so sit tight and prepare for more niche weirdness!

-- DS2

Fresh Canned Robot
August 15 2001
Bionicle Bonanza
The recent reset of toy aisles around America has resulted in more new product... but in a bit of a surprise, LEGO's new Bionicle offerings seem to be selling out faster than pigs in summer. (Bad metaphor.) The polynesian-inspired kid-assembled robots come in over a dozen varieties in different price points, and well, if your kids ask for these be sure to pick 'em up early.

More information on this can be found at their official site, Bionicle.com, and more fandemonious info is at The Mask Of Destiny, a fan site brought to you by some of the guys behind Rebelscum.

We picked up one about a month ago, and we're having a blast with it. Lots of articulation and the idea of rebuilding it as something else makes for a great toy-- if you have $7, pick up one of them and you probably won't regret it.
Final Fantasy Movie DVD Features
The Gaming Intelligence Agency has posted a story on the upcoming DVD for the movie that once again proved that a strong game franchise doesn't guarantee any additional success in the marketplace. The two discs are stuffed with commentaries, a score track, and gobs of extras.
TransFormers Megatron Bust
Some concept art and a preorder is up for the upcoming Megatron statue over at Action Figure Express. It's about $50, and it's Megatron from the waist up. For $50, you think we could get some legs or something. The Optimus Prime statue seems to be getting a lukewarm reception based on eBay sales and some reduced prices...
Nintendo Gamecube, Spaceworld '01
Because we're poor and living in the USA, we won't be reporting on Spaceworld, Nintendo's annual trade show/convention in Japan. New software and other announcements are expected, such as a new Mario title for the launch of the GameCube. Watch your favorite video game sites for more on this one when the show starts next week!

Importer extraordinarre NCS is already taking reservations for the Japanese version of the console-- a bundle with two games and a memory card will be going for US$450.
X-Box X-Citement
Bad puns worldwide won't keep down the new Microsoft console. Maligned by the press and gamers, this $300 oversized black box seems to be in a highly volitile position-- preorders and mailing lists are starting, but there's no software that many gamers seem to be getting behind. Those interested in the next big thing or the next big failure would be wise to start hopping around videogame sites if they haven't already.

Unlike Nintendo's new system, rumors of shortages and other assorted fan-based madness continue to flourish. Will Nintendo's rumor mill catch up? Only time will tell.

-- AP

Fansamuraitastic
August 16 2001
Bionicle Contest
MaskOfDestiny.com is running a contest for a Legoland exclusive translucent green mask-- find out which one and how to enter by visiting their site today!
New GI Joe Images
YoJoe.com posted shots of the new Flint figure being packaged with the Desert Striker vehicle. Nifty.
New He-Man Coming Early?
He-Man.org has a pretty nice blurb of official info from Mattel regarding the availability of the new action heroes. Turns out they're on tap for release this year... to find out when, and which episodes might be rereleased on video with them, visit He-Man.org! Tough!
Samurai Jack Toys
Fans of the latest show from Cartoon Network will find their new favorite hero enshrined in plastic at the Cartoon Network website. Of course, you can click right to the store here. There are four Jack figures at $7.99 each and one larger one at $14.99. Bitchen!
Simpsons ToyFare Convention Comic Book Guy Out Now?
The Simpsons Collector Sector is pointing to this auction, which features a boxed, allegedly in-hand Convention Comic Book Guy, which is interesting because the previous exclusive ToyFare Simpsons figure hasn't even shipped yet... and the one before that still hasn't finished shipping. Baffling.
Site Status
16bit.com's offices are relocating and should be back up and running before the weekend. So we'd like to give a shout out to our six readers: kindly bear with us during our move.

-- AP

Es Muy Bueno
August 20 2001
Cheers, Family Ties Coming to Nick at Nite in September
If you aren't feeling old yet, this should help change that. The Cosby Show will join the all-night Sitcom Network in March.

[ Info culled from Nick press releases and TV promo spots. ]
PSOne Dragon Quest/Warrior IV Images at The GIA
The GIA posted this feature with some shots of the upcoming remake of one of the all-time popular RPGs. The upcoming PlayStation facelift of a NES game really looks slick.
DVD Reviews
The Digital Bits has posted reviews of the double-disc set for The Princess Bride, which was said to make the original disc's extras and print look like garbage. The Bits also has a list of the extras for the upcoming two-disc Monty Python and the Holy Grail, which seems to have enough notable extras that even people who have seen the movie so much they can-- and will-- quote the whole thing back to you will have something new to enjoy. Lastly, the DVD File has posted an early review of the long-awaited Forrest Gump discs.

...and America still waits for the Back to the Future DVD, which was originally announced to be released shortly after the launch of the DVD format and has since been delayed roughly twice a year since 1997. The DVD release area of BTTF.com now says we just might see Doc and Marty on DVD soon... like we've heard before for the past few years.
Carded Harry Potter Movie Figures on eBay
This auction has a half-dozen of the new Mattel figures complete with pictures. Due to how the seller wrote the HTML in the auction, the pictures are stretched rather awkwardly, so they look best opened outisde the page. The images are still a little fuzzy, but it's the first I've seen packaged samples of these guys.
Jay & Silent Bob Strikes Back Impressions
We got to see a preview of the new Kevin Smith flick on Saturday. Sure, we had to pay for it, but we got to see it a week early.

Since we aren't a movie site, this'll be brief: it's about 100 minutes of cameos and references, some of which are hysterical, others are amusing, and there's one or two that make you stop and ask just why they're there. But what's good is gold-- there's stuff here that I never expected to see on film, including a quickie visualization of an old and very long-lived Internet urban legend.

If you've seen and enjoyed Smith's other films, you will get and most likely enjoy this, even if it does eventually fall into the terrible pattern of Hollywood-- someone, in the course of the movie, has an epiphany and grows as a person. And not in a good "Chasing Amy" kind of way. But then again, there's this Scooby Doo sequence... you'll love it.

We'll be buying the DVD for this one. And Smith will be on ABC-TV's Politically Incorrect tonight.
Marvel Legends Iron Man at Action Figure Times
Action Figure Times has posted shots of the all-new ultra-articulated Iron Man. The Hulk was shown at San Diego last month.
Spider-Man Classics Wave 2 Released
Word has it that the new figures are showing up, with a review of the new Daredevil up at Comic Book Galaxy. A set of the figures has shown up on eBay, and, of course, we're still looking for a set ourselves.
TransFormers PVCs Act 5
E-Hobby posted this page with the Act 5 PVCs. Included: Black Zarak, Devastator, Omega Supreme, Go Shooter, Overlord, a new Optimus Prime, and Metalhawk with Minerva (human[oid]). The image, sadly, is only sketches.
Site Updates
We'll be adding some original content this week-- got the Channel Ocho Bee, got some pics of old video game toys, and some more goodies we just need to edit. Of course, you've heard all this before, which is why you don't read this site.

-- AP

Run's House
August 21 2001
3D Animation from Japan from McFarlane: Kay-Bee Clearance
The first batch of these figures, including Kaneda, Kaneda's Bike, Tetsuo, Ryoko, and Vash the Stampede are showing up for a paltry $4.99 at Kay-Bee stores.
Far Side Calendars to be Discontinued?
The 2002 "off-the-wall" daily calendar of the comic panels everybody knows by heart have started showing up in recent weeks, and there's a blurb on the box stating that this will be the final year that this product is offered-- apparently they opted not to recycle the same 'toons forever. It appears the perfect gift for someone you don't know very well is about to go the way of the dinosaur, but there are always other options...
GameCube Spaceworld Info
GameSpot posted some great info on what to expect at the big Nintendo show in Japan this week-- stuff like Sonic Adventure 2, Sould Calibur 2, and some info on the development of Metroid Prime are all on their news area.
Jerry Garcia figure from McFarlane Available, Joplin on Clearance
The Grateful Dead frontman has been surfacing at a few stores this week. We saw them at Toys "R" Us for $14.99 and at Suncoast for $19.99. The figure is packaged in a box, similar to the Where the Wild Things Are toys. In a related story, Janis Joplin is showing up at Kay-Bee Toys for just under eight bucks. Other new music figures from McFarlane are still on tap: Jim Morrison is expected next month, with Metallica figures and Angus Young from AC/DC to follow.
Pokey the Penguin Updates
All of a sudden (or so it seems) the fantastically funny web comic Pokey the Penguin has updated with a bunch of new strips. It's funny, if you like this sort of thing...
Simpsons Movie Parody Calendar
The 2002 Simpsons calendar features a dozen pieces of artwork based on movie spoofs-- included is a new piece based on the ever-popular Star Wars flick, Return of the Jedi. Check your local bookstores for these, it's a great little item.
Simpsons Release Dates
The Simpsons Collector Sector has posted some new release dates courtesy of a popular e-tailler, and they don't exactly correspond with those in a recent Q&A session with Playmates... as always, release dates are subject to change, so it's not exactly known when these will really hit just yet.
Tortured Souls from McFarlane Available Now
The horror-based figures have started showing up in some very unique packaging with a chapter from a story at stores recently-- keep your eyes peeled for the highly disturbing imagery created with this line. We spotted them at Suncoast.
Site Updates
Bumblebee Man added to our Simpsons Toy Archive. (Front, back, carded, head, accessories, etc.)

-- AP

What Is The Law
August 22 2001
Beetlejuice Movie Figures Forthcoming
After getting some email on the subject, we finally saw a sign at our local Suncoast movie store with five new eight inch figures from the Tim Burton classic. Included are Beetlejuice, the Pinhead, a burnt body character whose name we don't know, and Adam and Barbara (Alec Baldwin and Geena Davis.) Who makes them is unknown, at first we thought they were Applause... but the sculpts are better than that which is expected from the company, and since these are just kinda sneaking in, we never heard an announcement on what these are for, exactly. Check your local Media Play/Suncoast/Whatever for more on these.

Burton fans might also be interested in a US import of the Japanese Edward Scissorhands figure-- Yellow Submarine's product isn't nearly as nice as McFarlane's, but it's out there for fans who just have to get an Edward, and right now.
DC Direct Announcements
The Raving Toy Maniac, who has just transferred to new owners, posted news and pics of some brand new offerings-- like a Justice League Animated Wonder Woman maquette and a nifty Alfred E. Neuman as the Green Lantern. Be sure to check it out, and wish the RTMers the best of luck with their new management!
Nintendo Space World Announcements
The whole menu of goodness for the upcoming trade show was posted on GameSpot. While there isn't much new to speak of on the GameBoy Color or GameCube front, we noticed some real notable titles on the GameBoy Advance: Street Fighter Zero 3 Upper, Gradius Generation, Guilty Gear X, Columns Crown (from Sega), and Breath of Fire II. No note of Metroid titles on the list... or the rumored/anticipated/expected new Mario GameCube game. But there was mention of the new 2D Gradius... so all is OK for now. Plus there's always a chance for a surprise from the big N.
Scooby Doo: New Releases
The latest of Equity's Scooby offerings have supposedly started hitting stores-- keep your eyes peeled for Fred and the Tiki Witch Doctor, amongst others. But all you're really gonna want is the Tiki Witch Doctor.
Simpsons Wave 5 Rollout Continues
This evening's toy run has yielded Wave 5 finds at both Wal-Mart and Suncoast, which typically never had these figures. As is typical with our experiences, Bumblebee Man was in pretty short supply.
TransFormers PVC Act 5 Clarification
We previously reported a character as "a new Optimus Prime." This is, in fact, Ginrai. In Japan, Ginrai is the basis for Powermaster Optimus Prime (Super Ginrai) and God Ginrai and is a totally new character-- in other words, he looks like Op, but he ain't Op.
X-Box Preorder Pricing Revealed
A posting to the usenet group rec.games.video.sega has outlined what may be the Electronics Boutique Preorder plan for X-Box. The post-- if it's true-- reveals that the program starts on September 1 and requires each buyer to plunk down $100 of the grand total of $499.99, which includes a console and some other stuff. The bundle would include a choice of accessory (extra controller, DVD remote, memory card); 3 games (one from one list, two more from another), and the console. Apparently, the savings of getting the bundle is around five bucks, and this particular chain won't be selling the console alone just yet. The post goes on to mention the limit of two per household, that the bundle is not subject to price matching, buyers must pick up the system within 48 hours of release, and that an additional 2 year warranty is available for $50.

On the other hand, Software Etc. (whose parent company also owns Babbages and Game Stop) is starting to place signs in stores for the console with a $299.99 price tag, and they're taking names and phone numbers for the console with no other purchase required.

Is it true? Will people plunk down five c-notes at EB to get the gargantuan onyx box from Bill Gates? Well, I guess we'll start finding out next week. The X-Box is due in early November.

-- AP

Bionicle Denmark Exclusive
Fans looking for more masks need look no further than the Mask of Destiny for the scoop on two more masks for Europe... tres groovy.
Nintendo GameCube Delayed in North America
The anticipated purple box has been delayed two weeks, according to a story on The Gaming Intelligence Agency. The story makes mention of alternate console colors at launch and different launch titles... now the Nintendo box will be delayed two weeks after the X-Box. But we still want our GameCube.
Nintendo Space World Round-Up
The trade show is under way, and there's plenty of news out there. GameCube Japan launch info, news on the upcoming Mario and Zelda games, Soul Calibur 2 screenshots, and how Kirby can jump from the GameCube to the GameBoy Advance are included in the news stores at GameSpot.

More info on Zelda and shots of alternate colored GameCubes are up at The Gaming Intelligence Agency. There's also info on Super Monkey Billiards, Bowling, and Golf. C'mon, read it, it sounds cool and it's from your pals at Sega. There's new Metroid shots around as well.

Bomberman Generation has the Jet Grind Radio-esque cel shading, and it looks pretty amazing. We're pleased.

The Soul Calibur sequel looks great, but it doesn't look like it's taking the Dreamcast version up a notch like one might expect. It looks good, but then again, so did the original. We're not saying it isn't good or isn't an improvement, but well, hot damn Soul Calibur looked great.
Planet of the Apes TV Series DVD Coming
DVD File posted a blurb on the upcoming box set for the old Apes live-action TV series. All 14 episodes are here, with the best special effects a low-budget 1970s show has to offer. And this series even has Dr. Zaius. The set should street for under $50 this November, should you decide to splurge for this exercise in mediocrity.
Simpsons News A-Go-Go
The Simpsons Collector Sector has posted boxed images of the Church, the Evil Krusty Doll, and Dr. Hibbert as well as 10 more questions and answers with Jeff Trojan of Playmates Toys. As always, it's enlightening and useful.

-- AP

"One Voice Tells Me Yes, The Other Is A Liar"
August 24 2001
GameBoy Advance News/New Images
A quick directory to some of the better sets of images and screenshots out of Spaceworld:
Columns Crown [ TheGIA ]
Diddy Kong Pilot [ GameSpot ]
Guilty Gear X [ GameSpot ]
Super Mario Advance 2 (Super Mario World) [ GameSpot ]
Tomato Adventure [ TheGIA ]

GameCube Impressions
A bunch of sites are posting hands-on impressions of upcoming GameCube software as well as some press conferences. Since we're whores for the Big N, here's some links to them:
Peter Main Press Conference [ The GIA ]
Shigeru Miyamoto Discussion [ The GIA ]
Luigi's Mansion [ GameSpot ]
Mario Sunshine [ GameSpot ]
Zelda (GCN) [ The GIA (screenshot) | GameSpot ]

Simpsons Wave 6 Carded
The Simpsons Collector Sector has posted shots of Wave 6 in the package as well as boxed shots of both Wave 5 playsets.
Star Trek Lego Customs
Since Lego probably won't be producing Trek toys for quite some time, take a gander at some great customs at My Space, in an area under interested can be found the Star Trek minifigs. Good stuff.
TransFormers Act 5 PVCs Toy Image
Hobbylink Japan posted this image with the series of new figures. This series looks great, and the chase figures are now "Return of Optimus Prime" Optimus and a clear "Ghost" Starscream, with the big chase figure being Black Zarak, a repaint of the US Scorponok character. Curse the swine for making good chase figures.

-- AP

Just Drive
August 27 2001
Bionicle at McDonalds
Word on the street is that the Bionicle "tohunga," the villagers, will be offered at the golden arches next month. Barbie/Hot Wheels is expected to go through August 30. While it was difficult to find images of the upcoming figures, we found some of what we're 99.5% sure will be the McToys-- the names on the images match the list of names on Bobbi Boyd's Site, which is damned good readin'.

So if you're lazy like me and I'm right about these, here's what you can expect to get from McDonalds shortly. (Last we checked, the cheapest Happy Meal had a burger, fries, soda, and toy for $1.99-- so if you hate the food, it's not a bad deal for a soda and a robot.

These images of CG renderings were pilfered from Lego's own Bionicle site.
All of the figures except for Maku-- the blue water one-- include recolored versions of the Toa masks. The figures are fairly generic-- it looks like there's one basic body mold, and of course the recycled masks. So unless you're a collector, if you buy one you've probably bought them all.
If the figures look familliar, they should-- they seem to be based on the same construction as the Bionicle Power Pack figure, which was also pretty basic despite being able to throw a small disc. For a look at the pack, take a gander at this area on XTIAN's Brickmaster Page.
Jet Set Radio Future Screenshots
Some shots of the new Xbox game are up at The Gaming Intelligence Agency. The game's shaping up a little bit cleaner than its predecessor in the graphics department.
Playmobil Sale at Zany Brainy
If you've got a Zany Brainy in your neck of the woods, you're in for a treat. Select Playmobil sets are on sale at 50% off, with other items at least 20% off. Not a bad deal, especially if you've got a need for some groovy pirate toys. The sale is through September 9.
Sam & Max Sequel?
IGN's rumor mill is reporting that the LucasArts cult classic PC game has a sequel in the works... for Xbox. True? Heck if we know, we just work here.
Simpsons Waves 4, 5 at Video Game Stores, Wave 1 in Spanish
If you're still on the lookout for Wave 4 or 5 of The Simpsons, check your local videogame stores. Gamestop, Babbages, Software Etc., and FuncoLand have been getting new stock of the older Wave 4 and their first shipments of Wave 5. Considering Wave 4 has Ralph, Willie, and Itchy & Scratchy now may be one of the last shots to get these at a fairly low cost. Barring, of course, appearances on clearance.
Simpsons Wave 6 Packaged Shots, Accessories, Details
The Simpsons Collector Sector posted images of the next batch of figures, right here.

The figures include the following accessories...
Bleeding Gumes Murphy: Sax on the Beach album, saxaphone
Carl: Barney's beer mug, the Pin Pal (Apu/Burns/Homer) bowling bag, a box of donuts, a donut, and a can of radioactive ooze
Dr. Hibbert: Stethoscope, button gun, reflex mallet, medical bag, and another clipboard
Mascot Homer: Baseball cap, Sunday Best Homer's #1 Hand and Radio
Professor Frink: Helmet, flask, test tube rack, clipboard
Snake: Handcuffs, money, gun

Thankfully, they have removed the "eyes" from the front of Frink's glasses.
Xbox to Launch in Japan Next Year
Train wreck metaphors aside, Microsoft has confirmed the Japanese launch date for the new box on February 22, 2002. (Hey, the 9/9/99 thing worked so well for Dreamcast...)

-- AP

Robots In Choro-Q
August 28 2001
Choro-Q TransFormers
New images of Megatron and Rodimus Prime toys have been posted to the great toy import shop, HobbyLink Japan. Here's some small images to whet your appetite:

The transforming super-deformed toys will run just under 980 yen (about $10) and Optimus is already available now, with Rodimus and Megatron to follow in January. Cool stuff. (Thanks go to LoserSW for the heads-up.)
Harry Potter: More Toy Images
The Sylvan Lane Shoppe has some shots of the upcoming Mattel figures, kinda like the ones that were spotted on eBay recently. Neat stuff if you're into this sort of thing.

Also, we caught a HP board game from Mattel tonight which appears to have an exclusive figure inside-- since we didn't have $37 to drop at the Toys "R" Us, we aren't sure of the scale of the figure.
Playmobil: Vikings in 2002, Aliens Now
Collectobil, a Playmobil fan news site, has gotten their mitts on some 2002 images. Surf on over to their site to see the new Viking sets, which include some very cool small boats and even Nessie!

The site also has some images of a "Space: Alien Invasion" expansion, which was new to us. One of the highlights was a figure-eating carnivorous plant. Very, very cool stuff.

But for right now, large pirate sets have been showing up all around, especially at Target, for around $40. Check 'em out if you're in a toy store!
Mario Kart Super Circuit for GameBoy Advance: Available
The third installment in the popular, legendary go-kart racing game should start to hit stores today. The price is expected to come in at $25-$30. Check your favorite game site for a review. Sounds like another winner, though... especially since word has it the original Super Mario Kart tracks are hidden within the game!
Spider-Man Classics: Series II
While we reported earlier that these were showing up, we finally spotted one tonight in Tucson at a Wal-Mart, for a paltry $5.84. First impressions on Battle Ravaged Spider-Man:

The stand is probably just as interesting as the figure. The base features The Lizard coming out of what seems to be the ground, and the amazing thing is that The Lizard is articulated. His right arm, neck, and jaw are all jointed, so you can really get a lot of extra play value out of what would probably ordinarily be considered a throw-away itme. The detail is nice, the paint job is good, and were it selling for $2-$3, the stand would probably be a reccomended purchase.

Spidey is as Spidey does. For the most part, he's not much different from the figure reviewed here from the first series. Of course, there's a lot of sculpted damage, a few minor details that we're glad to see changed (some of the joints that rubbed and paint came off are now molded in the proper color), and well, he's not bad for around six bucks. If you're a Spidey fiend, or a fan of good toys, be on the look-out for these-- we're still looking for the other three (and the Daredevil Yellow, which we never expect to see but would very much like to have.)

Pics/full review/etc. to follow.
TransFormers: Robots In Disguise Rumors & More
Ben Yee's BWTF.com has posted a blurb on a recent eBay auction and a possible connection to a rumor of a RID Happy Meal... check it out!

Also, images of some upcoming toys on Amazon.com show added Decepticon logos... well, ain't that cool?

-- AP

It Came From 1992
August 29 2001
GameCube: Panasonic DVD Player Pics
GameSpot has images of the revised Panasonic version of the Nintendo GameCube hardware. The unit has been changed to have a shiny, high-tech look which, well, may or may not be worth the target price of just under $350.
Simpsons: Unproduced 1990 Prototypes Revealed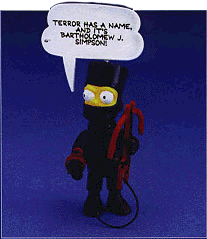 The Simpsons Collector Sector has new shots of (mostly) unseen toys from the old Mattel line. The images were originally printed in Action Figure Digest.
The site features scans of the legendary unreleased Krusty figure and some toys that are so cheesy, we'd still love to see them-- included were a pair of vehicles, four (count 'em) four Bart repaints, and new versions of Homer and Marge. Which aren't much to look at, but notable and nifty nonetheless.
-- AP

Robojunktastic
August 30 2001
Bill & Ted DVD News
DVD File posted a blurb on these discs yesterday-- each of the two movies, Excellent Adventure and Bogus Journey, will retail for $14.95. And as a result, it seems the MGM-released discs are going to be very thin in terms of supplements, which is a big disappointment to the fans-- and yes, there are fans-- who were looking forward to the legendary deleted scenes from Bogus Journey.
CastleVania Chronicles Coming To America
The PlayStation One remake/remix of the original CastleVania game-- which appeared on the NES thousands of years ago-- is coming to the states, according to some reports around the web. So those needing their fix of 2D CastleVania won't have to wait as long as originally thought-- the game is due out October 9, and online game stores are preselling it for a paltry $19.99.
GIA Woes
The Gaming Intelligence Agency, a fantastic game website put together by some of the sharpest folk in the unafilliated game news biz, is in need of some help. Surf on over and find out what's up-- it's a really good site with really good people, and if you never visited them before, you may have missed one of the best sites out there.
Sega & Microsoft: A Happy Relationship?
A few rumors around the web hint that future Sega arcade hardware will be powered by Microsoft, with either an Xbox or some derivation thereof for the bulk of the gadgetry. Check your favorite gaming sites for the latest on this one.
Simpsons DVD Reviews
After years of waiting, archival season box sets of the most popular TV family since the Cumberbatches of 704 Hauser are being given out to an eager press for review. Since we don't count as the press, we're going to direct you to DVD File for their recently posted review.
TransFormers PVCs: Act 4 Chase Figure Images
Hobbylink Japan has images of the Act 4 set, which apparently has a few changes. In addition to the previous figures, there's a metallic repaint of Grimlock, the original colors of Ultra Magnus have replaced the pewter version, there's a gold version of God Ginrai, and there are "pewter" versions of the Act 4 Megatron and Optimus shown, which will apparently replace clear figures in the new series. Metroplex and the other 5 figures are also shown. Click here to go to the image directly.
16bit Status
Labor day weekend. Vacation. We're vacating early. See ya next week. -- AP

Click Here For News From July!