Happy... Day After Halloween!
November 1 2003
New Zoids Spotted at Wal-Mart

In a bit of a surprise, our local Wal-Mart put out the Gravity Ptera and Biker Wolf kits this evening. These sets are, so far, US-exclusives.
--AP
Batman: Batcave Now Available in Hot Wheels

Mattel just released a big boxed Hot Wheels Batcave. It includes a few figures, a Batmobile, a Batplane... and a large green Tyrannosaurus Rex. And no, this is not a hoax.
--AP
Binaltech/Alternators Compared, Universe Autobot Ratchet, Red Alert Available

The infamous 2005 Boards posted this thread comparing the US and Japanese versions of the upcoming Smokescreen toy from Alternators. The results may surprise you, as it appears there's more to the Japanese release than just metal.
Also, Autobot Ratchet and Red Alert from TransFormers Universe are now available and shipping to Wal-Mart stores. These are the first vehicular, non-exclusive toys in Universe.
--AP
Masters of the Clearance Rack

He-Man seems to be having continued problems making the grade. First, the few Target Stores that carry the line are now clearing out their Slime Pit playsets for as little as $7.48. The set was formerly $29.99 at the chain.
Wal-Mart stores, according to the rumor mill, may be dropping the line in time for the Snake Men expansion. This is what's floating around on the He-Man.org boads, anyway, but it is worth noting that similar things happened with Star Wars. The toys just magically showed up, despite having not appeared in the Wal-Mart computer previously. As such... anything could happen here.
Lastly, it appears that Big Lots is picking up the slack from other chains because they now carry the Dragon Walker toy at some locations. As it doesn't appear to be showing up elsewhere, get ye to Big Lots.
--AP
Both Toy Biz Eowyn Figures Available

The armored Eowyn figure from Return of the King is now shipping to Target stores, so if you're still in the market for her, that's where you need to go.
--AP
Toys "R" Us Big Toy Book Now Available
November 2 2003
New Knock-Offs, Hasbro Reveals More TransFormers, and Oh So Much More

Hasbro's on a roll this week, and they posted new shots of new Generation One styled toys. They posted shots of the Alternators toys Sideswipe and Smokescreen that appear to be the Japanese releases as well as shots of upcoming G1 re-releases Grapple and Smokescreen.
Big Lots stores are receiving a vast array of new product that seems to be covering aisles over their entire stores. While there were some notable TransFormers bootlegs before, some new ones are now available. For roughly $2, you can find copies of Rattrap, TransMetals 2 Scarem, TransMetals 2 Spittor, TransMetals 2 Sonar, Iguanus, and even a brand new deco of the Terrorsaur mold. Some of these are fairly true to the originals while others, like Spittor, are remolded so that the action feature is removed. In his case, his claw was taken out.
Also, some bigger toys were shown, including a giant carded Gigatron knock-off as well as a mishmash combination Gundam in the same toy line. Other toys were shown on the cardback but were not sighted to confirm their existence.
It seems many stores are now taking preorders on the 20th Anniversary Optimus Prime, but each of them are giving different information. Friend of the site ZB tells us GameStop stores are now taking $5 down for an as of yet unknown delivery with an unknown price. KB Toys is offering him for $74.99, due in February 2004. Entertainment Earth is offering it for $79.99 with a December delivery.
A painted Energon Landmine toy is up on eBay. The toy, pictured in vehicle mode, looks quite decent.

Lastly, there's a coupon for TransFormers in the new Toys "R" Us catalog. The offers are $10 off Unicron or $5 off any Gigacon, which means the $29.99 toys are now $24.99, which is what Wal-Mart and Target charge in the first place.
--AP
Zoids Oddities in TRU Big Toy Book, More New Kay-Bee Sightings

A variety of interesting offers and unusual toys made it into the latest Toys "R" Us Big Toy Book this holiday season.
First, the offers. A free basic Zoids model is available with any purchase of $14.98 or more with coupon while supplies last. Also, there's a coupon for $5 off the Gojulas Giga kit. Coupons are available in stores.
Oddity #1: a toy labeled "Deluxe" appears to be an Unenlagia kit, but assembled incorrectly and it's molded in red plastic. $9.99.
Oddity #2: a toy labeled "Mega" is said to require one AAA battery, but it looks like a Liger Zero Phoenix action figure. As the Phoenix head appears to be a previously unseen design, it is not readily apparent what this is supposed to be. $14.99.

Lastly, Kay-Bee stores are starting to get some other, newer kits. Now, you can find Irvine's Command Wolf or Black Rhimos kits for $3.99 each.
--AP
Brother Bear Opens Wide

While many recent articles on Disney have said this is the final hand-drawn styled animated feature, it turns out the demise of their real final feature, Home on the Range, were greatly exaggerated. This film will open April 2, 2004.
Brother Bear, though, seems to be a pretty decent flick with a lot of neat ideas and a ton of awkward songs that describe the story in place of actual normal character development. It's almost laughable in places, but if you can get past that, there's a neat movie here. Even if it does require a bit of a leap, in terms of character, at the end. Since it is the second-to-last film of its kind, at least for now, you may want to give it a look.
--AP
And in other news...

This week at 16bit, we'll be taking a look at the classic TransFormers Generation One toy for Goldbug as well as Sideshow Collectibles' exquisite Saruman 1/6 scale polystone figure. Or, as it's known to the rest of Earth, a statue. Come back Monday to see a review of the latest USA release from The Polysics entitled Neu.

Meanwhile, Q&A will be posted tomorrow to Galactic Hunter.
That is all.
--AP
Ninjas Have Kidnapped The President
November 3 2003
Last Days of Galidor

While still cluttering stores the world over, it seems Big Lots has received a lot of the remaining stock. Figures are as low as $1, with boxed figures for $2-$3 and the vehicle for $5. Cheap stuff, if you're in to that sort of thing. While not exactly beloved, the figures are a worthy diversion at their low prices of $0.99.
--AP
Playmobil Sale at Target

Target Stores in the USA have a couple of items on sale this week. The Nativity Set is $5 off, and the Advent Calendar is $1 and change off. Also, the Taxi set that was reported as being on sale last week has been marked down to $9.99, the price was not, in fact, a sale.
--AP
Star Wars Q&A Updated at Galactic Hunter

Galactic Hunter has posted their weekly Q&A column by yours truly yet again.
--AP
And in other news...

Our Music Archive now features 2003's Neu by the Polysics. Originally released in Japan in 2000, the US version arrived this past Summer with a bonus track and slightly updated cover art. If you're a fan of loud Japanese neo-New Wave, this is for you. If you don't know what that means, odds are this review won't help too much, but it might inspire you to look them up.
An interview with Kevin Murphy of MST3K fame has popped up online and covers his interest in films and computers, namely Macs. There isn't much here on MST3K, but it's still an interesting read.
--AP, special thanks to EK
Goldbug Examined
November 4 2003
Alien Quadrilogy Announcements, Reviews

The Digital Bits posted a full announcement surrounding what may be the most expansive DVD special edition yet with The Alien Quadrilogy. Four films and their supplements span a whopping nine discs which boast an insane 45 hours of materials.
A review with feature listings is now available on their site.
If you missed the Japanese versions or the very short US run of these in late 2002 or 2003, there's no time to snag a set like the present.
--AP
Yet More Clearance Zoids at Kay-Bee Stores

It seems the discounted toys just keep on coming. Following Command Wolf Irvine and Black Rhimos at $3.99 each are these four small sized wind-up kits. If you're in the right neighborhood, the following are making an appearance at your local Kay-Bee Toy Store at only $1.99 each:
Molga
Gatordus
Iguanosaur
Gusack
If you missed the Japanese versions or the very short US run of these in late 2002 or 2003, there's no time to snag a set like the present.
--AP
Gladius Figures On Shelves... Sort Of

A Scottsdale-area Sam Goody store put out a few of its promotional figures from the upcoming LucasArts gladiator game Gladius tonight with the rest of the toys. While it was most likely a fluke, the Mongrel Man figure as produced by relative newcomer Workshop Toys cost $0.01. As such, we scoured the floor of the mall for one copper penny so we could provide you with a review later this week, most likely tomorrow.
(And for the record, this is the second time I've found $0.01 figures at the mall. The first was old Wild Wild West stock.)
--AP
Review: TransFormers Generation One Goldbug

While neither a classic character nor a respected one, Goldbug was one of the few original TransFormers characters that was an old character given a significant upgrade on the show and in the toy line. Originally Bumblebee, the brass at Hasbro and Takara deemed him worthy of a new form with new action features, and they eventually gave the world Goldbug. However, the toymakers did not deem him worthy of hands. Read on about this toy, and the amusing tale of how he got his name on the original cartoon, in today's feature.
--AP
And in other news...

Homestar Runner updated with some shots of homemade Homestar costumes from the recent holiday. If this doesn't sound especially exciting, they do have full Strong Bad audio commentary.
--AP
Mongrel Man Reviewed... Why?
November 5 2003
Hasbro Unleashes More Energon; G.I. Joe vs. TransFormers Toys a Reality

Hasbro goes the extra mile today and scoops the world by showing off several brand new Energon toys, including the previously unseen Cruellock, Signal Flare, and Dive Bomb. Also announced was a recolor of the Armada Minicons that form Perceptor.
This also marks the first official look at Rodimus, Prowl, and Snowcat. Interestingly enough, the Energon version of Snowcat looks a lot like the 1985 and 2003 G.I. Joe vehicles of the same name. While it seems to early to tell, it does look like there are seats and an opening cockpit on the new Decepticons Snowcat, so who knows what compatibility it may feature with other toys?
--AP
G.I. Joe vs. Cobra Army Builders, Tiger Force Spotted

Tiger Force repaints of Joes and two-packs of Cobra Soldiers have been spotted at an area Target store. One pack also features a black repaint of the hooded Cobra Commander, but with the retooled waist.
--AP
Zoids Z-Builders Cannon Spider, Gorilla Tron In Stores

US-exclusive Zoids Z-Builders kits Gorilla Tron and Cannon Spider have been found at two area Wal-Marts. They feature electronic lights and sounds, respectively. Each kit runs around $9.86.
--AP
Mezco Monster Mez-Itz Found

Mezco Toyz' line of Monsters Mez-Itz are now showing up at Toys "R" Us stores. For $4.99, you can find Frankenstein and the Werewolf or the Mummy and Dracula. The designs don't seem to be based off of many existing versions of these characters, but rather, seem to be new artistic interpretations of them.
At this time, 16bit.com has no plans to review these items.
--AP
Review: Gladius Mongrel Man; GameBoy Advance eReader Bundle

Mongrel Man, a figure from the upcoming LucasArts Gladius title, is the subject of today's review. While it isn't ordinarily the kind of thing this site prefers to cover, it was extremely cheap, and as such worthy of attention.
This particular figure was created as part of a preorder program for the game. The program may or may not be on, check your local video game store for details.
Wal-Mart has a GameBoy Advance with eReader bundle in a new box for $69.99. Since it isn't the GameBoy Advance SP, it's assumed that it will be a slow seller.
--AP
And in other news...

The Onion updated today with its usual compliment of features.
--AP
Link Returns to the NES by way of GameCube
November 6 2003
Ed Wood DVD in 2004

Originally scheduled for August 2001, Ed Wood got yanked from the DVD release lists at the last minute because, supposedly, Tim Burton had aspirations for a Special Edition. DVD File has posted a report saying it's due in February.
They report the following bonuses: Commentary with Tim Burton, Martin Landau, and some other people, deleted scenes, a documentary, a music video, some featurettes, and a trailer.
MSRP is $29.95, and this set spans two discs.
--AP
Fan's Choice: A Close Look at Star Wars' Finest Experiment

After a few months of work on and off, Galactic Hunter posted Fan's Choice Metrics and Fan's Choice Supplement, a nearly complete guide to the five polls held by Hasbro to determine the future of the toy line.
The articles include information, trivia, and photos on the toys that were released in the past, in the present, and in the future as well as text explaining just who some of these people are. If you're interested in such things, be sure not to miss this one.
--AP
Both NES, N64 Zeldas Officially Coming to GameCube

Nintendo finally decided to officially announce the details of its holiday Zelda Promotion. Thankfully, you don't have to buy a brand new GameCube to get it, but it helps.
WHAT YOU GET: One disc containing The Legend of Zelda, Zelda II: The Adventure of Link, The Ocarina of Time, and Majora's Mask. Some other supplemental materials including a demo for The Wind Waker are also included. This is a fairly complete collection of the series, missing only the CD-I games, the Super NES game A Link to the Past, and the GameBoy titles.
HOW YOU GET IT: You can...
Purchase a specially marked bundle featuring a sticker advertising the included disc, which also includes the Platinum GameCube.
Subscribe to Nintendo Power Magazine and receive it as a subscription bonus.
Purchase selected GameCube titles and follow the directions as per Nintendo's instructions.
Since the last great free game promotion that involved Nintendo Power was the great Dragon Warrior giveaway over a decade ago, this will surely delight many harcore Nintendophiles. Read the official announcement for additional information. The giveaways begin within the next few weeks.
--AP
Soundwave Statue Revealed

Outranked in popularity only by Megatron and Starscream is the Decepticon Soundwave, who it appears has been confirmed as an upcoming statue release by Palisades Toys via their forums. A preview photo is included as well, and while not exactly revealing, it does show that the work in progress is shaping up quite nicely.
--AP
Skeletor Statue Revealed

Earlier this week, NECA and the Four Horsemen revealed a Skeletor Statue at He-Man.org. Check that site out for the full scoop.
--AP
Review: Lord of the Rings Saruman the White Polystone Figure

Saruman the White is one of the chief antagonists in The Lord of the Rings and turned out to be a fantastic high-end collectible.
As such, the high price allowed for the creators of this piece to have an attention to detail rarely seen on smaller items, and definitely allows this to exponentially reach perfection. It comes close, and it is the finest Saruman figure on the market today, but has a minor flaw or two that might-- but shouldn't-- ruin some fans' enjoyment of the piece. It's large, heavy, gorgeous, and... well, it's heavy. Read more of our very first statue review in today's review.
--AP
And in other news...

Matrix Revolutions was really something. Some people seem to hate it, but it was a fantastic if open-ended film that, were it made as an anime instead of as an American film, would be considered a classic to end all classics. Such is life.
The Shrek 2 and Troy trailers appeared before the film as well, but it isn't known if all prints of the new Matrix film will have them. Regardless, both are coming next Summer.
--AP
Vivi, Cloud, and More
November 7 2003
Final Fantasy Trading Figures

Earlier this week, game and toy importer NCS posted news and photos of an upcoming set of figures based on the Final Fantasy game series.
Expected at $7 each, the set includes Cloud Strife, Vivi, Sephiroth, Lulu, Rinoa, and Yuna. This is a sort of greatest hits of the Sony generation of this series, so it's sure to be a hit with fans everywhere. These toys are being produced by Square Enix.
--AP
Yo Joe! Posts New Toy Images

Super Site Yo Joe! posted the latest releases to the G.I. Joe vs. Cobra range to its archives, including numerous faceless Cobra warriors. Be sure to check it out.
--AP
Star Wars Classic Trilogy DVDs in 2004?

If you can believe it, word on the street has it that both the Clone Wars cartoons as well as Star Wars, The Empire Strikes Back, and Return of the Jedi are in development in 2004. Obviously, these are going to be the special editions, so you more or less know what to expect. Word is they shot some nifty new material for bonus footage, though...
--AP
And in other news...

Slow day. Fun features in development: Vintage Zoids Sea Panther, a complete look at Japan's Final Fantasy VII action figure line, and tons of other goodies.
Matrix Revolutions apparently pulled in $43.1 million worldwide on Wednesday. While that may sound impressive... that's worldwide. $24 million was in the USA. For a quick comparison, in the USA alone, Reloaded pulled in $37 million on the first day which, really, isn't that bad all things considered. With the presumed low marketing budget, this is probably a very respectable showing. The only question left now is: "Will the toys be out before the film exits the theaters?"
"Wait, don't you usually post a link to a Star Wars toy review on Friday?" Usually, yeah. Not this week. Next week, though... probably.
--AP
Sightings A-Plenty
November 8 2003
South Park Action Figures Finally Arrive

After several delays and being licensed to several manufacturers, the first South Park Action Figures are starting to hit Sam Goody and Suncoast stores at malls around the country. Assuming these are things you still want, be sure to check them out. The sculpts are hit and miss, and the core four kids are split between the first two assortments.
--AP
Final Armada Deluxe/Supercon Toys Ship

Well... almost the final. The second Powerlinx Thrust has yet to arrive, but you can find the likes of Nemesis Prime and Powelinx Demolishor at your local Wal-Marts and K-Marts.
The intrepid 16bit.com Crew purchased a Nemesis Prime which will be reviewed next week.
Also, numerous TransFormers fan sites are reporting the 20th Anniversary Optimus Prime is appearing in Target Stores' computers. The toy is listed at $59.99, which is quite the bargain considering GameStop is taking preorders at $89.99 and Toys "R" Us is said to be charging $74.99. No release dates were given for either Target or Toys "R" Us, but other online sellers hint the toy is due in early 2004, but word on the street is it may show up as early as Christmas.
--AP
Extended Two Towers, Terminator 3, ALIEN Quadrilogy Reviewed

DVD File posted reviews of the spiffy ALIEN Quadrilogy nine-disc set as well as Terminator 3.
At The Digital Bits, you can find a review of The Two Towers Extended Edition four-disc set.
And finally, you can find a review of the first season of Spongebob Squarepants at DVD Review. The site also confirmed the complete Star Trek: Voyager for a 2004 DVD release in seven season box sets.
Don't forget... Finding Nemo stops being on sale at most stores today. The disc is selling through, and some stores are giving away bonuses in addition to sale prices near $15. Some Wal-Marts have it below $14, so it pays to check around.
--AP
And in other news...

NECA's very small Godzilla head knockers/bobbleheads/etc. are starting to arrive. Available in the title character, Rodan, Ghidora, and Mechagodzilla flavors, these are showing up at fine mall media stores for about $7 each.
--AP
Sales, Schedule
November 9 2003
Toys "R" Us TransFormers Sale This Week?

It looks like TransFormers toys of varying prices will be on sale at Toys "R" Us starting today. At press time we did not have access to the store's ad, but several signs were being placed in a store we visited shortly before closing. It appears the store received cases of new product as well, like Nemesis Prime and Powerlinx Hot Shot.
--AP
He-Man.Org Gets Answers from Mattel

He-Man.Org posted a number of answers to questions asked of Mattel to their main page. Highlights include the lack of progress on the Masters of the Universe Collector's Club, a fairly honest assessment of the "Bling Bling" Skeletor, the status of the Commemorative Series, the future of She-Ra, and so much more. They also claim the Convention Exclusive for 2004 to be far superior to Keldor... which would take some doing. Be sure to check out this Q&A article.
--AP
Reviews, News on Marvel Legends 5

Action-Figure.com posted a ton of articles surrounding this fan favorite line from Toy Biz. Be sure to take a look at it, as this series seems to have turned out as a great one. After all, it does include Howard the Duck...
--AP
And in other news...

This week at 16bit: An extended look at the new Nemesis Prime from TransFormers Armada, a brief look at The Real Ghostbusters' Stay-Puft Marshmallow Man, and a look at a fairly interesting tiki mug that's appearing in Long John Silvers kids meals. Also, come back Monday for a review of a fairly rare live Wall of Voodoo concert LP that was distributed as part of a BBC Radio program from February 6, 1983.

This week at Galactic Hunter: Reviews of Clone Wars deluxe Durge Bike and Clone Trooper Speederbike are in the early stages of production and may or may not appear this week. Q&A, of course, will be ready for Monday morning.
--AP
Wall of Voodoo on the BBC... from 1983
November 10 2003
Landfill Wal-Mart Exclusive Hitting?
TRU & K-Mart Sale Update

Word on the street is the Wal-Mart exclusive boxed set of the Robots in Disguise/Car Robots Buildbots, otherwise known as Landfill, is starting to show up. This all-yellow recolor of four $10 construction vehicles costs a mere $20, so keep your eyes peeled for this one.

It looks like the Toys "R" Us sale is limited to Universe Ultra-sized toys and Armada Maxcon-sized toys, meaning the $20 toys are on sale for $17. It's not a bad deal if you're still in the market for Overload, Skywarp, or the like.
Lastly, K-Mart has Armada Unicron down to $42.99, Maxcons down to $21.99, Minicons down to $5.49, and Universe Ultras down to $15.99.
--AP
LEGO Buy One, Get One Half Off at K-Mart

K-Mart is having another one of its wonderful sales on everybody's favorite Danish bricks. If you need Star Wars, Bionicle, or other new kits, be sure to make a trip down to the Mart of K this week.
--AP
Star Wars Q&A Updated at Galactic Hunter

Galactic Hunter has posted their weekly Q&A column by yours truly yet again.
--AP
And in other news...

Our Music Archive now features 1983's BBC College Concert LP by Wall of Voodoo. While unreleased commercially, the BBC pressed vinyl LPs of this concert for distribution to radio stations for on-air play.
It covers the Stan Ridgway-era output of the band fairly well, and was one of the last things recorded before the singer fired himself from the band at the Us Festival. It's sure to appeal to fans of WOV or Stan Ridgway, but considering that it isn't exactly easy to track down, it may not be worth the effort for neophytes. Still, it's a great find if you can snag one.
Elf made an estimated $32 million this weekend, and deservedly so. Will Ferrell manages to pull off another great comedic performance with the kind of unbridled enthusiasm I haven't seen since that manuscript from Viking Press a few years ago. While it's such a cliche these days, it really does have something for everybody, including cameos and appearances from Matt Walsh, Andy Richter, Kyle Gass, and Strangers With Candy star Amy Sedaris. It's not often you find a film that isn't a Pixar picture and could appeal to multiple audiences, but this one managed to be entertaining. As such, do go check it out.
Tim Burton's latest, Big Fish, has finally started to see some decent promotion with the trailer starting to show up here and there. It looks great, so keep an eye open for this one.
--AP
Wall of Voodoo on the BBC... from 1983
November 11 2003
Review: TransFormers Armada Nemesis Prime

One of the finest Optimus toys ever has been repainted as a Decepticon and reissued as Nemesis Prime. While not a large toy, it's a nice one, and has been given a fairly significant makeover for its transition to the Decepticon ranks. It also includes a recolored Minicon called Run-Over and is hitting stores now.
--AP
New Return of the King Revealed at Action-Figure.com

Action-Figure.com posted images of numerous new figures from the final Lord of the Rings picture. There, you can find a Harad Archer, Pippin in Gondorian Armor, and yet another Aragorn.
--AP
Clone Wars Airing

Cartoon Network's Clone Wars Microseries has been airing since last Friday night, and each three minute installment provides the kind of action and daring-do that really does leave the audience, as the cliche says, wanting more.
It's airing every weekday, so check your local listings for this blink-or-you'll-miss-it program. A marathon of the first ten episodes is taking place in a couple of weeks, giving a whopping 30 minutes of programming to those who dare.
Also, word on the street is that LucasFilm has two different television projects in development at Skywalker Ranch for a potential 2006 release-- one animated, one live action. More as it develops, most likely in a couple of years.
--AP
And in other news...

Homestar Runner has updated yet again, so be sure to catch its latest update. (Be sure not to miss the easter egg at the end involving The Cheat.) Also, the site confirmed their music CD will be available next week. Six samples from the album appear on the site's main menu. It sounds like there's a Limozeen track in there.


Tomorrow, Galactic Hunter will be posting a review of the recently released Fan's Choice #4 McQuarrie Concept Stormtrooper action figure tomorrow since yours truly found one at the Toys "R" Us.
--AP
Surprise! Upright Citizens Brigade DVD!
November 12 2003
Toys "R" Us Exclusive Minicon Bonus Packs, Bubble Twist

Hasbro's Cap subsidiary has released a new series of gum-with-toy recently, and we picked up a sample of the treat at the store today. The set costs $1.99 and for the record, the gum is strawberry. If you're familliar with the concept of TransFormers Decoys, these are a lot like those.

Toys "R" Us has received yet another exclusive, and it turns out that they are charging a little more for it. Four "Supercon" sized Armada toys, normally $9.99, have been packed with random bonus "Minicon" sized toys. Each pack includes one extra small toy and costs $12.99. For the record, three packs of Minicons cost $6.99 or less, making this a fairly iffy deal. K-Mart stores were offering a set similar to this earlier this year, but it included a full set of three Minicons and cost $14.99. Gift givers, beware.
--AP
Upright Citizens Brigade DVD Available

The first season of the short lived cult favorite Upright Citizens Brigade has apparently hit DVD last week. It seems next to no publicity accompanied its release, and it is showing up at some Best Buy stores for as low as $24. If you're interested in fine comedy, be sure to look this up. The set contains 10 episodes, six commentaries, a live Q&A session, live versions of some sketches, and yes, even more.
16bit.com has yet to install a DVD section, but as this release seems to have gone completely unseen by the DVD press, this will be changed in the very near future. If you aren't already sold on this set, come back soon for a full review next week.
There are no currently known plans for releasing seasons 2 or 3. So cross those fingers, kids.
--AP
Review: Ralph McQuarrie Stormtrooper


Today's review at Galactic Hunter is a good long look at the Fan's Choice figure known as the McQuarrie Concept Stormtrooper. Fourth in the illustrious line-up of figures picked by the fans, it has a riot shield, a glowing lightsaber, and basically packs more bang into a $5 figure than we have any right to see. Check out the review, then go buy the toy.
--AP
And in other news...

The Onion has updated with its usual compliment of mirth, so be sure to check all of that out.
--AP
2004 Bionicle Is Better Than Merely Adequate
November 13 2003
Review: Stay-Puft Marshmallow Man from The Real Ghostbusters


While not quite the icon of 1980s toys that it deserves to be, Kenner's wonderful Stay-Puft Marshmallow Man figure looks just as fresh today as it did in 1986. Sure, it has no accessories. Sure, it's hollow. Sure, it's only jointed in three places. But as the only action figure ever made from this franchise, and really the only figure produced from the entire line that bears a strong resemblance to its movie counterpart, it really is something special. See some pictures and a brief blurb in today's feature!
--AP
Revealed: 20th Anniversary Optimus Prime's TransFormation Process

While it may not sound like an exciting headline, this thread at the 2005 Boards has tons of new images of this toy in varying stages of transformation, revealing just how the hands appear, the surprisingly complex torso transformation, and oh so much more. If you're one of the many excited by this upcoming release, don't miss this thread.
Also, TransFormers The War Within: The Dark Ages #2 shipped this week, so be sure to check that out if you're into the prehistory of Cybertron and the early days of the great war and all that jazz.
--AP
2004 Bionicle Images Available

The Bionicle toys for 2004 have been revealed at BZ Power. Surprisingly, it seems several new designs have been revealed, as well as new masks and new versions of existing characters. Rather than appearing as mere upgrades to previous toys, these are significantly more striking than most recent product and is sure to incite excitement in the line's fans. These will also be shown in the current issue of Toy Fare Magazine.
--AP
And in other news...

Yet another interview has surfaced from October of this year with Mike Nelson and Kevin Murphy with a rather frank conversation involving their interest in a reuinion. Short answer: it'll cost ya. Read on for a fairly interesting read.
--AP, thanks to EK
But It's Purple
November 14 2003
TransFormers Official Hasbro Q&A Updated
Armada: End Of The Line
Soundwave Statue Revealed

Numerous downright goofy rumors have been circulated in TransFormers fandom this week, and Hasbro squashes the lot of them in their Web site Q&A this week. Be sure to check it out before Chicken Little tells you about the sky falling. The highlight: Decepticon Alternators.
The final product in TransFormers Armada packaging is starting to show up in stores, complete with the newly (and nicely) decorated recolors of the Emergency Team and Sea Team. Also, word on the street that the revised version of Wheeljack is hitting as well, meaning that the end is, in fact, here. The only remaining possibility to round out the line is the red recolor of Powerlinx Thrust.
Of course, this isn't the end of Armada-- recolored toys are coming as Universe toys and as convention exclusives, and of course there are at least two packs of Minicons in Energon as well as a minimum of four larger recolored toys. So for you Minocon junkies out there, it's still good times.
And in a way, one aspect of Armada is just beginning. Turns out some upsized Minicon bootlegs are showing up... more as soon as we find out where to get some.
Lastly, Palisades put up some shots of the upcoming Soundwave statue, showing it to be much nicer than their first two offerings. Surely, Hasbro must see this and see the need for a similar toy...
--AP
Undergrads Hit DVD

Originally an MTV animated series about college life in 1999, Undergrads fairly accurately skewed several college stereotypes. While we do not know of any Star Wars-obsessed fan types who brought their entire collection of new action figures to school with them freshman year (we swear), the show does have fairly good production values and makes for some decent storytelling. The show airs late on Sunday nights on Comedy Central on and off, and the fairly cheap DVD encompasses the entire series. If you're in your early 20s, this is probably something you need for yourself or as a gift for a friend.
--AP
Shadow Kraata Coming

Apparently Target Stores will be stocking an exclusive purple and green recolor of the Kraata pieces found in recent Rakshi kits from Bionicle. Basically, it's a limited exclusive recolored brain for your toys. While a neat concept, it might require the repurchasing of toys you bought last summer. Watch your Target for details.
--AP
And in other news...

If you can believe it, Ain't It Cool News is reporting that a sequel to the film Goonies is in the early stages of production.
Well, after years of waiting, the 16bit.com Offices finally have secured a Mad Thunder Zoids model kit. It's sitting on the couch. It's enormous, and one of many new items up for review in the coming weeks.
--AP, thanks to AB, AP Sr., and PP
The Mart Giveth, The Mart Taketh Away
November 15 2003
Freaks & Geeks DVD

While we missed it, it was pointed out that the short-lived NBC series Freaks & Geeks is coming to DVD. The price? $120 for 18 episodes. While that seems expensive, the music licensing costs are responsible for most of it. Plus it contains the only known primetime reference to the Micronauts toy line.
--AP
Landfill & Armada Clearances: Wal-Mart Screws, Pleases Fan
Energon Sunstorm Auction

Today's TF section is in Blog Form.
A link to an auction for a new Energon toy, a redecorated Armada Thrust, has shown up. It looks like he'll be receiving a fourth color scheme, this time as Sunstorm, a character previously reserved for a Japan-only G1 exclusive recolor and a US-only PVC recolor exclusive.
Acting on a tip from a collector board, I spotted Landfill, a new Robots in Disguise exclusive of the Robots in Disguise construction vehicles. Wal-Mart had no less than 25 out, so I took one off the shelf with the intent to buy it. To make a long story short, I was denied despite knowing full well it was there a few days and many were sold... so that quest continues. If you're looking for one, best of luck-- apparently these are being held for Black Friday at many locations. So, it looks like we won't be having a feature on this toy next week like we were hoping.
The good news? They gave me a gift card for $5 "for my trouble." I went to a different location in hopes of finding a Landfill but was instead treated to massive TransFormers Armada clearances. Wal-Mart's exclusive Minicon bundles were $4, as were Supercon toys. Basically, all $10 Armada toys are now $4 at this particular location, and the end result meant Powerlinx Repaints for me and Minicons for Toys for Tots. So I advise you to go look and make a donation to your local toy charity.
I'd also like to say that the Armada Cheetor toy is far better than it has any right to be, and I've got the TransMetals version as well as the Ravage remold to compare it against. Snag it if you see it cheap.
--AP
Zoids Hasbro Energy Liger on eBay

An auction for the Hasbro Energy Liger has popped up online and has a day and change to go. The US recolor looks slightly better than its Japanese counterpart, so check it out if you haven't yet seen it and care about such things.
--AP
And in other news...

Looney Tunes: Back In Action was, against all odds, actually really funny. Lots of in-jokes, many of director Joe Dante's favorite players, and gobs of references to several old sci-fi movies topped by some great postmodern dialogue make this a barrel of fun if you're a bit of a movie junkie. Go see it. It also had the trailer to Harry Potter and the Prisoner of Azkaban.
A buddy had the Triumph the Insult Comic Dog CD "Come Poop With Me" playing tonight, and I was given a chance to hear a very passable release in the same tradition of the likes of The Beavis and Butt-Head Experience and The Simpsons Sing The Blues. Might make a good gag gift or someone you don't like, or is 13.
Wizard Universe is running a poll for the best figure line of 2003. Amazingly, Masters of the Universe hit the top spot despite having a fairly weak year, especially when compared to 2002. Check out the poll and vote for your favorite, whatever it may be.
We're proud to report that we received some more Dino-Mites today, the first I've seen of product that didn't already belong to me since roughly 1987. These are old glow-in-the-dark dinosaurs in the grand tradition of MUSCLE Men, manufactured by the now defunct Panosh Place. As there isn't a single resource on the Web for these, well, you're going to find one here soon. The line contains at least 48 dinosaurs in 4 colors each, so we'll get cracking on this and do it piece-by-piece for the one other person out there bound to be interested in such a thing.
--AP
Two Towers Extended Box Leaks
November 16 2003
Two Towers Extended DVD Extras

Friend of the site ZB has actually scored a Two Towers Extended Edition Gift Box at the local Blockbuster Video here in Phoenix. The cost was full MSRP-- $79.99-- but the good news is you get a look at some of the contents of this box early.
Since everybody and their brother has a review of the movies up, we'll be opting out of that.
--AP
Game News Roundup

Numerous sources are posting images of character designs from Final Fantasy XII, which you can find some of at GameForms. The designs are very, very similar to the blockbuster megahit Final Fantasy X.
Rumor has it Nintendo is introducing a new piece of hardware in North America at E3 next May, but from the sound of things it isn't a successor to the GameCube nor is it the GameBoy Advance Advanced.
The N-Gage has been hacked this week to the extent where some believe they now have the data to play the games on other, non-Nokia phones. So for everybody who wants mediocrity on the cheap, this could be good news for you.
--AP
Marvel Legends V All Over Wal-Mart

Toy Biz' latest tour de force has hit the Mart of Wal. If you're in the neighborhood of one, it might be worth taking a look and seeing what a fairly plush figure line can look like.
Also, the chain is getting in the Urban Legends and X-Men box sets of these figures, so if you like Marvel goodies, hit a Wal-Mart.
--AP
And in other news...

Reviews this week: the vintage Zoids Sea Panther, David Cross' DVD Let America Laugh by The Neurotic Eclectic's own Shaun Clayton, and the beginnings of our D.I.N.O.-Mites archive. Come back Monday for a review of The Spoozys' US-release CD single for Astral Astronauts, complete with bonus tracks.

Meanwhile, Galactic Hunter will receive a review of Anakin Skywalker's Jedi Starfighter, an update to the Clone Army review with additional product, and of course the weekly Q&A. This is the second-to-last installment of 2003, so if you have questions to ask of the column, best to get those in soon. After the hiatus, the column will return January 5, 2004.
Like Micronauts? Hit your local Sam Goody, Suncoast, or Media Play store. Their second series Micronauts are 50% off if not cheaper. It might be a great time to find out what one of the most unique imports of the 1970s had to offer.
It appears numerous Godzilla vinyl/rotocast imported figures are showing up at online toy stores and neighborhood comic shops for about $10-$15 per. If you need a Godzilla, Titanosaurus, or any of many monsters of this type you might be able to find them fairly easily.
--AP
Tangents & Hyrule
November 17 2003
TransFormers Super Link Catalog Leaked

A large number of sites are posting and/or linking to the packaged booklet, so we'll follow suit with this link. There are a few notable color changes as well as a look at additional recolors of previously unseen Armada recolors that will make up the evil side of Energon.
Also, the Transfandom Forums posted a shot of the Japanese Toys "R" Us exclusive Magna Convoy Giftset. The set includes a translucent Overload, a slightly different Powelinx Optimus Prime, and a recolored Street Action Team. Looks pretty slick.
--AP
GI Joe DVD Season Box Sets

Word is getting around that G.I. Joe Season 1 Part 1 is coming to DVD on February 3. Not surprisingly, it's coming courtesy of Rhino. At this time, there's no known exclusive figure for this particular set.
--AP
Playmobil History Exhibition in Germany

Collectobil has posted some information regarding an installation in Speyer (Germany) focusing on the history and development of Playmobil toys. If you go, take a camera and be sure to share what you find with the rest of the class.
--AP
Zelda Bonus GameCube Disc This Week

This is the week Nintendo begins offering its bonus disc featuring both NES Legend of Zelda titles as well as the two Nintendo64 titles for GameCube. Don't forget kids-- you need this.
--AP
Star Wars Q&A Updated at Galactic Hunter

Galactic Hunter has posted their weekly Q&A column by yours truly yet again.
--AP
And in other news...

Our Music Archive now features 2000's Astral Astronauts EP by The Spoozys. Four tracks of remixed Japanese mirth are present on this bright plastic platter, but it's really another release for the faithful and not so much the newcomers. Check out our review today!
It seems Elf did some serious bank this weekend, pulling in another $27 million according to Box Office Mojo. Joe Dante's surprisingly funny Looney Tunes: Back In Action pulled in an estimated $9.5 million, Brother Bear made $12 million, Matrix Revolutions scored $16.3 million, and Master and Commander pulled in nearly $26 million. Not a bad weekend for the silver screen. Next week: The Cat in the Hat.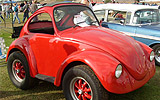 A common happening in the AP household is a random trip to an old car show. As you can see in this image, here's a fun Volkswagon Beetle conversion that looks like a Japanese Choro-Q car, also known as a Penny Racer. While we aren't exactly a car news site, there is something amusing about a car with no doors that has a window opening so small that few people can actually wedge their way inside.
--AP
DVD-Day
November 18 2003
DVDs A-Plenty Today

Several major DVD releases are hitting the stores today, including The Two Towers: Extended Edition, Aqua Teen Hunger Force Volume 1, Space Ghost: Coast to Coast Volume 1, Mystery Science Theater 3000: Box Set Volume 4, and many others. Today's a good day to hit the movie store, so be sure to make a stop on your way home from work or school.
--AP
Zelda Bonus GameCube Disc Now Available

Nintendo's Web Site is now offering this fine disc of Hyrule's finest adventures. The game is also available in stores with the purchase of a console and has been spotted with black and purple GameCubes. The game's inclusion in the box is noted by a sticker that's hard to miss.
A review of this disc will be available on this site as soon as humanly possible. This may be a week or three depending on delivery.
Also, GameStop stores claim to be getting Final Fantasy X-2 this week, for preorders only. They're also offering a hardcover strategy guide complete with a soundtrack CD for about $30, so keep your eyes peeled for that.
--AP
Review: Zoids Sea Panther


Tomy released numerous Zoids kits to the Japanese market in the 1980s, many of which never found themselves distributed elsewhere in the world. One of these is the Sea Panther, an oddly named mecha-hermit crab that crawls around your battlefields or kitchen table. It's a cute toy, and a real oddity. Be sure to check out our review complete with 18 photos showcasing the toy in its package as well as unbuilt and completed states.
--AP
And in other news...

Matrix Revolutions toys are showing up at the GameStop family of stores. The figures aren't exactly the finest, and Agent Smith's appearance is overly slick. While this is most likely an intentional representation of his battle in the rain, odds are those who have been holding out for a good figure of this character will be a little disappointed.

A surprise review item came to the 16bit.com Offices today and will be up for your perusal later this week. As you can see, it's Sideshow Collectibles' 1/6 scale Creature from the Black Lagoon.
Homestar Runner updated today with a particularly amusing email from Strong Bad as well as the pricing and track listing for their new CD. 20 songs, $12. 16bit.com does not plan on purchasing this item for review at this time.
--AP
NPR, DVD, Energon
November 19 2003
New DVD Announcements

Some interesting announcements today:
Lost in Translation, February 3
Star Trek Voyager: Season One, Februrary 24
Also, a new edition of Jim Henson's Dark Crystal is coming out, but it appears to be basically the existing edition in a new box with a senitype, a film cell, and some other less than desirable extras. More can be found here. This set will be released on November 25.
A little more research also revealed a Labyrinth Box Set is on Amazon and while the listing isn't specific on what it is you get, it's due in December 2004. This is not to be confused with the existing Superbit edition release, and is presumed to be another "here's the same DVD with a bunch of collectible stuff" kind of release that some manufacturers have grown so keen on these days. No other details are known as of yet, so this could end up not happening, but it is interesting to note, no?
--AP
Energon Beetle Revealed, Ironhide & Jetfire Showcased, Art Bible For Sale

An auction has surfaced for what appears to be a 50-page art bible from the upcoming series TransFormers: Energon. Descriptions of the item contain several spoilers, so beware before you click.
Various listings of new Super Link toys have revealed a STD Convoy. In Armada/ Micron legend, that was the name for the $10 Optimus Prime toy. As such, it's a safe bet we'll be seeing a new Energon-flavored $10 Optimus Prime soon. Also listed is Kicker who is rumored to be a human character, and there's also a toy for Cliff Jumper mentioned over at HobbyLink Japan but it isn't known what this will be as of yet.
Another auction showed up for an as of yet unnamed Terrorcon Beetle toy. This unpainted prototype looks particularly spiffy.
Lastly, Xybot of the great Cosmic Rust has posted shots of the soon-to-be-released Energon Jetfire and Ironhide in and out of the box with several detail photos. Check it out.
--AP
Review: Clone Wars Anakin Skywalker's Jedi Starfighter

Today at Galactic Hunter, we look at this new review of the final Clone Wars vehicle for the known future, Anakin Skywalker's Jedi Starfighter. It's a neat toy with a lot of action features... but does the world need a third Jedi Starfighter toy? Find out in today's review.
--AP
And in other news...

The Onion has updated with a variety of features in its A/V Club that are probably not to be missed.
National Public Radio's Here and Now program featured guests John Flansburgh and John Linnell of They Might Be Giants singing live as well as promoting their new book. They also posted the interview online.
Tomorrow's planned beginning of an archive on the 1987 D.I.N.O-Mites toy line from Panosh Place has been temporarily postponed so that we may bring you a review of the Creature from the Black Lagoon from Sideshow Collectibles.
--AP
Family Guy, Newsradio & Kids in the Hall DVD News
November 20 2003
Yet More New DVD Announcements

First up: several reports around the Web are hinting that the sales and syndication money coming from the cult favorite series Family Guy are enough to warrant as many as 35 new episodes to start airing in 2005.

Next, it appears The Kids in the Hall are offering their first season DVD on their site for preorder. In the USA, the set will cost $7 S&H and $59.99 for the discs. If you order today, you will have the set in early December. If that's too rich for your blood, the set will be available in stores in or around April of 2004. America's Friend, The Neurotic Eclectic's very own Shaun, has received word that there's also a preorder bonus if you order online in the form of some KITH-themed magnetic poetry.
Lastly, some great news has been discovered by way of a site that all of you should know about called TVShowsOnDVD.com. The site has put up word on box sets for The Critic (confirmed) and Newsradio (sort of confirmed) seasons 1 and 2 as well as an update on why we aren't seeing more Twin Peaks on DVD just yet. And they have numerous articles, reviews, and resources devoted to television programs on DVD. They even confirm that we won't be seeing more Larry Sanders because of poor sales.
--AP, thanks to SC
Review: Universal Monsters Creature from the Black Lagoon

Since stumbling on the scene a few years ago, Sideshow Collectibles built a reputation on well-made monster toys. The reputation is well deserved, and the new Creature from the Black Lagoon brings over twelve inches of aquatic goodness from the company. It doesn't have a lot in the way of extras, but the toy and its packaging prove that there really is always room for improvement... until the toy design is perfected, and it appears that this is pretty much as good as humans will be able to make this toy.
--AP
Exclusive K-Mart Gold Optimus Available, New Comic Too

Several TransFormers fan sites are reporting that the K-Mart Exclusive TransFormers Armada Gift Set is showing up in stores now. Despite what the packaging shows and says, the box includes the large Optimus Prime toy with a gold cab section, a standard Jetfire toy, and the following Minicons: Longarm, Comettor, Sparkplug, Adventure Team. These toys are all packaged in robot mode and the cost of this fairly deluxe box set is $59.99. Separately, these toys should cost about $75. Since the gold Prime will most likely appeal to collectors, and the box itself would make a great gift for a kid, and it's also a hard to find US-only exclusive at a store that's hard to come by, this should be a great set this holiday season. We're currently searching for one to review and will keep you posted. Please note: despite the packaging saying and in some cases illustrating the Powerlinx repaints of these toys are included in this set, this is not the case.
Also, Dreamwave's WWII epic Transformers vs. G.I. Joe #4 hit comic stores on Wednesday, so be sure to check your local sequential art monthly emporium for the latest issue.
Lastly, this auction has shown up for what appears to be an Energon Dump Truck prototype. It comes in wild colors and is sure to amuse fans of this sort of thing, so be sure to check it out. Numerous boxed first-series Energon toys are showing up on eBay as well, so they might be hitting stores in the very near future.
--AP
And in other news...

Fans of the Matrix, Microsoft, and nerds alike will probably get a kick out of the images found within this link which shows Bill Gates' keynote from Comdex. Assuming you haven't already skipped to the next paragraph, there's a video portion on page 2 showing Gates in the Neo role. Sure, it's digital propoganda and a pop culture reference that's about four years too late, but it's still amusing enough to check out.
Robert Smigel and his alter ego Triumph the Insult Comic Dog will be on the NPR program Fresh Air today. Check your local National Public Radio station for the schedule.
Come back Friday for a look at the David Cross DVD, Let America Laugh.
--AP, thanks to CN
Reviews, Interviews, More
November 21 2003
Review: Let America Laugh


Today we've got a special treat: a review of the DVD Let America Laugh courtesy of our pal Shaun Clayton. Be sure to check it out.
In this week's deluge of DVD releases, we neglected to mention the release of The Aquabats' DVD, Serious Awesomeness. If you're a fan, be sure to check it out-- it's a two disc set and fairly cheap at under $15 at most places.
--AP, thanks to SC
Yet More New Shipments from Middle-Earth

Numerous Kay-Bee stores are receiving still more older Two Towers and Fellowship of the Ring toys including various Frodos, Saruman, and the Twilight Ringwraith. Be sure to keep your eyes peeled if you missed one you wanted, as they're on sale for $5.99 each for about another week.
--AP
Review: Clone Trooper Army Redux


Today at Galactic Hunter, I take a look at more of Hasbro's ever-popular Clone Wars Clone Trooper Army sets. Be sure to check it out.
--AP
And in other news...

A great interview with Back to the Future scribe Bob Gale was posted to Box Office Mojo yesterday. In it, he talks about his trilogy, shooting sequels back-to-back, and another recently released trilogy which had two back-to-back releases.
Live in Tucson? Then you've got something to do tonight. Our pals of the comedy group New Kevin are putting on a comedy benefit for the Tucson Community Food Bank. It's called Haha Food and you can find everything you need to know about it here.

NPR's Fresh Air posted an interview to their vast program archives. If you have the ability to stream media and enjoy a puppet show sans puppet, check this out.
The Cat in the Hat opens in theaters in the USA today in 3,464 theaters, and reviews have been iffy. Naturally, impressions of the film will be posted here tomorrow.
--AP
The Crap in the Hat
November 22 2003
TransFormers: News A Go-Go


A lot of news came out today from Hasbro and elsewhere. In a nutshell, it is as follows.

Alternators: Hound is now pictured in both vehicle and robot modes.

Energon: Demolisher and Perceptor revealed.

Generation One Reissues: Dirge and Rodimus Prime revealed.

Universe: Triceradon and King Atlas revealed. While both are repaints, they are quite exquisite ones. Hasbro really plonked down the cash to make the paint sell these toys, despite their having been repainted and resold before.

20th Anniversary Optimus Prime: An image from a Japanese magazine shows a cardboard trailer that may or may not be included with the set. It is also rumored that the trailer will be a punch-out component of a Japanese kid magazine called TV Boy. As they have included full-size punch-out costumes of Sentai heroes in the past, this is not a possibility that's unrealistic. Also, TransFormers World 2005 posted a link to a Japanese forum of the packaged American release of this toy. For the curious, it is packaged in robot mode.

UPDATE: This forum has posted additional shots of the toy from various angles so you can make it out. It also says this will be packaged with the Japanese edition, and there is no word on if it will be in the USA edition.

Palisades: Their upcoming statue of Megatron is now being revealed with additional images. Links to a QuickTime VR file and packaging photos exist, but currently reveal nothing.

--AP
If At First You Don't Succeed...


Looks like LEGO is trying to make another Bionicle, or perhaps another Galidor, with its new line entitled Knight's Kingdom. At Brickshelf, this image was posted and it really does look like a cross between the aforementioned two LEGO figure brands. Be sure to give it a look. Each set includes swords and armor, and has at least 42 pieces.
--AP
And in other news...

And while this may come as a surprise to someone-- probably not, though-- The Cat in the Hat was an abomination. The theater wasn't exactly packed, and predictions have it pegged at $39 million. While this has been declared one of the most marketed and merchandised movies of all time, it seems that from the lack of sold-out box offices around town that this may not be likely, but enough curious parties will probably ignore their better judgment and see it anyway.
--AP
Faces & Bases
November 23 2003
Photo Shoots

Cosmic Rust got their mitts on an Energon Tidal Wave and posted a fairly extensive photo gallery. Despite being a recolor, it looks quite excellent with a lot of energy bolt decoration and translucent green pieces.
--AP
Agent Faces Mail-In, Card Game

Yo Joe! added images of the mail-in Agent Faces figure in the Crimson Guard disguise. Be sure to check it out, as it is pretty slick.
Also, because it's never too late to be the last license to be tied to a dying fad, Hasbro posted this press release for the upcoming G.I. Joe trading card game.
--AP
Game Stuff

GameForms posted 20 images of the upcoming Dragon Quest V remake for PlayStation 2. It looks pretty slick.
Anime fans that dig baseball are in for a treat, as it appears the GameBoy Advance is getting One Piece Baseball: Baseball Going One Piece. It's pirates. It's baseball. It's Japanese. What's not to love?
--AP
And in other news...

Since this is a holiday week, traffic will probably be down. As such, we're going to focus on some smaller updates and we're going to look at some of those wonderful D.I.N.O.-Mites. While you won't care, well, I do. We'll also look at another Real Ghostbusters toy, Fright Features Peter Venkman.

At Galactic Hunter, I'll be posting the final Q&A update of 2003. Due to the holiday, there are no new scheduled Star Wars toy reviews this week. Reviews will resume a week from Monday, and Q&A will resume in January 2004.
--AP
Final Q&A For 2003
November 24 2003
Finished Painted Energon Megatron; K-Mart TransFormers Sale


First, this post at TFClub, a Japanese board for TransFormers, posted a ton of great shots of the upcoming Megatron from Energon. It seems pretty cool, if overly loaded with weapons and gadgets. Not that this is a bad thing, of course.
Also, all K-Mart stores have their TransFormers on sale this week for 20% off. So if there's any of their various multipacks or regular toys you might be on the lookout for, be sure to pay them a visit.
--AP
Star Wars Q&A Updated at Galactic Hunter

Galactic Hunter has posted their weekly Q&A column by yours truly yet again.
--AP
And in other news...

The new Opus comic launched yesterday, and MSN posted an "interview" with its feathered star. At this time, the strip does not appear to be distributed on the Web.
We're getting an advance look at Disney's new Haunted Mansion tonight. After the recent Seuss-tastrophy, we aren't expecting much. But hey, come back for impressions tomorrow. And speaking of that horrible feature, it made $40 million this weekend.
This is gonna be a slow week. But you knew that.
--AP
Haunted Mansion Impressions, Toys
November 25 2003
G.I. Joe vs. Cobra Renamed Again

An auction on eBay shows six new two-packs with what appears to be all new figures in a new packaging style that's significantly nicer than anything Hasbro has done since the original line ended nearly a decade ago. Despite being titled Valor vs. Venom, the overall look is significantly nicer than before and there's even a new pair of ninjas and some army builders coming out soon. Joe fans, it appears to be good times.
--AP
Haunted Mansion Movie Impressions, Toys

The latest Eddie Murphy family vehicle doesn't exactly thrill, but it does entertain for most of its 90 minute runtime despite loads of plot holes. The filmmakers wisely bathe the story in practical effects, eschewing most computer generated ghouls in favor of Rick Baker's masterful suited-up walking dead. There isn't much meat on the rather sturdy frame of sets and effects, but the film does have many a sight to see. The bulk of the designs and sets are revealed in the film's vast ad campaign, but many deserve an extended look. If you can catch a cheap show, you can do far worse than Haunted Mansion this holiday weekend.
McDonald's will be stocking Happy Meal toys, as revealed at this article at the Raving Toy Maniac. None of the film's stars are represented in plastic, but there are a few neat prop toys, one of which seems to be from a scene that didn't make the final cut. Theme park fans, take note.
--AP
And in other news...


One of my favorite Web comics, Pokey the Penguin, has added a few new strips to its illustrious archives. Don't miss them!
The Lion & Lamb project strikes again, revealing yet again that their researchers are quite capable of showing a total lack of understanding of just how violent the toy biz really is in this article at CNN. This is especially amusing because it not only shows that they aren't completely up on the toy industry, but it also has a shot of a horribly mistransformed TransFormers Armada Thrust toy with some pieces snapped off. Not only is it amusing that they haven't been able to properly figure out a child's toy, this isn't even a toy that made the list.
Lastly, Homestar Runner added some new e-cards and downloadable songs, but no new cartoon or email this week. Be sure to check it out!
Come back tomorrow for a new toy feature!
--AP
Black Friday Specials Online;
LEGO Brick Styles, Colors Overhauled for 2004
November 26 2003
K-Mart Gold Optimus Prime Great Value Pack Found;
Sale Prices

Curiosity and a huge stream of misinformation have caused the workers behind this site to embark on many a toy run to find this particular piece. Since the box shows multiple versions of the contents, and these don't always match the labels, we decided it prudent to show a couple of pictures and explain what exactly comes in this box.
The box includes the following:
1 x Longarm (regular edition)
1 x Sparkplug (not Corona Sparkplug)
1 x Comettor
1 x Adventure Team (Dune Runner, Iceberg, Ransack)
1 x Jetfire (not Powerlinx Jetfire)
1 x Optimus Prime (gold cab, exclusive to this set)

Without exaggeration, it's darned near impossible to see Longarm in the box without opening it. A full review of all the toys in this set will be coming over the next few days.
Also note that the character portraits on the front of the box are actually stickers, the same ones included with the standard toys of Jetfire and the Super version of Optimus Prime. The accessories, which are identical to the normal release toys for these items, are hidden in a compartment behind Jetfire. For the curious, Jetfire's gun is the newer variety that does not play the countdown sound effects. It should also be noted that the design of the box is quite remarkable.
The instructions are interesting. Longarm has his own sheet, the Powerlinx Optimus Prime instructions are included (complete with the Corona Sparkplug that isn't in this set), and the Powerlinx Jetfire instructions are here as well. The Adventure Team instructions seem identical to the normal release.
K-Mart is holding a 20% off all TransFormers toys (including Built To Rule) through today. So if you get to the store before midnight and they have this, it will only cost you $48 instead of $60. If you have to buy a gift for a child this season, this is a remarkable value and probably a great future collectible.
Finally, it should be said that K-Mart actually raised the price of their $10 Armada toys to $11 this week when the toys were only $9.99 not two weeks ago. As such, the sale isn't all that great.
--AP
LEGO To Change Brick Stud Sizes, Colors?

A number of rumors and scans showing changes being made to the basic foundation of LEGO bricks have surfaced as of late, and a LEGO representative made this post over at LUGNET explaining just what the heck it is going on. If you're even remotely interested in LEGO products, this is worth your while to read.
--AP
Toy Review: Cloud Strife from Final Fantasy VII

An old feature that has yet to fully get off the ground was our Japanese Final Fantasy VII Action Figure Archive. For whatever reason, this review of Cloud Strife was completed. As such, check it out today!
--AP
And in other news...

The Onion added a new best-of today, but has a new AV Club section with reviews of Bad Santa, Haunted Mansion and other films as well as an all-new Savage Love. Check it out!
In addition to those films, the following are also opening shortly: Timeline, The Missing, and In America. And a whole bunch of films in limited release only, meaning if you're in New York or Los Angeles, you've many an option this holiday weekend.
This delightful Web site added lists of specials this Friday for Toys "R" Us, Wal-Mart, K-Mart, Best Buy, Circuit City, and many other stores. We'll be back tomorrow to post what we find of note in our newspaper.
Have a happy Thanksgiving!
--AP
Happy Thanksgiving!
Early Sales, Bad Santa Impressions
November 27 2003
Toys "R" Us Armada Bonus Pack Sales

In a bit of a surprise, at least one local Toys "R" Us store had marked down their Supercon Bonus Packs down to $7.99 early. These sets are normally $12.99 and are the same as their $9.99 counterparts but include one additional Minicon.
While at first glance these look identical to their normally carded counterparts, the area of the bubble in front of the sitcker has been extended out to house an additional Minicon and it appears that the cardback is nearly identical to previous releases. The toys are more or less unchanged from the normal releases, but it is notable that Powerlinx Hot Shot will always be the later version with the properly painted Autobot symbol. The figure's forehead does not appear identical to the version shown on the back of the package, or to the version released in Japan.
While not the most amazing deal in the world, $8 for one big toy and two small ones is pretty good. Available in this configuration are Blurr, Powerlinx Hot Shot, Powerlinx Cyclonus, and Sideways. Each is packaged with a seemingly random Minicon from either the Destruction Team or the Adventure Team.
Also, a few reports are popping up of Energon toys hitting USA Wal-Marts, including the brand new Optimus Prime. Collectors, start your engines.
--AP
And in other news...

Bad Santa is, without hyperbole, quite possibly the bleakest movie I've seen. It's like the ghost of Christmas Future is staring you right in the face, as the film is surrounded with characters of no redeeming value that slowly sucks your will to laugh during this pitch black comedy. Interestingly enough, it shares the scribes of Cats & Dogs, and this film is probably the result of years of darkness culled from other screenplays rolled up into a movie that could quite possibly render anyone, no matter how cynical, totally speechless. If this film doesn't make you feel something, most likely something awful, you probably weren't paying close attention.

Folk singer Arlo Guthrie will be appearing on NPR's The Diane Rehm Show today, and in it they'll be talking about what may be the only Thanksgiving song known to the world-- "Alice's Restaurant." Check NPR.org or your local NPR station for more information, and this interview will most likely be on the Web later today.
Have a happy Thanksgiving!
--AP
Black Friday Means New GameBoys
November 28 2003
GameBoy Advance SP: New Colors Today

Been holding off on the GameBoy Advance SP? Target Stores are offering a bundle with a metallic green system and a game for $99.99 today, and for the same price Toys "R" Us has a gold unit with Super Mario Advance 4. These are excellent deals for a fantastic portable gaming system.
--AP
New Energon Images

Transfandom.com added some shots of new characters that may be considered spoilers by those with weak constitutions. Check them out if you're so inclined.
Also, Remy's TransFormers added the beginnings of a great Energon Optimus Prime archive. Be sure to give it a look.
Lastly, the Wal-Mart exclusive Landfill gift set supposedly officially goes on sale today. Check your local stores for pricing and availability.
--AP
And in other news...

Strong Bad Sings was brought to town by friend of the site Dan today, and it was a mixed bag of fun and some tracks which are less than fun. While the appearance of Homestar Runner is fairly limited, a few other characters get a chance to shine with the bulk of the album's runtime being devoted to Strong Bad. The character Coach Z gets a track and an exclusive video, so it looks like this is a fairly decent release from the folks over at Homestar Runner.com.
Delayed 16bit.com features originally intended for this week will be posted at a later date. As such, both of you who may have been looking forward to these articles will have to wait.
--AP, thanks to DL
Landfills of Landfill
November 29 2003
Wal-Mart Landfill By The Bushell

Premiering this morning at a paltry $15 was a gift set of Landfill, a TransFormers set previously released in the USA, Japan, and Korea in different colors. It includes four toys which, in the USA, previously sold for $10 each. As such, this is a most excellent deal and a magnificent gift for kids this holiday season.
Our closest store had a stack several feet tall of these in the early afternoon, so be sure to check your local store for more. Early impressions? It's a little difficult to get transformed properly and is definitely the most ambitious toy of its type as each vehicle can assume the roles of multiple limbs. Our sample had a problem with the silver paint on the robot heads, making the toy look worn before it was even touched by human hands. Aside from that, it looks good, and it doesn't look all that bad considering the toy is already covered in dirt and some damage paint.
UPDATE: These sets were advertised as available only until 11 AM on the 28th of November and at $15. Dozens if not hundreds are still in many area Wal-Marts, and are still $15 as of November 29.
--AP
Free Pirate's Gold

Tower Records has a deal on Tuesday of next week. Buy Pirates of the Caribbean for $19.99 and get a free piece of pirate's gold, just like from the movie. As on now, it is not known if any other store will receive such a premium, and it seems the cheapest other stores will be selling this set for will be roughly $15.99.
--AP
And in other news...

The sales of Black Friday seemed to go pretty well for those we've talked to thus far. The quest for Landfill was a snap, as there were few people near the garden center at which we parked and there were ample supplies outside the normal aisle for this toy. DVDs were all over the place, with many sitting around and many selling out. All in all, it seems it was a fairly good Black Friday, despite the fact a few of the items seem to have been marked up prior to the sales this year.
Without a doubt, the most interesting thing were the rebates. At Best Buy, a hard drive was being offered which a friend of ours picked up, and it turns out the rebates had to be postmarked yesterday-- meaning you had less than 24 hours to send off for it. Surely, this is something that will someday be brought up in a larger forum as highly deceptive business practices.
Game consoles were an amusing item to watch. It appears a couple of places ran out of Xbox systems and sold several GameCubes, close to liquidating their stock. Looks like games are hot yet again this season.
--AP
New Releases on the Half-Shell
November 30 2003
Teenage Merchandised Ninja Turtles

Two particularly notable new products related to the mutant ninjas have popped up this weekend, and while they may not be new, they're probably new to you. First is a quartet of plush dolls of the green teens which are showing up at Toys "R" Us stores from Playmates Toys. Each is a decent size, about $20, and includes a magnetic weapon that can stick to the turtles' hands. All in all, a good, smart move and an excellent example of how to use magnets in toys.
Next was a DVD box set with a pack of toys. The four discs were the same as the individual TMNT DVDs, and the figure four-pack are the same mini-TMNTs spotted-- rarely-- at Kay-Bee outlet stores. This appeared at Target for $50. Considering the DVDs are $12-$15 each and the toys are roughly $4 when found, it's not a bad deal and it's a surefire hit for fans of gift sets.
--AP
G.I. Joe Valor vs. Venom (formerly G.I. Joe vs. Cobra): First Vehicles Spotted

Two local Wal-Marts received cases of these new $9.99 vehicles today that, instead of blister cards, come packaged in small clear plastic boxes somewhat similar to the larger Nak Naks toys and Star Wars Screen Scene figure sets. Of particular note is one toy called Tigerhawk, a small plane that shares the name with a Beast Wars Transmetals 2 toy. It's piloted by an Ace figure, and the other toy in the assortment, the Venom Striker, is an ATV helmed by a new Cobra C.L.A.W.S. figure.
--AP
New Zoids Action Figures Spotted

With all the new figure kits showing up recently, it only makes sense that Hasbro made a few additions to their Zoids Action Figures line. Now available at Wal-Mart are Gojulas Giga and Dimetrodon, each with a new weapon pack that seems to connect to an as-of-yet unreleased glove which allows it to emit sounds. It seems similar to the failed Star Wars CommTech Chips (1999-2000) that were phased out as part of the bloat of the line.
--AP
Toy Shipments Increased

Despite being out of a few of their sale items on Friday, Toys "R" Us managed to replenish the stock on Saturday before the sales ended, meaning it's more than likely that their annual shift to a shipment each and every day has happened. Other stores tend to have frequent restocks this time of year as well, and as such it's a good time for toy runs.
--AP
And in other news...

Homestar Runner updated late last week with a Strong Bad Email on the topic of Thanksgiving you may have missed. As such, be sure to check it out.
We were informed by the author of our David Cross: Let America Laugh review that it contains a pair of easter eggs. The review was updated accordingly.
--AP
Click Here For News From October!