Site Updates
Simpsons: Continuing to chug along, we've added the following today:

Groundskeeper Willie & Ralph Wiggum.

We wanted to add more, but Sunday night was essentially Adam vs. Satan's Own Digital Camera. This thing does all sorts of things that nobody would ever believe, myself included. Were I to tell someone what this dumb thing was doing, someone would send the men in the white coats with a friggin' butterfly net.

-- AP

Hope Ya Like Simpsons
July 3 2001
Site Updates
Simpsons: New today: Kwik-E-Mart. On the bright side, we seem to have gotten around our camera woes using a new setup of which Rube Goldberg would be proud. When you can work in a series of lamps, a 13" TV, and a bunch of dishes, you're doing something right.

-- AP

Hope Ya Like MORE Simpsons
July 14 2001
TransFormers: New Releases, BotCon Weekend
Robots: The new Robots In Disguise range is showing up around the USA, so check your local toy stores for the latest there. We spotted two of the Deluxe toys (Side Burn, Prowl) for $12.99 each at a local Babbage's software store.

BotCon Exclusives: The 2001 BotCon exclusives are: Tigatron (a blue repaint of the Japanese Ravage/Jaguar toy), Arcee (pink repaint of TransMetals 2 Blackarachnia with added voice chip of Susan Blu, the original voice actress for Arcee on the original cartoon.)
Jurassic Park III Releases Continue
Reinforcements from Isla Nublar: A few new dinos have shown up since the initial batches, including a $50 animatronic Spinosaurus, a larger T-Rex, a mini Brachiosaurus, and several others. The newest stuff has shown up locally at Wal-Mart and Target.
Simpsons: New Releases, New Announcements
Wowee: It's been a big week for the yellow skinned kids from Springfield, so read on!


New to stores: Martin, Sideshow Mel, Kent Brockman, and Bartman were found here in Phoenix at Target last night, we just missed Captain McCallister & Bumblebee Man. The two new playsets have yet to be spotted. Notable on the Series 5 packaging: on the list of the playsets with which a figure is compatible, some are covered by a yellow sticker. While at first I assumed it would have been the recently cancelled Main Street playset, the playsets that are masked are "Aztec Kitchen" and "Simpsons Kitchen." A Simpsons Kitchen has been mentioned in several places as being released early in 2002 with Obese Homer, but Aztec Kitchen? Perhaps a mistake name for something else... there was an Aztec Theater in the episode where Homer gets truly obese, but an Aztec Kitchen is a true mystery. Cardbacks have "Series 5" on the front like the previous wave, and the backs continue to show everything made for the line, save the exclusives.

ToyFare Exclusive Woes Continue: Boxing Homer was offered online at Wizard's site the other day and sold out within hours, and once again I missed him-- here's hoping if I send away for one, I might actually get it this time. A new ToyFare exclusive was announced as well, a new Comic Book Guy with a comic con T-Shirt. A pretty lame exclusive, but an exclusive is an exclusive... and it's available on Wizard World now with a paid subscription to one of their magazines. If anyone scores an extra of the last offer, Pin Pal Burns, or of Boxing Homer please write in and let us know.

New Holiday Exclusives: This year's Treehouse of Horror and Christmas themed sets were shown in the latest Action Figure News & Toy Review magazine. For the Treehouse, the figures are Kang, Kodos, and a new regular Homer in a spaceship playset. For Christmas, the Simpsons family is decked out in winter outfits in a living room playset. Homer and Lisa are in Santa attire, Marge is the same figure released earlier with earmuffs and straight arms, Maggie is placed on top of Santa's Little Helper, and Bart's in a new outfit. Both sets look excellent.
Site Updates
Simpsons: New today: Martin. Also, our Simpsons Checklists have been updated to reflect new releases and new announcements. For those keeping track, all of the figures offered in the original Mattel line have been remade for the Playmates line, and there are now over 50 figures available.

As of now, every available Simpsons figure has been photographed for this site... we're just editing the images now. We hope/plan to have Bartman, Kent Brockman, and Sideshow Mel up by/on Monday morning, so there's the good word on that. The stuff that's still missing from the site should be up soon... then TransFormers PVCs Act 2... maybe 3 if we can scare up the cash for it...

-- AP

Monday Morning Mayhem
July 16 2001
Futurama Figures: All 4, $24.99
In Case Ya Missed It: Tower Records is offering a variety of toys in its stores, one of which is all four Moore Action Collectibles Futurama figures (well, three and a ship) for $25-- this is not a sale price. Same toys, new box. Considering they typically run from $12-$15 each, this is a pretty killer deal. We hope to have $25 soon so we can buy a sample.
BotCon Reports
Like Being There, But Not: Reports from the 2001 TransFormers Convention, BotCon, are being posted left and right. In case you couldn't make it, here's a few for your perusal:
Ben Yee's Beast Wars/TransFormers Page
transformers.winterchill.com's Report (lots of images)
The Winterchill page has some great shots of dioramas, customs, and other nifty things from the fans. Check 'er out! (Note: Apparently there was no Hasbro Panel, nor was the next incarnation of TransFormers announced.)
Old McFarlane Club Toys in Stores
Because We Forgot: Former McFarlane Club exclusives The Flukeman from The X-Files and Jason Wynn from Whatever Jason Wynn Is From showed up at Babbages last week for $9.99 per. Not bad.
Site Updates
Simpsons: New today: Bartman and Sideshow Mel. Kent Brockman will be added for tomorrow morning.

-- AP

Site Updates
Simpsons: New today: Kent Brockman, with our backlog being emptied shortly...

-- AP

News... or Astro-News?
July 18 2001
Summer Convetion Report Round-Up
Comic Con International in San Diego: The show is this week, and we expect all sorts of reports to show up online. Check back here for links to the better ones, since we couldn't go this year. Mattel has posted a preview of their Comic Con exclusive He-Man statue, based on new designs for an all-new He-Man toy line.
BotCon 2K1: More reports are showing up, not much new is being said and unfortunately, most of the picture archives are just of people at the show and not the booths. Word has it a Unicron prototype was up for sale, but no pictures were allowed. Images of the abandoned TransTech concepts were also shown.
[ Link: TransTech and Cerebus Concept Art (unmade toys) ]
[ Link: BotCon Exclusive Tigatron Tech Specs ]
[ Link: BotCon Exclusive Arcee Tech Specs ]
New Man Or Astro-Man? Today
Beyond The Black Hole: The remastered version of What Remains Inside A Black Hole has been released, with 12 tracks instead of 15, three of which were not on the previous version. Visit their official website.
Site Updates
Simpsons: New today: Mayor Quimby.

-- AP

New GI Joe Pictures, More Toy News
July 19 2001
All-New 3 3/4" Joes Revealed
And There Was Much Rejoicing: The latest of the 1980 toyline relaunches has been revealed over at YoJoe.com with a sneak peek of new Joe sculpts being shown over at the San Diego Comic Con. Some are already comparing these new Joes with the 1995 Star Wars relaunch due to their more defined physique.
Playmates Updates Simpsons Site
More Fun For You: Playmates' Simpsons Page has been updated with news for the first time since before Wave 3 earlier this year. Wave 8 seems to follow a theme of Springfield Elementary, and is as follows:

WAVE 8
Kearney
Uter
Superintendent Chalmers
Ripped Willie
Daredevil Bart
Sherri and Terri
Springfield DMV with Selma
Springfield Elementary School Cafeteria with Lunchlady Doris

The checklists in our toy guide have been updated accordingly.

Also announced is Pin Pal Moe, an upcoming exclusive for ToyFare which will round out the quartet, and images of the other upcoming Christmas and Haloween exclusives have been added to their site. Also, the Radioactive Man/Fallout Boy playset is a Lunar Base. Intriguing... check out the images at the official site!
TransFormers News A Go-Go
Goodies A Plenty: Ben Yee's BWTF.com has updated with some great info, including more Botcon stuff and information on the authenticity of the Blue Megatron Dragon... don't miss it! There's a particularly awesome custom Bumblebee toy on there.

Unicron.com is adding a page full of photos of the exclusives... Tigatron is up now. Definitely worth a look.

-- AP

"To Paraphrase Myself, Gadzooks!"
July 20 2001
He-Man Showing at Comic Con
The Skinny: He-Man.org has the previews of several of the all-new He-Man toy line. Dig that crazy new Skeletor! These really look like a new line of toys for kids... nicely designed, but not fragile looking. I, for one, can't wait to get my hands on a final production piece of one of these and see how it stands up! I can't say enough about how impressed I was by the initial images, so here's some incentive to check out the line for yourself...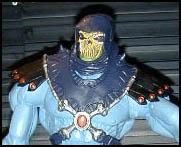 Several figures, some vehicles, and the two feline steeds are shown, so visit He-Man.org today! All it seems to be missing is Orko.
More Unproduced TransFormers, BotCon Arcee Pics
TransTech II: Additional images of TransTech TransFormers concept art has been posted to the Web. Check out this page at TransFandom.com for the goods.
Unicron.com has updated with a page devoted to the second BotCon exclusive toy Arcee. Worth a look if you have yet to see the toy.
More on New Joes
O-Ring Madness: YoJoe.com has more images, an article, and some names for the new and surprisingly controversial 2002 re-revival of the classic 80's toy line.

-- AP

San Diego Comic Con Round-Up
July 21 2001
Spider-Man and Toy Biz
Wow: Figures.com is reporting that the second wave of the great, hyper-articulated low-priced figures will be the last one. Hitting stores soon are unmatched versions of the Rhino, Daredevil (yellow and red), battle-ravaged Spidey, and a Classic Spidey. The Scarlet Spider figure shown earlier and said to be cancelled, thankfully, is still on track-- as a Kay-Bee exclusive.
Action Figure Times has also reported on a lot of new stuff, including a Marvel Legends line which will be the successor to Spider-Man Classics. A prototype of The Incredible Hulk was shown, and mention of Captain America, Iron Man, and Dr. Doom to fill out the assortment when it hits at year's end. Truly, a drool-worthy endeavor.
Info on the hard-to-find (and fairly cool) Movie/Comic Wolverine set, packaged Lord of the Rings, and other goodies are shown on these sites, so be sure to not miss them.
Jay & Silent Bob Strikes Back
Duh: Odds are if you care, you visit one of the two View Askew-related sites daily. If not, there's a fair amount of info at your disposal on showings in San Diego and news of the upcoming Kevin Smith flick at Newsaskew.com.
Calendar
Because we're stupid, we're creating a calendar of upcoming action figure releases for this site. Yes, now you too can have a list of when companies think their toys will be released! If there are any lines you would like to insure are covered, email Darryl as he'll be spearheading this one.
Other Mutterings
As always, work continues on toy archive funness. So check back Monday for the beginning of what will hopefully be the beginning of a complete Simpsons archive.

-- AP

"Wahoo, Noonch!"
July 23 2001
They Might Be Giants news
Through one of two contacts we have for this site, we have some news we've been meaning to share with you...
Mink Car, their first album with new material released to stores in nearly five years, is done and ready for release. However, it now looks as if it's a September release, not August as previously reported.
The band is no longer working on music for Fox's "Malcolm In The Middle" program. One of the reasons for this is an upcoming tour to promote their new album, a welcome move which should have fans of the band pretty stoked.
Lastly, the band has been working on a documentary for quite some time, and if you're on their mailing list, you may have read their request for home movies and amateur video of the group for possible inclusion. Cool stuff all around, thanks to our top secret source.
Metal Gear Solid Notice
The most frequently asked question we get at this site is regarding the availability of McFarlane Toys' fantastic Metal Gear Solid figures, the first figure archive we created when our intent was to create yet another video game web site. Right now, we do not offer these for sale nor do we have any stores we can direct you to. Please check your local video game, comic, and sci-fi stores as well as eBay for your favorite characters.

Metal Gear Solid 2 figures, on the other hand, are coming later this year or early next year. New versions of Solid Snake and Revolver Ocelot will be included as well as new characters from the Playstation 2 based sequel.
Simpsons Petition
Growing dissatisfaction at the inability for many collectors to obtain certain exclusive figures have lead to an editorial at Comic Book Galaxy and a petition at SimpsonsCollectors.Com. If you have any interest in the exclusive aspect of the toy line, these are notable reads.
Site Updates
Simpsons Archive: Otto, Lenny, Patty and Casual Homer added to our archive, Itchy & Scratchy and Sideshow Bob to follow shortly. We're working on some special stuff for the playset sections, including quote and compatibility lists for your... uh... figure readin' needs.

Welcome To Insane Fantasy Island
July 25 2001
Final Fantasy IV-VII Statues, FFX Blitzball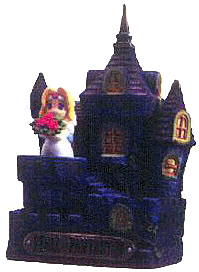 Image stolen from NCS
Fans of the Final Fantasy series dating back several years will be thrilled to see the statues of Final Fantasy characters from before merchandising was available for most of the games. They're $50 each and up for sale at NCS. They're pricey but where else can you find a physical 3D representation of the famous Opera sequence?
The statues are made of cold cast porcelain. Anyone willing to give us some money so we can buy these things and photograph them for the site will earn the title "best bud of the site" and we'll plug your stuff forever. Thank you.
Also from the newest game in the series (more on it below) is a Blitzball, a sport from the PlayStation 2 RPG's opening sequence. NCS is selling it at $20.
Final Fantasy X Sales
In a stark contrast to how the Final Fantasy movie is doing un the USA, Gamespot is reporting Square sold through 1.92 million copies of the latest version in the venerable franchise in just a few days. Check out the full article for more.
GI Joe: Real American Heroes
An early shot of Cutter, a new figure being packaged with the NLC vehicle in the current line of 4" GI Joes, has been posted to YoJoe.com. The site says this and the Wave Crusher, a Cobra repaint of the old Sharc vehicle, are due out soon.
He-Man
He-Man.org is reporting the unveiling of the new toys was very well received-- the statues and freebies were depleted over the course of the convention in San Diego.
Mr. Show on DVD Petition
Because everybody loves Bob and David, we're giving a quick shout-out to the web petition to get Mr. Show (a wildly entertaining HBO comedy program) on DVD.
Simpsons Rarities: Get Yours
Playmates Toys is offering up a contest to get hard to find Simpsons toys. Visit The Simpsons Collector Sector to find out how!
Site Updates
Simpsons Archive: Added Itchy & Scratchy. Next up: Sideshow Bob, playsets, and TransFormers PVCs Act 2.
Random Stuff
We like posting all sorts of news which may interest anyone who might read this site. If you know of something cool and would like to get some publicity for it, contact Darryl and we'll probably post it if it's even remotely related to what we cover.

-- AP

News Rollercoaster Continues
July 27 2001
GI Joe: New American Hero Vehicles Land
Reports are starting to pop up that Toys "R" Us stores are getting the NLC and Cobra Wave Crusher vehicles. Time to keep them eyes peeled!
He-Man and the Masters of Sometime Next Year
The Raving Toy Maniac, one of the greatest toy sites ever to grace the net, has posted an interview with Four Horsemen sculptor "Cornboy." The ex-McFarlane sculptor talks about the future of He-Man, including when we'll see Orko and Teela.
Simpsons To Ten
The Simpsons Collector Sector and Michael Crawford of Comic Book Galaxy has posted information on the Simpsons line through next year. A partial list of upcoming product was included, such as Disco Stu, a Burns Manor with Smithers set, and the long-awaited Duffman. Our checklists have been updated accordingly.

Don't miss the full story, complete with a Q&A with Playmates' own Jeff Trojan, at Comic Book Galaxy!
Site Updates
Simpsons Archive: Added Sideshow Bob. We also updated checklists for TransFormers PVCs and The Simpsons.

-- AP

News Rollercoaster Continues
July 30 2001
GI Joe: A Real Canadian Hero
Military fans and guys who have a thing for chicks that say "aboot" will be interested in scoping out the Canadian packaging for the unique visual onslaught that it is. Check out Charles Cushman's page for the full scoop. (Two words: generic, cheap.)
Indiana Jones
And the DVD Rumor of Doom: TheDigitalBits.com is reporting on their rumor mill section that Raiders of the Lost Ark might be on its way for 2002. As a late 20th Anniversary gift to fans, it would be a welcome addition to any film junkie's DVD stash.
Planet Of The Apes
A late entry to the new Hasbro range, Talking Attar has been spotted in a Phoenix Wal-Mart for $27.76.
Simpsons
The Family Car, having previously surfaced at a few online merchants, has been spotted locally at Toys "R" Us for $19.99. They come in the same sized boxes as the playsets, so be careful not to gloss this one over.

A full review, complete with box scans and all sorts of close-ups was in development, but as I've said before that my digital camera is, in fact, the spawn of El Diablo. I say this without hyperbole, each time it finds new and more amazing ways to not work properly. Downloading images is most certainly not on its "to-do" list.

So in this feature's stead, we have brief car impressions. Overall, the roughly $20 vehicle is good-- it's smaller than the action figure scale but retains the look of the other figures. The figures, as previously reported, are not removable and the figures have zero points of articulation. The car wheels roll, and the hood acts as a button to activate sounds, as do the figures. If you see it, you'll probably like it. The 16bit sample was found at the Toys "R" Us near Arrowhead Mall in Phoenix, Arizona.

Technology willing, this and other features will be added to the site soon. If any of our six readers would like to point us to a REALLY cheap, really good, Mac and PC compatible digital camera we'd be forever in your debt. (Or we'd try and trade you something cool from the stash.)

-- AP

Super-Fantastic Donkey Donkey Donkey
July 31 2001
CastleVania: Symphony Sequel In The Works
Sure to give delight to old-fashioned gamers everywhere, The GIA is reporting Konami is working on a new incarnation of the Metroid/CastleVania style of gaming. Read the whole story!

Dedicated fans will recall Symphony of the Night as a fantastic PlayStation game on which ReSaurus almost released action figures. Due to the company's continued financial duress and abundant layoffs, this dream figure line seems to have been banished to the land of second-series Ewoks and Droids figures.
Final Fantasy: The Spirits Within DVD Date Announced
Both fans who saw Square's premiere cinematic outing will be excited to know a two-disc set was recently announced for a October 23 release by way of DVD File. A PlayStation 2-specific version is also slated to be in the works but no information has surfaced on that front.
New Official DEVO E-zine
The Brainwasher, the spudmen's own E-zine, is posted through issue 3 at Club Devo. There's also music downloads... it seems the quintet from Akron is really starting to make things move for this site. Unfortunately, the MP3s are $1.50 each and there isn't much that hasn't been heard elsewhere, but there are a trio of tracks from their 1997 Lollapalooza stint.
Nintendo GameCube Launch Quantities
GameSpot reports today that Nintendo has cut its allotment of the new video game console in Japan in order to meet the expected demand in the USA. Japan will receive 500,000 units, the USA should expect 1.1 million units. Read the full story.
Simpsons: Pin Pal Burns Arriving
As evidenced by eBay auctions and a recent scan on The Simpsons Collector Sector, the ToyFare exclusive sell-out heard around the world is showing up in mail boxes. (And for the record, we got our check sent back. Not that we're bitter.)
Site Updates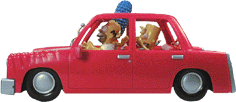 Simpsons Archive: Added Talking Family Car. We also added a page for its packaging, a page for additional larger pictures, and a page for a full review. We're particularly proud of how it turned out-- pride is our favorite sin, you see. Well, after lust and gluttony, those are great ones as well.
We make review our new benchmark in adequatulence.
In a semi-related story, lots of work took place tonight on TransFormers: Generation One Super Collection Figures Act 2. We hope to have these up this week. We hope you enjoy our continued paving of the road to Hell with our good intentions and let us know how we're doing/let us know some useful news/send us some dough.
-- AP

Click Here For News From June!