Who's there?
April 3 2006
Star Wars Q&A Updated at Galactic Hunter


Galactic Hunter has posted a Q&A column by yours truly. The most staggering thing shared this week came from a reader who found out what figure that you may own can serve double duty as a mechanic for your Clone Trooper motor pool. Read on!
--AP
From China: Transformers Cybertron Mini-Con Test Shots


Over on TFW2005, you can find a mirror of images from a recent eBay auction of a future wave of Mini-Con two-packs from Cybertron. The article in question shows new versions of the Armada space team done up in what can best be called colors that seek refuge from a 1980's mall or an episode of Saved by the Bell alongside a recolor of Energon Perceptor that we really can't describe. But any toy with a simulated checkerboard has my dollar.
--AP
G.I. Joe Convention Set Preview Continues


With wrestler Sgt. Slaughter making the rounds at this year's G.I. Joe convention in New Orleans, combined with it seeming like a foregone conclusion that a new figure of him will appear at the show, Master Collector has updated their con set preview to show Major Bludd, a Skull Trooper, and their file cards. As both mention Mr. Slaughter, well, we're going to assume he's in there.
--AP
Godzilla Animated DVD Art


According to a TVShowsOnDVD.com, there's some new art to see of the upcoming US Godzilla cartoon DVDs. Of the old one, not the one based on the more recent movie, Ferris Bueller vs. Godzilla.
--AP
Sponsors
Thank You For Your Support
Featured Sponsor (yes, we supposedly get paid for this)
Baby Bias
April 4 2006
Monthly Microman News


Over on Microman Forever, please find the monthly Micro-News April 2006 update. Some very freakish looking additions to the Acroyear line are coming up and are pretty awesome. (Pictures, too.) Some new Micro Sister figures are.... different, and lots of other new items are listed as well. You'll want to take a look.
--AP
Bob Ross DS?!?


Courtesy of everybody's favorite misinformation holiday, this article at GameSpot seems like a hoax. Bob Ross, PBS painter of happy trees, has had his estate license his likeness for a drawing game on the Nintendo DS and the PC? Sounds insane. It's also on the late painter's web site. (Yes, he's dead. MTV reported it like 10 years ago, where were you?)
--AP
Boondocks DVD


Oh, the fun the easily offended will have with this one. While not exactly Bob Ross-related, TVShowsOnDVD.com has added art and some information from a sell sheet (we assume) on the upcoming [ adult swim ] series. Boasting an episode with a Bob Ross-alike, high production standards, and a sense of humor, this collection is most likely worth a look if you can appreciate satire, amusing social commentary, and lines of dialogue like "...I don't mean bitches in a desrespectful way. I mean it as a general word for women." Trust us, in context, this gag is appropriate. Here, not so much. More than likely this will keep your kids from ever seeing this site again, but it's not like you come here for news, anyway.
--AP
Russians!
April 5 2006
Sneak Peek: The Next G.I. Joe Comic Packs


Lookee what we got! Two more G.I. Joe comic book packs are coming out shortly, including this one on the left with Lady Jaye and two Cobra Troopers with newly minted gas mask heads. If you're like us and utterly ga-ga over these Cobra blue troopers, this is a must-get. Or it will be, when it hits stores. This set includes a reprint of Marvel Comics issue #44.

Meanwhile, a reprint of issue #101 is available with Gorky, Dragonsky, and Misha-- the Oktober Guard! Sure, Misha looks a little goofy, but hey, you can't win them all. This nifty set, and the other, are also both on (shameless plug) preorder at Entertainment Earth.
--AP
Sneak Peek II: More Mini-Cons from Cybertron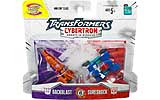 We were going to do more but time caught up with us-- so take a look at Backblast vs. Sureshock. One thing neat we missed before were the blue flames on Sureshock's chassis, we zoomed in to show detail which you can see some pretty spiffy detail work on the reissued, redecoed toy from Transformers: Energon. His companion, Backblast, is a redeco of a toy previously recolored for Energon as well as being originally issued in Armada. More on the companion sets later.
--AP
New Star Wars at Galactic Hunter


A number of new articles have just been added to Galactic Hunter. Take a look at packaged images of the George Lucas Stormtrooper figure, the new 2006 vehicle boxes, a sneak peek at the 2006-style of Star Wars Hasbro vehicle packaging, and the first good look at the new red holographic bonus figures.
--AP
Hold On to your Genre
April 6 2006
New Checklists Page Launched


One of the things we worked a lot on over the years were checklists. Big or small, old and new, for all kinds of toys. It's useful data, and we're posting the first big draft of our checklists section right here today because we don't feel like launching other news right now. It's just the first phase, and it culls things we've done from as far back as ASWN back in 1995. As such, we're still going over these for formatting, so don't be too shocked if you see a couple of errors. Enjoy!
--AP
Scraping
April 7 2006
Hybrid G1 Convoy to Return


A toy that's gone from "wow neat" to "who cares?" to "it's rare? I MUST HAVE IT!" for many collectors over the matter of days has been the Hybrid Convoy, a tiny toy Optimus Prime from Japan that, in robot mode, is about the size of a Star Wars figure. It has just been announced that a second run will take place due to its popularity. As such, well, buy one if you want one-- we're tempted but heard the word "fragile" tossed about by some collectors that got one.
--AP
Sony & Pricing: Revisited


When it comes to rumor mongering, never let it be said we're left out in the cold. Price Story #1: According to a rumor article on GameSpot, rumor has it that PSOne games will be on the PSP for $15 a whack. But this one is worked through as, unfortunately, fake.
Also fun, Price Story #2: According to many sites, the PlayStation 3 will cost 500-600 euros, "euro" being a fake foreign replica of the "dollar." Sony has denied this, so it's kinda up in the air right now.
Price Story #3: Microsoft bought Lionhead. Nobody cares.
--AP
The Complete Strangers with Candy


Blah blah blah Strangers with Candy blah blah blah TVShowsOnDVD.com blah blah blah trapper keeper packaging. You know the drill.
--AP
Oh, The Quick Update
April 10 2006
Star Wars Q&A Updated at Galactic Hunter


Galactic Hunter has posted a Q&A column by yours truly. Clone stuff, fan's choice stuff, you know, the usual. Read on!
--AP
New: Transformers Cybertron New Releases & New Preorders


First up: we saw a whole bunch of Skyshadow, the repaint of Jetfire, over the weekend. Whoopee! Best of luck to all hunting this new toy. We assume Wingsaber is out too but we have yet to see it.
Also, you can find a bundle of new listings posted last Friday at Entertainment Earth with release dates of Deluxe Unicron and others. They include (and do not include photos at press time):
Transformers Cybertron Deluxe Wave 8. Includes Demolishor, Optimus Prime, and Unicron for the first time.
Transformers Cybertron Voyager Wave 7. First shipments of Quickmix with Stripmine.
Transformers Legends of Cybertron Wave 4. Red Hot Shot, tiny Thundercracker, little Optimus Prime, and Sunstorm.
Transformers Titanium Series Cybertron Heroes Wave 1 Set. Transforming metal Megatron and War Within Optimus Prime.
Titanium Series Transformers Robot Masters Wave 3 and 4 Set. G1 Megatron, Optimus Primal (Beast Wars), Autobot "Ark" Shuttle vehicle, G1 Optimus Prime, Alternators Smokescreen, Bumblebee.
--AP
G.I. Joe Convention Set Preview: Overlord


This year's G.I. Joe convention in New Orleans has a 3 3/4-inch exclusive set of a ton of villains and you can see more of them at Master Collector. Now on display: the Coil Trooper and Overlord.
--AP
Stay on Target (Get it? We're clever.)
April 11 2006
Star Wars New Releases Found


Galactic Hunter has posted a short update on the just-released new exclusives at Target stores. The first is the Skirmish at the Senate Battle Pack. This Battle Pack includes a previously released Yoda and Emperor with an all-new Senate pod and two red Shock Troopers based on the super-poseable Clone Trooper mold. Meanwhile, the Demise of Grievous figure includes a number of newly molded pieces and is largely based on the Sneak Preview and Saga Collection version of the figure. Grievous is $12.99. The Battle Pack is $19.99. The value piece here is somewhat obvious.
We're quite enamored with both for different reasons. While the notion of "figure with flame deco" has been beaten to death since this time a year ago, with items like Lava Reflection Darth Vader and Obi-Wan Kenobi, Grievous actually has newly sculpted pieces. And is actually on fire. Flames are shooting out of his eyes. If you can't appreciate that, there's no pleasing you. Meanwhile, the Skirmish set is a spectacular value if you don't have any of these figures. And if you do, it's still good. For two Clones and the senate pod, $15 or so is pretty good, so for $20, you get a spare Yoda and Emperor-- even if the Emperor isn't the most appropriate to the scene. Either way, all together, the two items are a decent deal.
--AP
So soon: Newsradio Season 4


Hot on the heels of Season 3, someone up there heard our whining and the DVD gods have decreed that, so says TVShowsOnDVD.com, Newsradio Season 4 will be out on DVD on June 20. It will also include the legendary "Pop Up Video" bonus episode of "Our 50th Episode" which we think aired on NBC but once roughly 10 years ago. Could we ask for anything else? We think not.
Super Karate Monkey Death Car. That is all.
--AP
Beast Wars Anniversary Megatron Images


Over at the TFW2005, you can see a semi-extensive shoot of the new Megatron toy. You can see him in both modes, and how his key gimmick works in dino mode. It involves ramming a key into his crotch and his butt opens up to fire a rocket. No, we aren't kidding.
--AP
Oh, whatever
April 12 2006
Target: Random Playmobil Clearances


Some Target stores are marking down random Playmobil items, like the recently released diver set or the farm sets. We've noticed not all stores are marking them down, nor are all the same sets being marked down from store to store. Nor are they all marked. As such, check your local stores, the price scanners, and all that crap. Happy hunting!
--AP
Nifty: Final Fantasy Trading Arts Vol. 2


Over at NCS, you can see another new set of blind boxed Final Fantasy trading figures. Tidus, Zidane, Rikku, Selphie, Vincent, and everyone's favorite Tifa are involved. Click through for more.
--AP
G.I. Joe Convention Set Preview: Partial Box Art


This year's G.I. Joe convention in New Orleans has a 3 3/4-inch exclusive set of a ton of villains and you can see more of them at Master Collector. Now on display: the unfinished box art for the "Cobra Mercenaries" set. One figure is blacked out and they're holding a guessing game contest to figure out who it is.
--AP
Happy No-Work Day
April 14 2006
G.I. Joe Convention Set Preview: Cobra Mortal Box Art


This year's G.I. Joe convention has now revealed the box art yet again, to show the Cobra Mortal. (You can cut our indifference with a knife.) More images are to be revealed of the actual toy next week, although after seeing this set, it makes us hug our beloved Operation Anaconda figures just that much more. (And reminds us we're a couple of items short of that set. To eBay! We need Air Vipers and Cobra subs. These figures, if you don't have them, are seriously fun/awesome/nifty and we give them a big fat thumbs-up.)
--AP
Hell Freezes Over Something Interesting Happens with He-Man


Visit He-Man.org, as they have new Neca product previews. A new wave of micro busts with Man-at-arms, Teela, and Mechaneck are shown, as is a nifty convention-only statue of Evil-Lyn in original TV show colors. She actually looks a lot more compelling than the Mattel action figure, reviewed here by us in 2003 when the line had a chance in hell of selling to kids.
We're impressed. We're not in love, but we're digging it and hope to get one for ourselves.
--AP
Nifty: Leaked Konami release schedule?


Over at GameSpot, you can read a nifty rumor control posting regarding rumored DS Castlevania sequels and PSP Silent Hills. Surely, you've already clicked through to read, as this is gosh darn interesting stuff.
--AP
Transformers Titanium Cybertron Heroes Preorders & Official Images


New at Entertainment Earth, the transforming Titanium Series Optimus Prime and Megatron figures. If you click through, you see the pair for $34.99 and new (and fairly decent) transforming shots of the duo. They're due, in theory, in August.
--AP
Get her!
April 17 2006
Star Wars Q&A Updated at Galactic Hunter


Galactic Hunter has posted a Q&A column by yours truly. Clones, can snowspeeders fly in space, all that important stuff. Read on!
--AP
New Images: Final Fantasy III for Nintendo DS


Over at The Magic Box, you can see a few new shots of the remake of Final Fantasy III. While previous 8- and 16-bit era Final Fantasies have been updated to roughly 16-bit levels, this game was redesigned into 3D and looks pretty slick. (Although a 16-bit English port would be welcome, too.)
--AP
Beast Wars on Clearance at Target


It begins: we heard the rumors, and on Saturday, we saw the prices. Hasbro's Beast Wars 10th Anniversary series is being marked down about 30% off in some stores, bringing the price for the likes of Rattrap and Predacon Tarantulus (or however Hasbro calls him this week) to about $10.48. There are still two releases left scheduled for this line, all-new molds for Optimus Primal and Megatron. As such.. happy hunting!
--AP
G.I. Joe Convention Set Preview: 12-Inch Stuff


This year's G.I. Joe convention in New Orleans also has a 12-inch gift set, Fight for Survival: Polar Bear Attack!" Neat. Right now you can see the box art, two human figures, and some dogs.
--AP
Transformers Alternators Optimus Prime Restock at Entertainment Earth


New at Entertainment Earth, it's the Alternators Assortment 13 Rev. 2, which has Optimus Prime, Sunstreaker, Rollbar, and Ricochet. If you can't wait for Optimus Prime, you don't have to-- you can order Alternators Assortment 13 Rev. 2 today!
--AP
Coming Soon
April 18 2006
G.I. Joe Convention Set Preview: Cobra Mortal Figure Preview


This year's G.I. Joe convention has now revealed the Cobra Mortal action figure. Based on an insanely hard to find figure from Argentina that's little more than a fancy repaint of Snake Eyes, it has ascended to semi-legendary status among collectors. See why you should care-- if at all-- in this latest update! (Were we not making it a point to not buy toys with chrome outside of Star Wars, we'd be all over this.)
--AP
Statues: He-Man Wave 4


Over at He-Man.org, you can find preview images of two new "staction" figures, statues that look like action figures and cost like $20. New today: Leech and Webstor. There's also some nifty comparison shots that make the entire collection look quite compelling!
--AP
Microman meets Gamera at Microman Forever


Two new Gamera-based Microman toys are up to see at Microman Forever. First is Microman Ricky as Gamera (Showa Version), and second is Microman Vain as Gamera (Heisei Version). Neat! Like the Godzilla figures, these mini figures climb inside a rubber suit, much like the actors in the original films. Check them out!
--AP
16bit.com & Entertainment Earth Podcast
16bit.com Podcast #17: April 17, 2006
16bit.com Podcast #17: April 17, 2006


It's toy news! It's a promotional vehicle for a toy store! Wow!
--AP
Contents
This week's segments:
Vintage Star Wars 2006! We look at the 5 new figures: from Star Wars, Sandpeople, Luke X-wing Pilot, and Greedo. From Return of the Jedi, Biker Scout and Han Solo Endor Trenchcoat. Happy listening! We've got info on package variants, mail-in offers, and non-news surrounding the rumors going around about more.
How to sign up
For starters: You do not need an iPod to hear a Podcast. Podcasting is just a fancy word for "hack job internet radio show," which is exactly what we're aiming to produce here.
If you have iTunes 4.9 or above: You can subscribe to it for free. Just search for "Adam Pawlus" under Podcasts in the iTunes music store, or just go to "Subscribe to Podcast" and paste in "http://www.entertainmentearth.com/podcasts/podcast.xml". And you should be all hooked up.
If you're using an RSS reader: Subscribe to this feed: "http://www.entertainmentearth.com/podcasts/podcast.xml".
If you are using Safari: click here.
Dead Boy Runnin' Scared
April 20 2006
G.I. Joe Convention Set Preview: Nature's Godless Killing Machine


This year's G.I. Joe convention in New Orleans also has a 12-inch gift set, Fight for Survival: Polar Bear Attack!" Today, you can see how the G.I. Joe Collector's Club and Convention both support the bear agenda by putting a sleeper agent inside every 12-inch convention set. Boo, Fun Productions. Boo.
--AP
Nintendo DS Brain Age Released, Impressions


One of the biggest hits in Japan is the Nintendo DS game Brain Age, and now it's out in the USA. Good pal of the site and contributor Zac bought it, and we asked "so, how is it?" His response via IM conversation: "It makes you feel really dumb. The primary exercise requires you to shout into the microphone the color of the text you see. So it's the word Red except the text is Blue so you have to say Blue." Wow, how delightful. He continues: "For us with a liberal arts degree, it may as well be the Enigma machine." Well, there you have it. Brain Age was released to stores yesterday and costs about $19.99, making it for all intents and purposes a bargain title.
--AP, thank you ZB for the impressions
In Package Titanium Series Transformers Wave 2


Want to see new robots in their tube-like packaging? Of course you do. TFW2005 has a gallery showing Side Swipe, Autobot Jazz (oh well), and Starscream in the package. As a bonus, you also get a good look at Starscream out of the package. Take a look.
--AP
New Gentle Giant Star Wars, Corpse Bride Preorders at Entertainment Earth


New at Entertainment Earth, tons of new Gentle Giant swag! We caved in and bought Leia as we believe it's the best thing ever. This is part of a continuing series that started with a bunch of Clone Wars maquettes that, while cool, do not sing like this piece does. Or the related Boba Fett. Or the upcoming Darth Vader.

Your mileage may vary, but there's also a Rancor Statue that costs too much, really friggin' expensive Cantina bookends, some Corpse Bride Bust-Ups, a Cantina Band Bust-Ups collection, and the Chewbacca Mini Bust. Which is cool, if you like busts-- we're mostly toy people ourselves, but we have been known to fawn over a few here and there.
Click on through, buy something, and support our site! And habit. Thank you.
--AP
Vote for Taft
April 24 2006
Star Wars Q&A Updated at Galactic Hunter


Galactic Hunter has posted a Q&A column by yours truly. Clones, vehicles, and just a whole mess with vehicles. Read on!
--AP
New Images: Final Fantasy III, Castlevania: Portrait of Ruin for Nintendo DS


Over at The Magic Box, There's a lot to see. For starters, the new Castlevania has a trio of images. Well, technically four if you count the logo. Also, 3 pages of Final Fantasy III, and as expected it looks great.
--AP
Cybertron Unicron Test Shot on eBay


New from China: a most-likely "lost" factory sample of Transformers Cybertron Unicron, the new toy that's a $10 deluxe version of the legendary baddie. He goes from tank to robot, and looks pretty cool-- do check it out for the new images.
--AP
Nifty G.I. Joe Cobra Commander Prototype


Over at Yo Joe!, they added a ton of new prototype images. Arguably the most interesting is this all-new mold Cobra Commander which, to date, has gone unreleased. Hasbro had massive plans for a post-Valor vs. Venom line involving the B.A.T. automatons, with mechs, high-tech gadgets, and a lot of generally cool sci-fi elements mixed in with classic Joe and what would evolve into Sigma 6. So there's hope this might get dumped somewhere as an exclusive, perhaps in the DTC line.
--AP
DuckTales Volume 2 DVD


Unca Scooge and friends are back, so say the fine reporters at TVShowsOnDVD.com have some news on what may be an official date for Volume 2 of the DVD. Read through for more.
--AP
Star Wars Titanium Series Clone Trooper, IG-88 Preorders at Entertainment Earth


New at Entertainment Earth, it's the Star Wars Titanium Series Figures Wave 3 Set for a mere $31.99. You'll get two die-cast metal Titanium Series figures in this set: a 501st Clone Trooper, and IG-88. Click through for images.
--AP
You Minx
April 25 2006
Square Enix E3 Lineup; Mother 3 Review


Over at GameSpot, you may now find the Square Enix E3 lineup and drool. With Final Fantasy XII for PS2, Final Fantasy III for Nintendo DS, an a bunch of other goodies, this is a must-catch update.
Also notable, the crazy long delayed Mother 3 has been reviewed at importer NCS. If you don't know why this is interesting or significant, don't bother clicking.
--AP
Alternators Rumble at... Wal-Mart?


If you didn't yet see it, Wal-Mart has an image of the Alternators Rumble. In robot mode only, this figure has "working pile drivers" and transforms into a Honda Civic S. Yes, you'll want to click through and see this one, it's quite striking and features many design elements of the original, cassette-based Rumble toy from the 1980s including the red-and-black coloring. It is not expected to be released until at least August or September by most accounts.
--AP
If you ain't seen it, Microman Action Series Ryukendo


Over at Microman Forever, you can find new images of Ryukendo and Tsukaima 2006 entries in the Micro Action Ryukendo series. Worth a look? We'd say so.
--AP
REMINDER: Final Fantasy VII: Advent Children DVD


In case you forgot, or downloaded it last year, the US release of the sequel to Final Fantasy VII comes out on DVD this week. It's a fine animation feast for the eyes, even if the plot may be a little hard to follow or outright uninteresting if you're not already in love with Cloud, Tifa, Red XIII, and the rest. If you played through the game, we advise watching it.
--AP
Soundwave Inferior?
April 26 2006
Superman Mattel DC Figures at... Big Lots???


Color us shocked. Priced at an even $8, the latest assortment of Superman figures-- assortment 1 was Batman-- from Mattel was at Big Lots. Yes, Big Lots. The closeout store. They're actually getting something new pretty much first. Figures in the assortment include Superman, Bizarro, Supergirl, and Doomsday. (We think it was Doomsday. We were too busy trying to figure out if Supergirl got skin cancer. She's quite tan.)
--AP
PSP Now Supports Podcasts, Flash, AC Audio, More


Over at GameSpot, a big list of new goodies that are being added to the new PSP Firmware v2.70. Actually, it seems it does quite a bit, to the point that we're almost curious to get one and check it out.
And then, of course, five minutes later get bored with the lack of PSP games available and put Super NES stuff on it. (We're called 16bit.com for a reason. Represent.)
--AP
Cybertron Soundwave at Toys "R" Us, Impressions


On the way home, we were shocked and elated to find Transformers Cybertron Soundwave. In one of many disappointments this evening, it kinda sucked. The "Mini-Con" Laserbeak is interesting in that his bird mode is quite nicely done and has a fairly good amount of detail work present, and his bomb mode folds up fairly easily. Even if a bomb is a little less than a thrilling mode.
Soundwave himself is big and fairly awkward-- fitting certain pieces in place, notably the head, which is mistransformed in nearly all official photography of the toy. The fold-out guns work nicely, and as a general concept, the "let's all roll up into a hexagon thing" idea is cool. However, Soundwave is riddled with awkward joints, ugly kibble, and more, which, despite having read that before purchase, was not enough to deter us from picking up a sample and seeing it for ourselves. If you're penny-pinching, you can skip Soundwave, which it pains us to say because this is the very first new transforming Soundwave toy since the original that actually looks like the classic toy. For $20, you can do worse-- heck, a lot of the $20 toys are iffy-- but this one's no prize. Maybe if it were a little bit more... yeah.
So to recap for the year: buy the $10 deluxe sized toys. They're your friends. Specifically: Downshift, Excellion, and Cybertron Defense Hot Shot. Each is like getting a hug, possibly the better, dirty kind. All are solid toys and you likely won't fell you were outed of $10.
--AP
Cheap Zoids Still to be Had


A few years ago on what became one of the biggest toy-buying benders of our lives, we bought a lot of Zoids. Tons. So many, we've got a bunch still unassembled-- and yesterday, we added one more to the pile. An LA area Toys "R" Us had a small selection of superbly minty-mint boxed Dimetra Ptera kits, which originally shipped about 3 years ago, for the price of... $0.48. As in, not even half a buck. ($0.52 with tax.) While these kits are not considered the finest of the line, we can't assume that this is an isolated incident and wish you a happy hunt-- there's bound to be more gold in them thar plastic hills!
--AP
Scruffy Looking
April 28 2006
Jack of All Trades DVD Art


Over at TVShowsOnDVD.com, you can now see the artwork for the short-lived Bruce Campbell series' debut on DVD with Jack of All Trades - The Complete Series. Nifty.
--AP
Wii?


While you've no doubt heard this everywhere, it turns out the rumors were wrong. Nintendo is not naming its next system the "Revolution," nor are they calling it the "Go." It's the "Wii," pronounced "wee" and quite possibly one of the most bizarre names we've yet to hear for a game system. And yes, we remember the Konix Multi-System.
--AP
Club UT Astrotrain


Behold: Spacewarp has been given a second chance! Originally a rejected/ignored/delayed repaint concept for Transformers Armada, a really cool purple and grey repaint of Jetfire named Spacewarp was cancelled-- and now apparently it's a club exclusive, with a new head, and called Astrotrain. To find out more, and to vote on some possible changes to the toy, visit their site for more. We may join the club so we can get one depending on the price.
--AP
New She-Ra DVD


One of the more requested cartoon commercial programs of the 1980's is coming to DVD, and watch us pretend to be interested. She-Ra: Princess of Power is coming to DVD in a best-of collection, and you can read all about the fan-picked "favorite" episodes at He-Man.org or TVShowsOnDVD.com. Whoopee.
--AP
Click Here For News From March!