From Down Below
March 1 2005
Review: TransFormers Energon Galvatron

Today we look at a repaint of one of 2004's biggest and best robot toys with TransFormers: Energon's own Galvatron! He's big, purple, and looks a heck of a lot like a character originally seen nearly 20 years ago. Is it worth it? Find out in today's review!
--AP
G.I. Joe Comic Packs #21, #24, #49 sighted?

Because we like vague leads: It's possible that what may be the final three G.I. Joe comic book three-packs are out-- in the past day, an eBay seller with immaculate feedback has posted these for sale, but with pictures from Hasbro's New York showroom. Also, at least one sighting has been posted to a sightings forum. With no other packaged pics or receipts, it's hard to tell if these hit or not... but rest assured we're looking because Lord knows we need another Firefly. No matter the situation, we're out hunting.
The future of this line is completely unknown due to the vague wording of Hasbro's press release. A pack for issue #9 of the Marvel run is supposedly ready-to-go, and issue #16 of the Devil's Due series is supposedly almost done. Other issues have been rumored to be on tap in varying stages of development but at this time what we can expect from 3 3/4" this year is anybody's guess.
--AP
TransFormers Wal-Mart Discounts on Energon

It's a good time to be a fan of the robots in disguise if you're looking for a cheap thrill. For starters, Wal-Mart stores in the Phoenix area are marking down their exclusive two-packs, meaning you can get two random basics for a low price-- now it's an even $4.00 at the stores we checked, which is a freaking steal. Mega two-packs (Jetfire & Ironhide) are $8.00, and the final set with Scorponok and Landmine is down as low as $11. We have noticed prices vary from store to store, especially as this one actually has things marked down to an even dollar, but it's worth your while to take something to the scanner if you've got a few dollars burning a hole in your pocket.
--AP
What's next?

Courtesy of our homies at Galactic Hunter, we were able to secure some various Toy Fair showroom freebies that we'll be showcasing here including a very cool Master Shake figure from Aqua Teen Hunger Force. (For those wanting one, check eBay-- they're going cheap!) Stay tuned!
--AP
Lot of people at the base
March 2 2005
Review: Adult Swim Toy Fair Master Shake from Aqua Teen Hunger Force


Today we look at the first real Adult Swim toy with this Toy Fair Edition Master Shake! It's basically a big plastic toy cup-- but does it do anything? Anything at all? And what makes it a special edition? Find out in today's review!
--AP
G.I. Joe Comic Packs #21, #24, #49 sighted!

Reader DoctorKent wrote in and gave us some great news-- he found isses #21 & #49! He found them at a Wal-Mart, and according to the area code on the receipt, it appears it was in New Jersey-- most of the sightings being reported around the Web have been in California, Nevada, and even one in Arizona. (Just not near us. We looked.) Happy hunting, all! This is indeed good news for all, especially those into things like Serpentor.
Need more proof? Want to see packaged and opened photos? Well, this forum has barrels of them.
--AP
Xevoz Final Release packaged (and opened) shots

For starters, the news you can use: the Fire Drake & Runeslayer are available in the USA, sort of. D&S Sci-Fi Toy World has a limited supply in stock.
Want to see some opened up shots of the final three basic figures? Frankenpunker and his brothers can be seen on this Xevolution thread, so do check that out-- it's unknown when or if more will show up, but we're looking for 'em!
--AP
TransFormers New Universe Releases & Energon Starscream

Numerous stores are getting the new Universe releases in the 2005 style red packaging which looks a lot more like the Energon packaging currently being used. Now find Cheetor, Frostbite, and Ramulus in new, metal-free colors. We've seen several at area Target stores. We also finally found this.
The parade of Energon releases continues! After Energon Starscream, there isn't much left-- four combiner limbs, Overcast, and possibly Energon Insecticon, which was shown at conventions but never elsewhere.
--AP
And in other news...

The guys over at UGO have a new web-only trailer for The Hitchhiker's Guide to the Galaxy which has the narrator (or book) speaking, as well as some lines from Marvin the Paranoid Android as voiced by Alan Rickman. Do check it out.
--AP
Mission Coverage
March 3 2005
Review: G.I. Joe Convention 2003 Backyard Patrol (Firefly Figures)

Today we look at a really expensive repaint with the G.I. Joe 2003 Convention Backyard Patrol! This set is a repaint of the original Firefly mold, which has been repainted to death-- but here, you get two of them done in a style that combines aesthetics of the 1980s and the modern day. One version is Firefly set to infiltrate Cobra Island, the other to infiltrate the nefarious Black Dragon organization. Will he succeed? What does he have in store? And just what the heck kind of crazy deco would $50 get you at that convention? Find out in today's review!
--AP
Nintendo DS in White, Pink, Turquoise, & Black

The guys over at NCS posted images and preorders for the new Japanese specially colored Nintendo DS units. Do check them out, won't you?
--AP
G.I. Joe Comic Packs #21, #24, #49 Preview

It's been a busy week-- and we found these tonight. Actually, we found what was left of two cases of these, for anyone keeping track it was at the Phoenix area Wal-Mart around 15th Avenue and Bethany Home near Phoenix Spectrum (formerly Christown) Mall.
We like. These packs also have the first in-store (or off-web) advertising for the mail-in Storm Shadow figure which expires fairly soon.
Remember, offer expires June 30 2005.
--AP
Kaiju on Parade

Fans of Gamera and Godzilla are in for a treat as two new sets of blind boxed figures are on the way. Gamera fans can see a set of super deformed candy toys, while Godzilla-philes have the Godzilla 50th Anniversary Encyclopedia DX Candy Toy. Both are pictured at NCS and, of course, up for grabs.
--AP
People are not as impressed
March 4 2005
Review: G.I. Joe Agent Faces in Crimson Guard Disguise

Today we look at a really cool mail-in figure with the G.I. Joe Agent Faces in Crimson Guard Disguise. For sending in two bucks and some cardboard, Hasbro would send you a repaint of a figure from nearly 20 years ago with a new head and a removable helmet. But with the helmet on, it's an army builder. Will you want to get a bunch of these? Find out in today's review!
--AP
Vampire Darkstalkers Collection coming... in Japan

The guys over at The Magic Box say that fans of Capcom's monsteriffic 2D fighter will be in luck come May 19, when a PlayStation 2 compilation of this series hits. More at The Magic Box.
--AP
Microman New 2005 Info & Images

The guys over at Microman Forever posted a bunch of new pics & info on the 2005 figures for Takara's fantastic little toy line. While an offshoot is coming to the USA under the moniker "Micronauts" from SOTA, we daresay we prefer Takara's. Do check them out.
--AP
TransFormers Prototype Parade

This auction on eBay China has what many are calling one of Hasbro's prototypes of Sixwing, aka Aerialbots, aka Superion. It's unpainted and in sundry colors, but neat! Meanwhile, this auction on normal eBay has three unpainted Cybertron prototypes of the new, smaller, transforming toys supposedly going to be called "Legends of Cybertron" according to some sources. Neato!
--AP
I fell on some nuts
March 5 2005
Review: G.I. Joe Adventure Team Secret of Planet Xenome (Red Variant)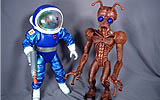 Today we look at a 12" G.I. Joe, and we aplogize for the glut of similar items-- it's just what we had pictures of handy. The Secret of Planet Xenome was released with a number of variants, namely several ethnicities for the astronaut as well as three unique designs for the alien. You get two big 12" figures in a small box, as well as a bundle of accessories. But will buying this allow you to discover the secret? Find out in today's review! (Or I can just tell you now, no, you won't.)
--AP
TMNT: The Easter Egg

Wal-Mart has a big exclusive Teenage Mutant Ninja Turtles egg for about $9.96. In it, you get a regular Playmates action figure of Leonardo, two micro figures of Leo and Raphael, some "ooze" and some stickers. At best, this is an $8 value as it looks like the big Leo is devoid of weapons-- as such, for collectors, this looks like it might be really cool. Everybody else, skip it.
--AP
McFarlane Dragons Available

Reports are coming in from around the web that McFarlane Toys' line of Dragon figures hit stores. We spotted them yesterday at a Scottsdale, AZ area Toys "R" Us for $10.99 a whack. They're neat but we do not plan on reviewing them at this time.
--AP
TransFormers New Releases

Score one at a North Scottsdale Target yesterday evening.
Two of the four final Energon basics were found, Bonecrusher and Wideload. Both fill out the Constructicon team and are repaints of toys originally issued late in 2004.
--AP
We'll Never Get It Right
March 6 2005
Review: TransFormers Robot Masters Black Beast Convoy


Today we look at a great little Japanese exclusive TransFormers Robot Masters toy, the Hobby Japan magazine edition of Black Beast Convoy. This figure came out late in 2004 to fans that sent in a coupon to the magazine along with a whole mess of money. Does Beast Convoy give you a lot of yahoo for your yen now that he's cast in black? Find out in today's review!
---
But wait, there's more! We also updated a few other pages-- take a look at the Robot Masters Fact Box, our Robot Masters Overview, and the Robot Masters Checklist. All because we love you.
--AP
TMNT: DVD Movie Special

Wal-Mart has a bundle of all three Teenage Mutant Ninja Turtle live-action movies from the 1990s down to $18.00 in many locations. While not regarded widely as classics, the first film is an excellent comic book movie while the sequel has the camp classic "Ninja Rap" scene with Vanilla Ice. Online, the set is usually $19-$24, so shop around and snag these if you have the dough to blow. (We especially liked the first one.)
--AP
Street Fighter Microman Chun-Li, Sakura Available (with pics)

The wonderful Microman Forever have shots of both Sakura and Chun-Li from the new Street Fighter line, and we must say we're quite impressed. Seeing as it's the 15th anniversary of the original game, this is a heck of a nice way to celebrate. And we hope Takara feels like doing some celebrating for Darkstalkers in a few years. Be sure to scroll down on the pages and take a look at the action bases, which the figures use in a very marvelous way.
Hasbro tackled these games in this scale before as part of their two Street Fighter lines when Street Fighter II was the biggest thing in the arcades. The first series was a subset of G.I. Joe in 1993, and you can see the 12 regular figures and repaints at YoJoe.com. A second line focused on the movie, with figures that tended to look more like the video game counterparts. The site also has a brief feature on Hasbro's Street Fighter movie toys based on the Van Damme flick that was stuffed to the brim with Guile. Both lines included Chun-Li, though (as mentioned before) the movie version is truer to the game.
--AP
What's Next at 16bit.com?

We have numerous items in development for review and in varying stages of completion. In other words, we don't know for sure, but as always we love to hear your feedback on what you like (or what we screwed up on) as we're cranking out toy reviews every day and we have almost no time to look back.
Take a gander at our always changing review pile for some of the things we're working on for future reviews. If there are things you would like to see reviewed here, please let us know. If it isn't something we ordinarily cover, we'd also like to ask that you please let us know where to find them cheaply.
--AP
Just Love Me
March 7 2005
Review: Playmobil Specials Nun


Today we look at Playmobil Nun. This figure came out and boy, is she nunneriffic! We like it, but is it possible to recreate a woman of the cloth as a children's toy? Find out in today's review!
--AP
Star Wars Q&A Updated at Galactic Hunter


Galactic Hunter has posted a Q&A column by yours truly. What's coming out April 2? And how much money will you need to buy it? We know neither. So read the stupid column anyway.
--AP
Shock: (Sort of) New Steel Brigade Discovered from G.I. Joe

The mail-away figure Steel Brigade was made of numerous bits and pieces of other figures and multiple versions of it exist-- and in 2005, it appears another one has been found, so says Yo Joe! Click on through to see the exciting discovery.
--AP
And in other news...


Pokey the Penguin has posted several new strips. This very funny web comic updates so infrequently that when it does, we consider it to be news. So check it out.
--AP
It was a steak
March 8 2005
Review: Playmobil Specials Roman Legionary


Today we look at Playmobil Roman Legionary. This soldier came out in 2004 to both normal Playmobil oulets and at Target-- except the Target version came in Playmobil Pals packaging. It's the same toy in different boxes, but is the toy any good? Find out in today's review!
--AP
New Releases: Armies of Middle-Earth

Fans of the miniature line from Play Along Toys have a lot to like this week as a number of new tiny Lord of the Rings sets are hitting Suncoast Motion Picture Co. stores in malls everywhere. Several new three-packs are showing up as well as playsets featuring Shelob and Pelenor Fields. The nine-pack of the Fellowship showed up as well, being advertised as a Kay-Bee exclusive originally over a year and change ago. Also new and surprising were six individually packaged figures, Aragorn and some soldier types. However at $3.99 per figure, these may be a tough sell.
--AP
G.I. Joe items come & go

In the past 48 hours, Amazon.com had the Quickstrike and Ice Saber vehicles for a brief period of time-- well, the Ice Saber sold out, at press time the Quick Strike is still in stock for $16.99 with free shipping.
Reports around the web also indicate that the second wave of "Adventure Packs" hit-- this includes Kamakura on the Ninja Lightning cycle, the Sand Viper on the glider (painted to look like the convention Air-Viper), and Depth Charge on his vehicle. These have been mostly at Targets for $6.99, we have not sighted them at this time.
Finally, if you're still looking for comic packs #6, #7, or #8 we'd like to direct you to your local Kay-Bee once again-- our local store had several of each and odds are yours will too.
--AP
DVD: Masters of the Universe Classic Episodes...

...in Australia. More at He-Man.org, along with some tidbits about price rumors for the new upcoming "Staction Figures."
UPDATE: USA, too! Sort of. No season box sets have been announced yet, but TVShowsOnDVD.com has a pres release on the new DVD set which will be out in July and a 10-episode best-of disc. That's first-- season boxes are to come later, go check out this article for more! Even better, Andy Mangels (fanboy and excellent writer) and Val Staples (He-Man.org guy) are working on the production-- this means it'll be good.
--AP
We moved on to a table
March 9 2005
Review: G.I. Joe Operation Crimson Sabotage

Today we look at Kay-Bee toys' end of the year exclusive, Operation Crimson Sabotage . Can three figures and two vehicles deemed army builders possibly be worth paying $20 for? Yes. But are they good enough to pay more than that for? Find out in today's review!
--AP
Toys "R" Us Clearancing Hasbro Exclusives

We stopped at several Toys "R" Us stores today and confirmed that they're in the process of unloading numerous items from several of their finer lines like Star Wars, G.I. Joe, and TransFormers. For example, you can find G1 Inferno and Grapple for under $5 at some stores. A G.I. Joe Spy Troops Snow Cat is but $7.50 in some locations, and the Hover Strike is around $9.98. Star Wars multipacks are roughly half price in some cases, so if you're waiting on some Jedi Council sets or the Skirmish at Carkoon, now's a good time to buy.
Please note: we did not list all items and all prices as what we saw varies WIDELY by store. Not all stores have the same prices, although most have the same items on markdown. If you see something you want, scan it, and if the price sucks move on to the next place. I mean, when is the next chance you'll have to buy a Cobra Rattler for $13?
--AP
Freak Clearance: Energon

A Wal-Mart in Scottsdale, AZ today marked down their basic Energon TransFormers two-packs even further-- before we saw them for $4.00. Today? $1.00. We bought the last pack, which had Arcee and Battle Ravage. Check your local stores for pricing and availability, because at two for $1.00, even a passive fan will want to collect them all.
--AP
Batman C3 Clearances

The same Wal-Mart also marked down the Art Asylum C3 DC Brick figure sets-- you get a couple of figures and a small vehicle in a little box. We bought the Bat Glider with Batman and Catwoman for... $1.00. The Superman set was also available at that price. As always, check your stores and use the price scanners!
--AP
DVD: Masters of the Universe Poll

Before the season boxes, there's a best-of box. But which episodes will be released? He-Man.org has the official poll, giving fans a rare chance to pick the first episodes to hit the market. Good news, no?
--AP
And in other news...

Diamond Select Toys picked up the rights to make stuff based on Serenity, the movie based on the defunct cult Fox sci-fi show Firefly. Will we be covering these? Most likely. (Have we seen the show? No. But as with Final Wars, there's more than one collector providing items for review.)
--AP
She was ab bollish
March 10 2005
Review: LEGO Legoland promotional brick

Today we look at a really short review with little to say, because it's time to look at a Legoland promotional brick that was given away at the 2005 LEGO Toy Fair showroom in New York. You can see both sides in the thumbnail... but is there more to this amazing piece? Find out in today's review! (Hint: no, there isn't.)
--AP
Spotted: TransFormers Alternators Shockblast

Today at a Phoenix-area Wal-Mart, we spotted a brand spankin' new Shockblast from TransFormers: Alternators.
Purty. Apparently also 1 per case, too. Between a couple of Targets, we also spotted the final two Bruticus Maximus limbs-- more on those later.
--AP
G.I. Joe Crimson Packs out

Word on the street has it that the two Crimson Guard packs exclusive to Toys "R" Us (and Amazon) have hit stores. One set has four Crimson Guards, Tomax, and Firefly. The other set? Same figures, except Xamot replaces Tomax. So if you want both twins, you'll end up with two Firefly figures and probably more Crimson dudes than you'd plan on buying. Still, for $20 a whack they sound like good sets and we'll keep you posted when/if we see them. Due to desires to army build some characters and not others, it appears people are already eyeing potential trades for these guys-- so if you just want a Tomax or a Xamot, you might be able to just buy them on the side if you watch the Joe boards.
There's some real question on if these are (or aren't) the "final" six-packs before the upcoming hiatus. A Winter Operations set is still up for preorder (the contents of which remain a mystery), and boards are still discussing the validity of an "Imperial Procession" set-- the contents of which, again, remain unknown. Aside from exclusives for the club and conventions, a few vehicles are supposedly still coming out, and beyond that nothing is known for sure.
--AP
You Get To Burning
March 11 2005
Review: TransFormers Robot Masters Burning Beast Convoy


Today's review is a pretty nifty concept-- it's a repaint of a new mold of a toy to look like a repaint of the old toy. Confused? Don't be. Just look at our brief review (with pictures) of Burning Beast Convoy and take a look at what kind of stuff Takara can crank out to look new, different, and distinctive while not making you mad you bought the same toy three times over in special colors.
--AP
G.I. Joe "New" 12" Valor vs. Venom

After seeing it leaked on eBay in 2003, tonight we finally saw a 12" Cobra Commander in his dark blue battle armor-- you know, with the silver face plate and all. It and a 12" Wild Bill were at Kay-Bee Toys for $7.99 a pop. So, before you drop some scratch on them on eBay, take a look at your local malls.
--AP
And in other news...

The final trailer for the final movie in the Star Wars saga aired last night on FOX during (well, after) The O.C., a show which, courtesy of the digital recording age, one could skip right through. Sadly, our recording stopped partway through, but thankfully we have found other sources to see the last few seconds. We think. Regardless, it looks excellent and if what they're showing us is about as good as what they aren't, we're in for a treat.
--AP
All good things...
March 12 2005
Review: G.I. Joe Cobra H.I.S.S. IIb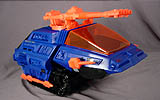 We like old toys, and we like cool oddball convention pieces-- and as such, we totally dig this Cobra H.I.S.S. IIb that was originally sold at the 2003 G.I. Joe convention in a far away land. Limited to 350 pieces, this piece is essentially a straight reissue of the 1989 H.I.S.S. II, except in new colors and missing the figure and the figure clips. Same labels, same parts, same great features-- does it hold up to the ravages of age? Find out in today's review!
--AP
Club Toy Revealed; Final TransFormers Energon Toy Released; Alternators Shockblast Amusement

Well, it took a while, but the TransFormers Collectors' Club Figure has been revealed-- go here to see it. Yes, it's a recolor. But it is neat.
On our drive home last night, we spotted the final release in Energon, or so we think. All evidence to the previously revealed "Energon Insecticon" seems to be going up in smoke, so it looks like the very last release will be Overcast, seen here in his box.
We'd also like to note that now we cracked open our Alternators Shockblast, we had two fun things to note for it prior to the review. One, the instruction sheet is Meister's-- same head, same hands, etc. Just a new nameplate and the purple spot color. Second, the name on the license plate is in fact "SHKWAV," an impossible-to-miss reference to its forefather, Shockwave. (Our sample was also assembled with the hood off-- we had to dismantle the toy to repair it. Has anyone else experienced this?)
--AP
G.I. Joe Final 3 3/4" Valor vs. Venom Released; Club Figure Revealed

Last night, we spotted two of the final wave of VvV G.I. Joe figures at a local Wal-Mart-- namely, the Gung Ho vs. Viper set and the Cobra Slice & Cobra Slash set. (We wanted to find Snake Eyes & Timber vs. Swamp Rat or, more specifically, Bombstrike vs. Croc Master.) Also available, but unseen by us, were Cobra Commander vs. Dr. Link Talbot and Duke vs. Overkill.
Reviews of these items will be posted as we find the ones we want.
Finally, the first shots of the club exclusive figures were posted to the G.I. Joe Club site. You can get a clear 12" female body, or a 3 3/4" Jungle Viper. We feel like we'm totally out of it because we don't have a freaking clue what parts the latter is made of-- it looks like a Razor Trooper with the old Spearhead & Max rifle and some other legs and crap. It's late, so we leave you with this.
--AP
Stuff It
March 13 2005
Review: TransFormers Energon Energon Starscream

It may sound redundant, but today's review is of a toy from TransFormers Energon called Energon StarscreamEnergon Starscream, and now there's this Energon Starscream from Energon As one of the final toys from TransFormers Energon, the run is expected to be low-- so is it worth picking up now before, like Nemesis Prime, it turns out being a huge pain in the neck to find? Find out in today's review!
--AP
Mortal Kombat TV Game Out, Nintendo News

Item #1: Wal-Mart stores have the new Jakks Pacific Mortal Kombat controller with the game for about $25. If you have two of them, you may connect them for two-player action. Given the price we find this unlikely, but it's a neat retro item.
Item #2: Metroid Pinball. Read more at The Magic Box.
Item #3: Zelda GameCube (name TBD.) Two pages of screenshots at, you guessed it, The Magic Box. It looks far cooler than we feel the game can be expected to be, but hey, we'll buy it.
--AP
Best Buy DVD Price Drops

Apparently Best Buy and a few online stores dropped their prices on some nifty older catalog titles-- we didn't get a whole list, but we did get Mystery Men for under six bucks. If you're also one of the four fans of this movie, we advise you go pick it up at this price.
--AP
More G.I. Joe 12" Valor vs. Venom??

In the "when the heck did this come out?" file, we'd like to add two more 12" figures that we never saw here, and still haven't-- in case you too didn't know, there are 12" figures for the COBRA Coil Crusher as well as Spirit Iron-Knife. We have yet to see them in stores but are a little surprised that this 2004 release hasn't made itself known in our neck of the woods.
--AP
It's the Clothes
March 14 2005
Star Wars Q&A Updated at Galactic Hunter


Galactic Hunter has posted a Q&A column by yours truly. Is the Revenge of the Sith Darth Vader a new sculpt? Are the scales of the various General Grievous characters totally out of whack? And when will a new McQuarrie art-based figure come out? Want to find out? Read the stupid column already.
--AP
Review: TransFormers Alternators Shockblast; Comic Interview elsewhere

First it was a gun, and now it's a car. TransFormers Alternators released a toy based on Shockwave called Shockblast and darned if he isn't the most posable toy based on characters with names similar to those ever. Sure it's a car, but isn't the robot mode and the hand what really define the character of Shockwave and/or Shockblast? Find out in today's review!
In other news, the guys at TransFans posted an interview with artist Don Figueroa about his time in the fandom, his work at Devil's Due and Dreamwave, and some musings on the future of the comic license. Check it out!
--AP
More G.I. Joe six packs?

Amazon posted this listing for a "GI Joe Valor vs. Venom Ninja Cobra Strike Team 6-Pack" set due out in July. Its name is similar to last year's set, but no photos are available. It's entirely possible this line will have some more life as exclusives, meaning for a lot of fans, it's going to improve. A winter operations set is also on preorder, and it's also as of yet unpictured. The two Crimson Guard sets hit stores last week but we have yet to spot them ourselves.
--AP
No no no, this is chocolate
March 15 2005
Review: G.I. Joe Comics Pack #21

Today we look at a the newest series of G.I. Joe action figure with comic books with G.I. Joe Comic Pack Issue #21 with Snake Eyes, Storm Shadow, and a Cobra Ninja Viper. The comic book is excellent, and the fact you get three ninjas is arguably a great thing-- some are sick of ninjas, we are not. These are some pretty great figures here, so be sure to take a gander at these and see if it's worth your ten bucks. Between Storm Shadow and the comic we're saying yes. Find out why in today's review, and come back this week for looks at #24 and #49!
Also, we spotted these sets at a Phoenix area Target today-- so if you've been limiting your search to Wal-Mart, start hitting Target-- happy hunting!
--AP
NewsRadio: DVD Official Announcements

The delays are legendary, and the show hasn't really been seen much on cable or in syndication for a while-- so as you might guess, a lot of fans are going "When the Hell are we getting NewsRadio on DVD?" Well, TVShowsOnDVD.com posted the full announcement-- dates, prices, all that crap. Go check it out. Official extras aren't really fully known, but they did post a scan of the back of the box. An illegible scan. But still.
--AP
More Energon Overcast Sightings & Clearances

The final toy from Energon has been showing up at more stores-- and more old toys are going on clearance. We check a few Targets today and we saw Overcast at multiple Targets in Phoenix and Scottsdale. We also saw some of the larger Energon and Universe TransFormers marked down 30% or more-- so as we're so fond of saying, if you see something you want, take it to a price scanner. You might get a good deal.
Also, TFormers posted a box scan of some Kabaya Micron toys from Galaxy Force-- all new molds, sort of. They're new to Galaxy Force, but still rehashes of toys from that line. Check it out!
--AP
Bright White Heat
March 16 2005
Review: G.I. Joe Comics Pack #24; Rumor Mill

Today we look at a the newest series of G.I. Joe action figure with comic books with G.I. Joe Comic Pack Issue #24 with Duke, Roadblock, and Destro. The comic book is OK, as you get to see Cobra Commander drink with his helmet on-- we kid you not. If that alone isn't worth the price of admission, you might be asking yourself "are these figures enough to warrant my ten bucks?" Well, we took some pictures and pulled together some commentary and you can find out in today's review, and come back tomorrow for #49!
Also, the rumor mill is simply buzzing today-- apparently word on the street is that there's still quite a few exclusives left in the small line. For starters, word is on the street that Master Collector is sending out emails indicating that weekly previews of the convention set will start this week-- the theme being, if you recall, General Mayhem: MARS Invades. So expect a Destro. Also, numerous message boards are "confirming" that Toys "R" Us has a listing for a "Moray" for $39.99-- fans are assuming this is a rehash of the classic Hydrofoil with new colors and/or figures, but the name Moray has been used for numerous things over the years. As such, we'll file this one under "wouldn't it be nice if" and wait to see what shows up in the coming weeks.
--AP
Teenage Mutant Ninja Turtles: Pseudo-Retro Minis

Wal-Mart stores are carrying the tiny 2" Turtles Leonardo, Donatello, Raphael, and Michaelangelo figures. These are available individually for under $1, or in packs of four for about four dollars. Also available: the same figures with parachute accessories for $1.97 a pop under the name "Airborne Assault Teenage Mutant Ninja Turtles." These are not always in the toy figure aisle, so be sure to poke around endcaps in the toy department to find them.
--AP
Broaden the vistas
March 17 2005
Review: G.I. Joe Comics Pack #49; Rumor Mill

Today we look at a the newest series of G.I. Joe action figure with comic books with G.I. Joe Comic Pack Issue #49 with Serpentor, Scrap Iron, and Firefly. The sequential art compilation bundled with these short plastic men tells the tale of the birth of Serpentor, he who would eventually become the Cobra Emperor! And it's pretty boring, especially compared to #21, and even to some of the earlier books. The figures are mostly excellent, quality control issues aside. So how did our batch turn out? What red flags should you look for when buying this set? And just how did they paint the snake arm on Serpentor? Find out in today's review!
It is rumored that this series was the final series of comic book three-packs. Others are in various stages of development so we do not fully believe it at this time-- but we'll likely know for sure as of July.
--AP
TransFormers Galaxy Force: New To You, Maybe

HobbyLink Japan added a buttload of new TransFormers to their site-- and they added some nice pictures too. They include Sides, a rhino, Liger Jack, a big cat that combines with Convoy, Terra Shaver, a pterosaur, Autobolt, a car (shown unpainted), and the hefty Live Convoy, which looks like a realistic helicopter with a robot mode that's a dead ringer for Bulkhead from Energon.
Of course, that's not all-- Fan2Fan added tons of opened shots of final production Dinoshout, FangWolf, and Flame Convoy as well as Soundblaster to their front page. We're happy to say Dinoshout doesn't look like crap.
--AP
Introducing...
March 18 2005
Review: TransFormers Robot Masters Reije


Today we look at a great repaint from Takara of Robot Masters Rijie! It's Mirage, but not! They took a mold used in numerous lines, and this time around they actually managed to not only improve it, but to make it so hot looking you'd feel quite the fool to not get one. See the spiffy sporty toy in in today's review!
--AP
G.I. Joe: New Six Packs Revealed

PPrime, best known for his leaked images of TransFormers prototypes and test shots, posted two new six-packs in package at the YoJoe.com boards at this thread. A new Arctic team of Joes and a new crimson set of Cobra guys are shown, and what's really interesting is a Cobra Commander and Baroness in red-- taken from the comic molds! Take a look.
--AP
Toys "R" Us Sold

The buyer? The parent company of Kay-Bee toys. Read the full story at a real news site.
--AP
Like a Pot Bellied Pig You Are
March 19 2005
Review: TransFormers Energon Roadblock

Today we look at a remold of Inferno, a fine toy from TransFormers Energon, now known as Roadblock! Inferno died, kinda, and got brought back, kinda. It's also a bit of an homage to the G1 Inferno & Grapple toys. Is it cool? Yes. If you liked Inferno, you'll totally dig Roadblock, and you can find out why in today's review!
--AP
G.I. Joe: Convention Metalhead Revealed

The folks at Master Collector posted their first preview of the 2005 convention Joe set, and it's Metalhead! Take a good look at him-- he's got Destro logos on him and his color scheme is not unlike the 2003 Python Patrol set from Toys "R" Us. Color us impressed! We also had a good run before work yesterday and found an entire fresh Valor vs. Venom wave 7 case at a Scottsdale Wal-Mart-- and we got one set. So far.
Behold: Croc Master & Bombstrike. Some fans love Croc Master. Others, Bombstrike. One thing we can all agree on, though: Bombstrike needs to be repainted as a Cobra. And will then sell millions. The case has two of each two-pack and is one of the better assortments in recent memory, so be sure to pick up your favorites (if you have any.) The above set is being photographed for future review.
We also spotted what was left of the second wave of Adventure Packs at Toys "R" Us-- not only did they raise the price, but they were cherry-picked. All that remained was a trio of Kamakura on Ninja Lightning, the other two were nowhere to be seen.
--AP
Beast Wars Knock-Offs at Kmart

Prepackaged Easter baskets are a haven of bootleg toys, and this year Kmart comes through with some real winners. One big basket has two Beast Warriors, one's a scaled-down T-Wrecks from Beast Machines (a repainted Megatron), the other a fairly good looking replica of Beast Wars Grimlock, a repaint of Dinobot. The baskets are relatively cheap for what they are and fans of bootlegs will probably be all over these guys.
--AP
You Old Hooch
March 20 2005
Review: G.I. Joe B.A.T. v. 4

A few months ago we picked up this Cobra B.A.T. v. 4 on a lark, and you can read about it in today's review! Is it good? It's a red terrorist android. That should be a good indication right there.
--AP
TransFormers SuperLink: Not Over Yet

While long rumored, the final item in the SuperLink line has just been revealed by way of Takara's web site. It's a repaint of Ariel (Arcee) in the greenish colors best known as a Paradron Medic. Click here to see pics of this upcoming limited edition release, complete with a green bow & arrow and Energon chip.
--AP
And in other news...

Want to see a packaged Marvin from Hitchhiker's Guide to the Galaxy? Of course you do. Action-Figure has shots of the paranoid android in a plastic clamshell case that's simple and durable. Do check it out.
--AP
When I see Mommy I feel like a Mummy
March 21 2005
Star Wars Q&A Updated at Galactic Hunter


Galactic Hunter has posted a Q&A column by yours truly. Does Mon Mothma suck? Why aren't we hearing about a Tantive IV toy yet? And where are my original trilogy action figures? We have answers-- and some of them are even good! Read the stupid column and see what you're missing!
--AP
Review: Godzilla Super Deformed MOGERA Figure


Sometimes it's easy to love cheap Japanese toys, like this BanDai Godzilla figure of MOGERA. A more recent entry into the Godzilla canon, this little guy is normally a somewhat squat giant robot, so how do you improve him? Make him squatter. Did it work? Find out in today's review!
--AP
Found: 2005 Playmobil Pals Wave 1 (at least)

Yesterday at Target we found six new Playmobil Pals, which are, as you know, repackaged specials. What surprised us is that this mix included some harder to find sets and they were a rock-bottom $1.99 each-- so we bought two and reviews of both are in the works.
The six we saw were newly repackaged versions of: 4529 Girl with Bunnies (1996), 4567 Battle Knight (1999), 4965 Pirate with Monkey (2004 German Kardstadt Restaurant exclusive [not a Special]), 4510 Go-Kart Racer (1994), 4531 Mummy (1996), 4532 Black Belt (1996, aka Karateka, Karate Kid).
We're impressed-- all we need now are reissues of Dracula, the Ninja, the Ghost Pirate, and Sherlock Holmes and they've pretty much reissued all the really awesome ones.
--AP
More G.I. Joe Sightings

We spotted (and forgot to mention) a number of items the other day. All three new Adventure Packs (Sand Viper with glider, etc.) were seen at a Phoenix Toys "R" Us for $7.99 each. Also, both versions of the Crimson pack were seen for $19.99 each packed at 3 per case. (We passed.) Happy hunting!
--AP
Pile It On
March 22 2005
Review: Playmobil Pals Black Belt


While some collectors may be miffed that these hard-to-find figures from the old Playmobil Specials series are being reissued for rock bottom prices, we're elated to see the likes of the Black Belt. Previously sold in an unnamed box and identified as many different things, this figure is two bucks well spent with just enough style to make you happy that he's giving your desk at work more kung fu than the entire office. It just hit Target stores this month, and it's cheap, but will it make you cool and super-popular with the ladies? Or as we like to call them, the ladies? Find out in today's review!
--AP
The Muppet Show: Unedited and coming to DVD?

Well, color us surprised-- report on TVShowsOnDVD.com posted a link and excerpts from an article indicating that Disney is working on a special edition of the original Muppet Show, basing its master off of UK original tapes and supposedly featuring a lot of extras-- like pilots. Check out the full story for more.
--AP
Masters of the Universe DVD Episodes

He-Man.org posted a list of the 20 episodes that will hit DVD for the upcoming best-of Masters of the Universe sets. Read up for the full scoop.
--AP
And in other news...

Today we updated our Review Pile to include numerous new things, including several Revenge of the Sith figures. It's shaping up to be a good review week, kids.
--AP
Illegal Performance Enhancing Drugs
March 23 2005
Review: Star Wars Revenge of the Sith Clone Trooper


Today, our review is posted at Galactic Hunter. We look at the brand spankin' new Clone Trooper from the latest Star Wars movie. We like him a lot, because he's posable-- very posable! Just about as good as the 2003 super posable Clone Trooper, actually. Sure, he has an action figure, but does it get in the way? Find out in today's review!
--AP
DVD Red Galaxy Force Excillion

Numerous TransFormers sites, like The Allspark, are showing images of a red Excillion figure that will be exclusive for a DVD set-- that's the good news. So what's the bad news? 1. Limited edition of 500. 2. 100,000 yen. So not only is it rare and cool, but it's $100. So, good luck!
--AP
More G.I. Joe Figures?

A post at the YoJoe Forums had a mention of a phone call a collector claims to have had with a Toys "R" Us buyer-- apparently there's at least one more set coming, called a Crimson Shadow Guard 6-pack. Is it true? Is this a fancy name for the Procession set coming out? We have no idea. But it's interesting, no?
--AP
Table 5
March 24 2005
Review: Playmobil Pals Mummy


Another old toy in a new box that we're going to examine can be found in today's review of the newly reissued Playmobil Mummy. Sold way back in 1996, one might wonder if it holds up to the ages-- or if it's worth the measly two dollars Target stores are currently charging for it. Find out in today's review!
--AP
Batman Begins Figures Available

Another surprise: Mattel's Batman Begins figures are out at Wal-Marts in twelve-piece cases seated on endcaps. We spotted several versions of Bruce Wayne and ol' pointy ears as well as a single Scarecrow-- turns out he's not in every box. The packaging is very bland, and blended right in with the shelving in our store-- as such, happy hunting!
--AP
PSP Available Today

Sony's PSP, formerly the PlayStation Portable, hits North American shelves today for $249.99. Go buy one. We'd be joining you but...
--AP
And in other news...

We will unfortunately have to break our streak of updates this weekend due to work-related travel. There will be a Friday review posted and then you will see us again on Monday.
--AP
Told You, Did He
March 23 2005
Review: Star Wars Revenge of the Sith Saesee Tiin


Today, our review is posted at Galactic Hunter. We look at the amazingly amazing Saesee Tiin from the latest Star Wars movie. The character has been released as a virtual chess piece, a preposed battle figure, and a fairly nice pilot based on his Expanded Universe costume. But have they finally made the perfect movie version of this nifty Jedi? Find out in today's review!
--AP
More G.I. Joe Convention Goodness

A Master Collector posted another sneak preview-- now they're showing one of Destro's very cool Iron ANVILS. They took a mold from the 1990's that was originally painted in a fairly poor manner and now it looks borderline awesome-- do go check it out.
--AP
More of the same
March 28 2005
Star Wars Q&A Updated at Galactic Hunter


Galactic Hunter has posted a Q&A column by yours truly. Where are the mail-ins? What happened to General Grievous' voice? And can a Star Case fix a bent carded figure? Try and find the answers in today's column!
--AP
And in other news...

We were out of town for the weekend on job- and hobby-related functions. As such, we will resume decent updates this week. Stay tuned!
--AP
Lot of ins, lot of outs, lot of what-have-yous...
March 29 2005
Review: G.I. Joe Convention Paratooper "Dusty"

Like repaints? How about green ones of formerly desert-oriented figures? We get a kick out of these things and all things nifty and exclusive, so we were pretty jazzed to take a look at this Convention Paratrooper. Made from an old mold of Dusty, this figure has a parachute and an excellent new paint job-- but aside from that, it's basically a repaint. Is it worth a few bucks to add one to your collection? Find out in today's review!
--AP
Sony Sued

... and Microsoft dodged the bullet. Sony was hit with a patent suit involving its dual shock controllers, and Microsoft settled on its design months ago. As such, some payoffs, suits, or redesigns may be on tap for the future of the PlayStation line and we're now expecting an all-new controller for the PS3. But we like to speculate.
--AP
And in other news...

Slow again. Job functions. Exciting stuff, let us assure you. Plastic related. More as it develops.
--AP
Banana! Banana!
March 30 2005
Werewolf by Night... in 3D

This one goes out to my man Mooney Pete-- a new bust that should appeal to fans of an older, more obscure Marvel property has been announced and you can see it at Action-Figure.com. It's Werewolf by Night, so check it out-- a movie is in Development Hell so now you can see the inspiration for a movie you'll probably never see made. But hey, Man-Thing is coming, so who knows.
--AP
Vague Nintendo Revolution Tidbits

If there's one thing long-time Nintendo fans know, it's that it's fun to get excited by news articles with basically no meat on them-- like this one at GameSpot that talks up the interface of the new system and online play, but probably won't make you go "oh, now I understand what this thing is."
--AP
And in other news...

Well, the daily toy review thing isn't going to work out due to other projects requiring immediate attention this month. We're gonna try again come June. But for now, it ain't gonna happen. We're currently throwing a bunch of our trading stash on eBay because we need cash. So if you see someone selling off some decent stuff, please bid often.
--AP
Limited Edition
March 31 2005
SuperLink Ariel Repaint

The guys over at The Allspark have shots of the Medic recolor of Ariel, aka Arcee, from TransFormers SuperLink. She's green and quite keen-- do check it out.
--AP
More G.I. Joe Convention Toys Revealed

The new issue of Master Collector appeared online and in it, four figures were shown from the 2005 General Mayhem set. The I.R.O.N. Anvil you've seen, but new were Destro (gold head, Crimson Guard Immortal body), the I.R.O.N. Grenadier, and you can see them here.
--AP
Click Here For News From February!